For many years, I've been working on a series of Western novels, which have mostly been sitting in a box in the closet as Westerns aren't "in." But recently, I found an interested publisher and the series of four is off and running! We're really excited. I even did the cover painting for the first book, Summer of the Eagles.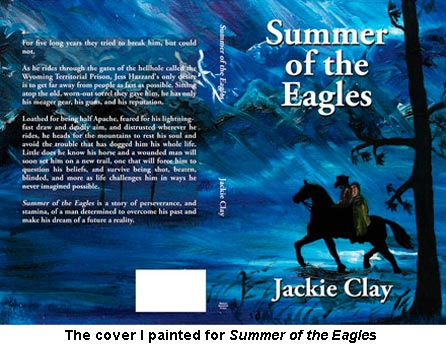 Take a look at the publisher's web page for it: http://bit.ly/1KC8h4C where you can read a synopsis and the first two chapters. You can even pre-order the Kindle version for $4.99 at: http://amzn.to/1w9IJRt. A softcover edition is also in the works. I'll let you know more about that, soon. If you're on Facebook, you can keep up with developments by Liking the book's Facebook page: http://on.fb.me/17BH5DQ and the publisher's page: http://on.fb.me/1IB5JzP.
For us, it's a whole lot of fun, seeing my characters spring to life. I'm editing the second book in the Jess Hazzard series now and Will has been great, keeping the wood stove ch0cked full so I don't freeze upstairs on the computer and even doing the dishes for me! What a guy!