I got a jury summons a while ago and was kind of hoping that the trial would be cancelled. (I live 90 miles north of Duluth, where the Federal trial will be held and have to report at 7:15 a.m.) It's going to be -18 tonight and the parking lot is three blocks uphill from the Courthouse. Bad knee and that cold wind whipping up from Lake Superior right down the hill means I'm not looking forward to it at all.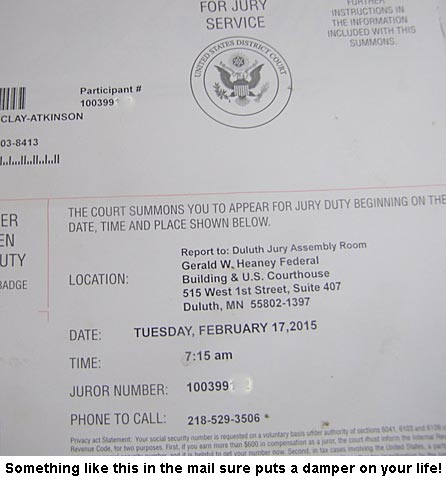 Actually, without a fully informed jury, it kind of scares me, basically deciding without all the information on a person's future. Justice is not always just. I know from experiences of loved ones.
AND our Subaru is out of commission. Old 'Ru is starting to have a really bad vibration in the rear end and New 'Ru is at the mechanic's getting a heater core leak fixed. It was fogging up the windshield and driver's window and antifreeze fumes like that can kill you. So there was no putting that off. Luckily, I can borrow David's truck for the drive.
Hopefully I'll be home tomorrow evening and get back to my life. It's been a stressful week, knowing that jury selection is coming up. I'll be in the shower at 4 a.m. and on the road by 4:45. — Jackie