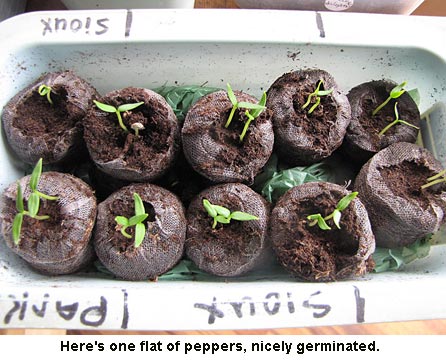 Our peppers are really popping up! Today Will moved two tables into the living room windows so they can get plenty of sun until we get the other mini-greenhouse set up in a window. They are just leaping out of their peat pellets, despite waking up to snow falling this morning.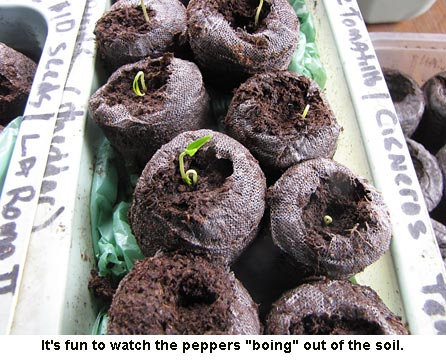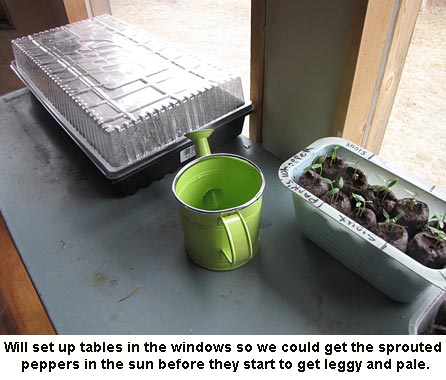 We've had a busy week. Tuesday Will and I had to drive to Minneapolis for a doctor's appointment for his back at the VA hospital. He was not looking forward to that as it's a five-hour, one-way drive. And sitting for even an hour is the thing that gets his back the worst. But he came through it fine and came home bearing a Tens unit, the battery operated machine that sends electrical impulses to electrodes pasted to his back. It does seem to help a lot.
Then we had to get up at 5 a.m. yesterday to get to the Hibbing hospital for my stress test at 7 a.m. Boy were we NOT ready to get up that early … again. But other than a nurse not being able to hit a vein in my arm (ouch, ouch, ouch!) it all went well. Tomorrow I visit my doctor and find out the results of all the tests; echo, X-ray, and stress test. I'm so hoping that my shortness of breath and chest pains are nothing to worry about.
This weekend we're planting tomatoes, come rain or shine, as they've got to get in! Spring is coming, you know. All you lucky guys further south know all about that by now. I've also got to get at painting the cover for the next book in the Jess Hazzard series, Autumn of the Loons. I've been sketching and have a great idea — just have to get it down on canvas. — Jackie