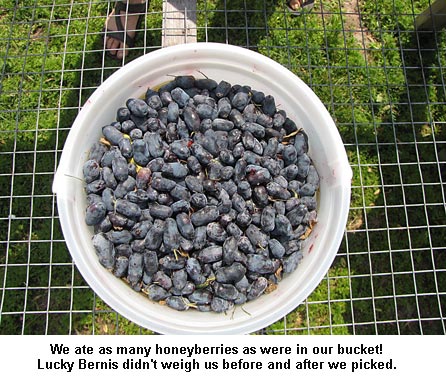 I bought honeyberries and bush cherries from Honeyberry USA, in Bagley, Minnesota several years ago. (I had met Bernis and Jim Ingvaldson, the owners, at the Northern Plains Sustainable Agriculture Conference in January, held in Aberdeen, SD, where I gave several workshops.) They are very nice folks and they invited Will and me to come visit their farm. As Will wanted to pick some honeyberries for me to make jam with, we waited until their website indicated that it was pickin' time.
I called Bernis and we set out to their farm the next day, a three hour drive west of us.
We had a wonderful visit and were introduced to dozens of varieties of honeyberries (really a type of honeysuckle — not a blueberry). Some varieties were from Canada, Russia, and places far and near. All had differing tastes and we sampled as we went, trying to pick our favorites.
We were really impressed at their orchards and all the work they've done to promote this wonderful berry. Honeyberries grow on medium-sized bushes so they are easy to pick. And, as they are quite large, the picking goes pretty fast once you learn to part the bushes to look for the berries down inside the bushes, instead of on the outside like blueberries.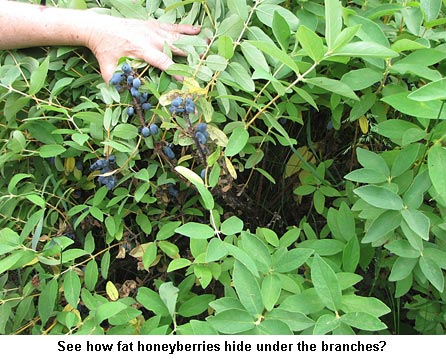 I really loved walking through the bush cherry orchard, fenced with 8-foot deer fence. The cherries are just starting to bear for them and promise to be a wonderful crop in the future. My mouth just watered as cherries are one of my very favorite fruits of all. We were encouraged about our cherries and honeyberries as they are about a year behind their plants and just barely beginning to bear.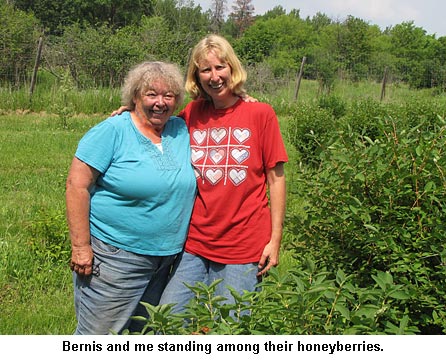 We brought a full ice cream pail home with us as well as a couple potted honeyberry plants of the varieties we liked. And we'll also be getting some more bush cherries and a Polish pie cherry that is very hardy and productive in our climate. Now we're excited and ready to get at increasing our own orchard! If you're interested in honeyberries, bush cherries, and other very hardy small fruits, check out Jim and Bernis' website, www.honeyberryusa.com. Bernis also does a blog and you can learn a whole lot! I know we sure did on our all-too-short visit. — Jackie