My good old rhubarb, a Victoria old-fashioned rhubarb is now over my head. Check out the photo of it next to the hoop house. The stalks are as big around as my wrist. We're saving seeds from it this year.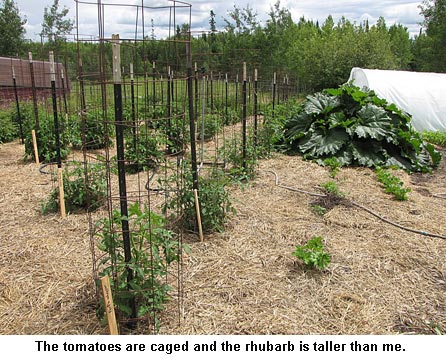 I measured one head of broccoli and it's 16 inches across. Wow, it lived up to its name "Goliath!"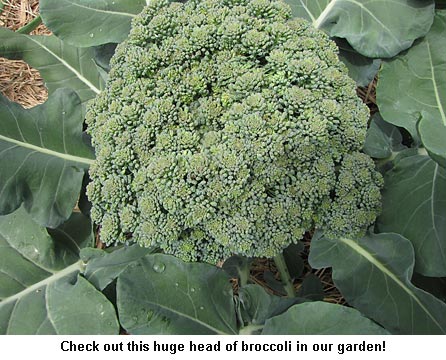 The tomatoes are starting to set and the vines are shooting upward in their cages. Will finished the cages for the rest of the tomatoes. We now have more than 107 caged tomatoes in the garden, and a bunch uncaged, out in the pumpkin/corn patch. Crystal and Will have been working at fencing that big field and have six foot high fence up on two sides with another pile of fencing waiting to go up on the posts they've already driven. Another big job nearly done!
Tomorrow Will and I have to go to the VA Hospital in Minneapolis to have the spots on his lungs checked out. It's been a year since they were discovered when he had a CAT scan for his kidney stones. They wanted to wait a year so they could compare the size, etc. I'm pretty nervous about it but have been praying constantly, hoping all will work out well. On the way back, we'll stop at my oldest son, Bill's, and pick up Javid's van. Bill, a mechanic, among other skills, has gone through the van and made sure any issues were taken care of. Now we'll be able to easily transport Javid to both doctor's appointments and home for visits in his power wheelchair. It'll be much easier on Will's back as he previously had to lift him in and out of the car. Javid's really happy to be having wheels again and a laptop computer to "play" on while he is forced to lay down during the day.
Well, I've got to go — I'm going to plant some summer squash, Swiss chard, kale, and rutabagas out on the pumpkin patch where some old corn seed failed to germinate. — Jackie