Our old four wheeler died and we sure missed it a lot. No, it wasn't a "toy." We used it on the homestead for everything from hauling in firewood to seeding our pastures. We hauled in our harvest, brought home deer from successful hunts, strung fence, carried lumber, used it for transportation when we were in the camping stage on our new land (our more-than-a-mile that used to be pretty bad), ran back and forth from various places on our homestead for tools and other supplies, and much more. So when the old Big Bear died, we sorely missed it.
Luckily for us, my oldest son, Bill, told us he was going to sell his ATV because with four in his family, he seldom used it any more. I asked him how much he would want for it and the deal was made. He even let us take it home before we could pay. (I guess he trusts us.) Even though my bad knee has been feeling much better lately, I was SO happy to have "wheels" again. And it's an automatic so I don't have to shift with that bad leg! I'm in heaven!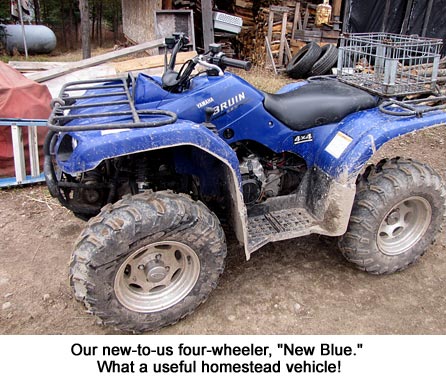 Today Will's over at our friend's place running a big excavator Darryl borrowed from work. They're tearing out a lot of brush which had grown onto the hayfield from years of renters of the hay ground only taking the "best" hay, not clipping off the young shoots of brush at each cutting. Now there's acres of brush crowding the hayfield. Will has already removed a whole lot of it and the excavator will be a big help. It may seem that because we live way back in the woods we're hermits. Not so. We're a part of the community and try to do our share to help out friends where help is needed. It makes the world a better place. And the old saying "what comes around goes around" is sure true!
Meanwhile, I'm still harvesting squash, pumpkin, and watermelon seeds. I finished up the very last tomatoes yesterday and I can't say that I'm sorry. Whew! Oh, by the way, I've been updating our Seed Treasures website (see box at top of blog), adding a whole lot of new varieties we've grown, and are offering for the next growing season. So if you're already thinking about what you'd like to grow next year, browse through the seed listing. We are putting together a better seed listing in catalog format but that's not done yet. — Jackie