Sometimes we even learn things we don't want to! Because our fledgling seed business is growing, Will decided he needed a way to keep track of sales, other than his handwritten notebook. Luckily, our friend, Ann, is computer-savy and willing to teach. Recently, she stopped over and gave Will Excel spreadsheet lessons. Wow, not only can he build, plant, harvest, and weld, but now he is more computer savvy than me!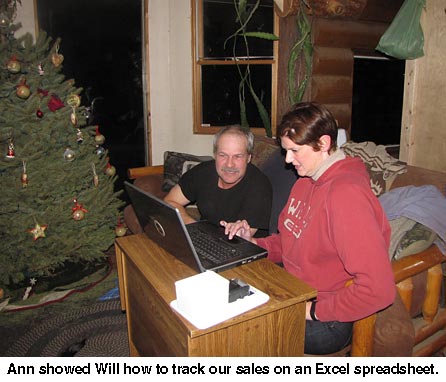 We always try to learn something new every day. If we don't, we feel like we wasted a day. Some folks apologize for asking "stupid" questions. Never do that! Every question answered advances you along life's path. So if you're wondering about something, just ask; if I can't answer, I'll try to find someone who can. After all, it's what keeps "Ask Jackie" going.
Every day we're getting new seed catalogs and Will and I are sorting out what we want to try this year. And, of course, which of our favorites we'll be growing again, and where we'll put them to keep pure seed. We got into a discussion this morning about GMOs and how scary it is that once a crop is contaminated by GMO polllen, it's contaminated forever. In the future, it'll be very hard to find such crops as corn, beans, beets (including chard, etc.), and even potatoes and peppers that aren't contaminated by insect or wind-blown pollen exchanges. I'm glad we're aware of it and are growing in an area far from any commercial crops.
In a month, I'll be starting our first seeds, petunias, followed by peppers. Even though our temperatures are falling below zero again, spring seems a whole lot closer. Are all of you getting the itch too? — Jackie