On Mother's Day it's become a family tradition, for my son, Bill, and his family to meet us at Byrns Greenhouse out in the country, near Zim, for our annual grab'n git festival. (That's grab plenty of flowers and git home to plant 'em!)
This year, the greenhouse added a Bigfoot corner which appealed to young and old alike. We spent nearly two hours filling up plant shopping carts, Mason and Ava helping us choose plants. I ended up with three big hanging baskets, hostas (a great bargain!), daylilies (of course!), a hardy rose I didn't have, and a couple more perennials. I don't have time for annuals this year! — way too busy!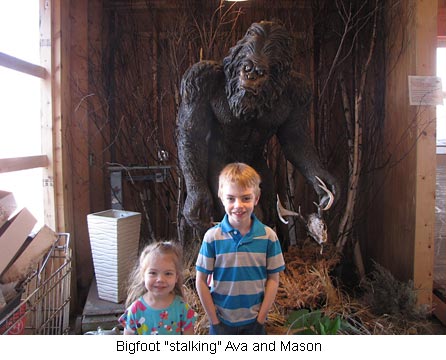 After this, we drove to a nearby cafe, across a six-mile section of road marked "Road Closed." But it was Sunday and the road crew wasn't working so we chanced it, hoping a culvert wasn't taken out five miles down the road! Luckily it wasn't and we sat down to a nice meal and good conversation. It's always so nice to visit with family.
Speaking of family, don't forget I'm going to be at the Self-Reliance Expo in Irvine, Texas this weekend, speaking on both Friday and Saturday. I'll also be at the Backwoods Home Magazine's booth and will be more than happy to visit with you there. — Jackie