Our health has been wonderful and so has the weather. Will's been working at getting our gardens mulched and we've been weeding ahead of the mulching. But with four big gardens, it's sometimes a challenge. We've got the main garden by the house, the berry patch, the old pig pasture, and the North garden so all in all, we've got about 3 acres of garden! Between the rain and heat, the weeds are thriving. Luckily, the crops are, too, for the most part.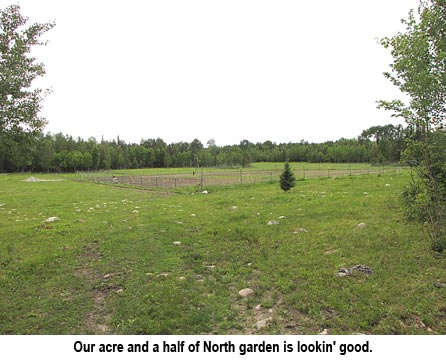 The heavy rain drowned out our corn in the pig patch so I replanted it. Then the ground squirrels dug up the sprouted second crop and ate the seeds. So we put piles of grain on the side of the garden for the squirrels and last evening I planted it again, all 10 hundred-foot rows. It's Will's Seneca Sunrise sweet corn, which is a short season corn so we just hope it survives and we have a long enough summer without fall frost, so we can harvest it for eating and canning. No guarantees with this homesteading business!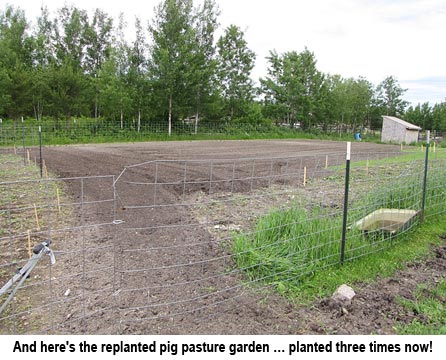 I have to tell on myself. Earlier I planted pumpkins and squash in the North garden. Then I had to have Will come in with the tractor and tiller because the grass and weeds were coming in strong. I pointed out a spot for him to back in to till and he said he thought I'd told him I had planted it in pumpkins already. I couldn't see any marks so I said "just till it!" He did, after shrugging his shoulders. Turns out he was right. Now we have bean rows with assorted pumpkin plants here and there. I told him I was just planting a three sisters garden (corn, beans, and pumpkins). Oops!
The red hawkweed is blooming and boy, do the butterflies love it! I enjoy watching the yellow swallowtails flit around them. It makes a pretty picture!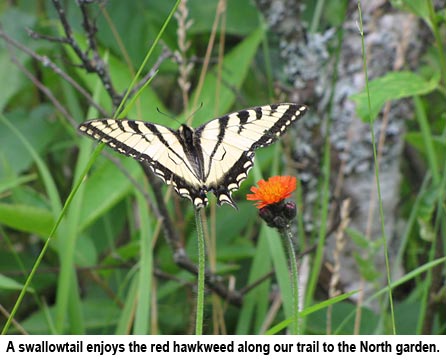 Haying starts soon. Will's been readying our haying equipment and barring unforeseen problems (which there often are!), haying should go pretty fast this year. Mechanical breakdowns are a part of farming. But one can always hope … — Jackie