Our log home has been standing for eleven years now and it really needed some help. The stain on the east and west sides had faded and the logs had turned gray underneath. There were also bad checks (cracks), some of which faced upward, letting the rain enter the log. Not good! Last fall, we tried sanding the logs; that left ugly "spotted" logs and it was nearly impossible to get in around the corners of the log corners.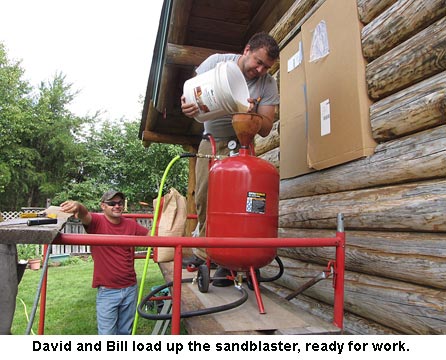 Luckily for us, David has been working for Voyageur Log Homes for over a year now and has become an expert at caring for log homes. When he got back from a big job in North Dakota, he wanted to get right at cleaning, re-staining, and caulking the logs on our house. So we lined up a pressure washer and sandblaster. (Lucky for us, we have good friends who had both!) My son, Bill, also came up for our weekend job to help. God gave us a perfect day for the work, too; plenty of sun and a nice breeze.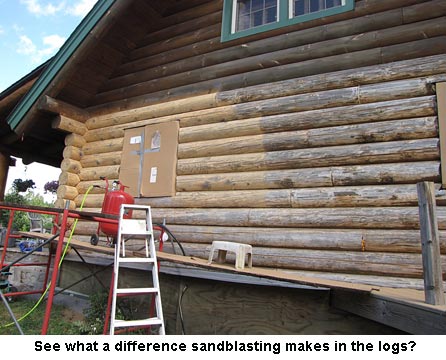 We first pressure-washed the east wall which had no checks and just some faded stain. It's log siding so it doesn't tend to check as bad as full logs do. I just need to re-stain it with two coats of stain and a sealing coat.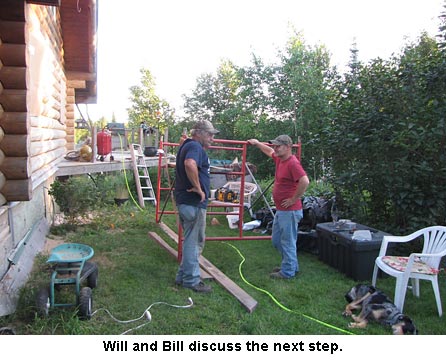 It took about an hour to cover the windows on the west side of the house with plastic and cardboard and mask the drip edge below the logs with duct tape. Then David hooked up the sandblaster and the work got under way. I'll admit David looked like a creature from outer space with his hood, long sleeves and welding gloves!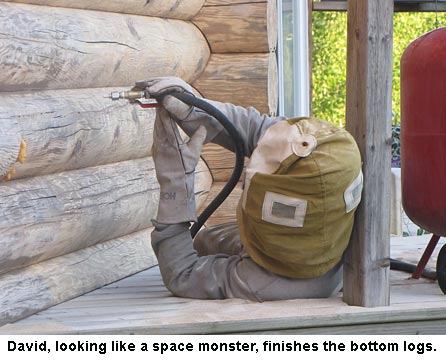 The sandblaster was smaller than the one David used at work and the job went a lot slower than he would have liked. But by dark, using the headlights of the four wheeler, he and Will finished the wall up to the front corner when the bags of sand ran out. Hopefully, today we can finish that corner. We still have the job of digging out any old, failed caulking from the largest checks so they can be re-done. Then I can start staining the wall again. It's amazing how new the wall now looks! Thank you David, Bill, and Will! — Jackie