Wow, first we got a killing frost then as Will was finishing haying, everything broke down. And I mean EVERYTHING! Out of four tractors, three are broken and out of two round balers, both have bearings seized up. Will finished the very last field with two floor chain bearings smoking. But he finished. Then, yesterday, he and our friend Darryl borrowed our neighbor's self-propelled combine to quickly harvest our oats, which were rapidly shedding oats onto the ground due to unceasing rains. Everything went well until they tried to empty the combine's bin into our gravity box (wagon) to take home. No dice. The bearing on the discharge auger was seized up. Now Will's shoveling out the bin by hand. I just hope he doesn't overdo it and have a heart attack!
Back on the home front, I've been going crazy harvesting and canning. But it's a nice sort of crazy, not a broken-tractor crazy. We're excited that some of our new tomatoes are performing so well. Will cranked out some awesomely thick sauce from Ten Fingers of Naples paste tomatoes and now I'm cooking it down in the oven to can up spaghetti sauce. The whole house smells like pizza.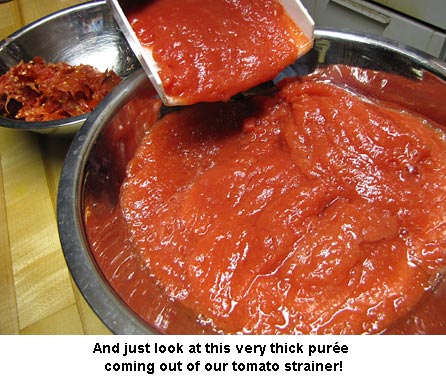 And I've been harvesting and shelling bean seed by the gallon. One of my favorite new ones is Iroquois, an ancient bean from the Iroquois tribe of the Northeast. While this pole bean is green, it is a flat, meaty bean great for snap beans. Then when dried down, it is an absolutely gorgeous speckled black and white. This large bean makes real tasty baked beans or bean soup. And did I mention it's really productive and early too? What's not to love?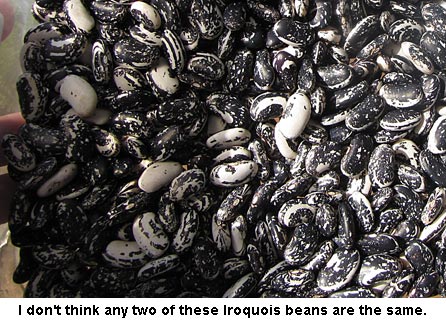 I just harvested a big basket of Indigo Blue Beauty tomatoes. We're having BLTs tonight and then Will volunteered to run them through the Victorio strainer to harvest seed so it's a win-win situation for these gems. Everyone who comes into the garden always says, "Wow! What are THOSE?"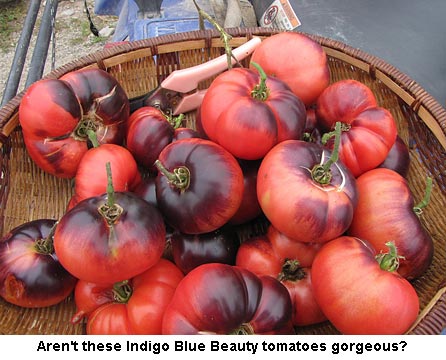 It's a beautiful day today — sunny, warm, and breezy. A day to enjoy harvesting and just being outside. Ah, homesteading… — Jackie