We had a full house for Thanksgiving. Bill and his family, David and girlfriend Ashley, and our other son, Javid, all came to help us eat turkey and tons of other goodies. What a pleasant day that was. We are truly thankful for all our blessings, especially including a wonderful family.
After dinner, Mason and Ava asked Uncle David to come out and help them make a snow fort because the snow was perfect for packing, and there was plenty of it. So creative David grabbed a plastic tote and headed for the side yard where there was plenty of undisturbed snow. He took the scoop shovel and tossed two shovels full of snow into the tote then Ava bounced up and down on it with her sitter-downer. Then David carried the tote to the fort area-to-be and carefully dumped it. Mason got to work and packed snow between the blocks. It wasn't long until they had a great fort built, including turrets made by packing snow into a five gallon bucket.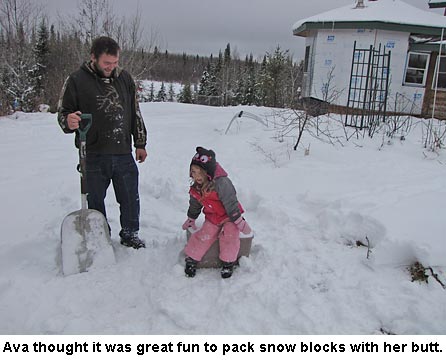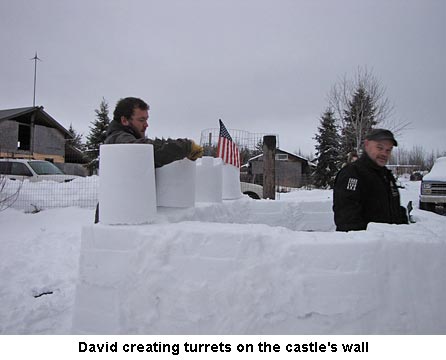 Then Mason came in and informed me they needed a flag. I quickly taped an old flag onto a plant stake and they had a completed fort. Then the snowballing began. Will stood way out on the drive and bombarded Mason, in the fort, with snow. (Okay, they were more like snow puffs, not hard-packed snowballs. But Mason loved it anyway and they didn't clobber him so hard.)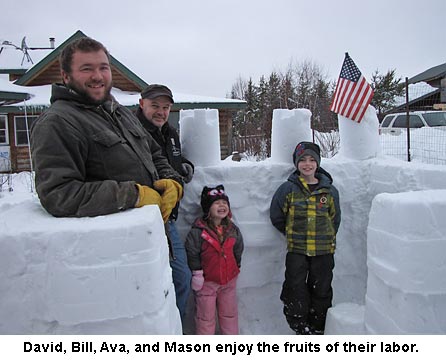 Ava dubbed the wire next to the garden gate as the jail so when someone got snowballed, they had to go to "jail." What a fun afternoon!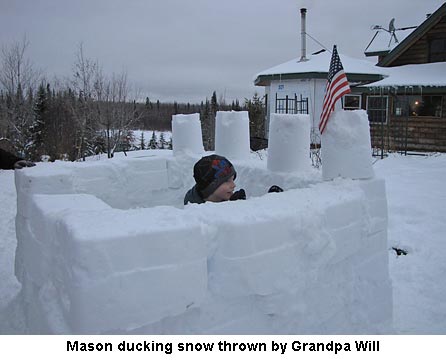 Now the temperature has warmed up and it's been raining for two days and staying above freezing all night. Much of our two feet of snow is gone, including, sadly, the snow fort. But the memories remain. — Jackie