My son Bill and his wife Kelly had talked for a few years about building a flower bed along the front of their house. And in the last two years, the talk had gotten more priority. So for Bill's birthday in September, we gave him a work day, come spring, to help him build that flower bed.
We'd all talked about it and they decided to go with a raised bed of landscaping block as the ground in front of the house slopes away a little and we all thought the block would look great, dressing up the south-facing porch nicely. So a week or so ago, Bill called and said he'd gotten a big load of well rotted manure, a trailer load of wood mulch and a couple pallet loads of block. When we were all together on Mother's Day, we said we'd come down the next day, Monday, when both Bill and Kelly were off work.
Unfortunately, it began to rain on the way down. But not to be detoured, we began anyway. Luckily, Bill has equipment! He quickly cut the grass sod off the flower bed area with the Bobcat bucket, leaving a relatively flat surface to build on….with no grass roots. Next, we cut apart heavy cardboard boxes (on the porch when the rain was heaviest) and laid them down on the ground. This helps keep grass roots from entering the raised beds.
Will and Bill began laying cement blocks in the space behind the flower beds to keep the dirt from falling beneath the porch. When this was finished, Bill and I screwed plastic lattice to cover the space from the porch floor to near the ground, hiding the blocks neatly. While we were doing this, Will finished up the block work.
It was raining pretty good about then so we went in and enjoyed a nice lunch, hoping when we were done it would quit raining. It didn't. Our granddaughter, Ava, didn't mind though. When she came home at noon from school, she quickly put on her raincoat and rubber boots and started in helping level the ground with a hoe.
Not to be outdone, we joined her. Will and Bill began laying up landscape block, being careful to keep the wall level. It went pretty quick, actually. Then it was time to fill the bed.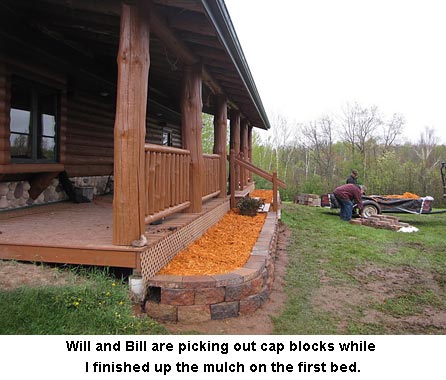 Bill scooped up rotted manure with the bucket of the Bobcat and carefully dumped it in each bed. Will, Ava and I raked and shoveled it level. Then Bill and I unrolled some heavy duty landscape fabric he had left over from another project. We placed it over half of the top blocks then Will and Bill carefully laid the cap blocks over that.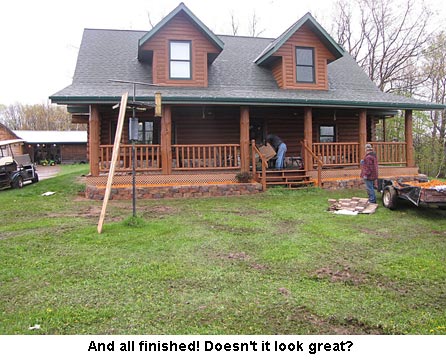 The mulch was in a trailer so Bill backed it next to the first bed so I could shovel mulch over the landscape fabric while he and Will finished capping off the second bed. Kelly came out and approved the job and we were all happy. I think it turned out beautifully. Now all they have to do is put some of the plants they got for Mother's Day in the beds and it'll be gorgeous.
Hmmm. Makes me think about some beds like that around OUR house! — Jackie