About Us
Backwoods Home Magazine (BHM) was founded in 1989 by Dave Duffy as a how-to homesteading magazine for anyone wishing to pursue a self-reliant lifestyle. It contains articles on gardening, livestock, canning, building, cooking, and guns.
In January of 2018, when Dave retired, BHM went digital-only on Amazon's Kindle platform, but a year later, Dave's youngest son, Sam Duffy, reopened the print edition under the auspices of Self-Reliance Publications, a company he co-owns with his sister, Annie Tuttle. Self-Reliance Publications also publishes the print magazine, Self-Reliance.
Sam Duffy
Sam Duffy is the youngest child of Dave and Ilene Duffy, who ran Backwoods Home Magazine for its first 30 years. He became publisher in 2018 at the age of 23.
Sam took over the magazine in October of 2018, 10 months after financial pressures forced the magazine to cease publishing on paper and continue as a digital-only publication on Amazon's Kindle platform. He and his sister, Annie, co-owners of Self-Reliance Publications (SRP), had already been running their own magazine, Self-Reliance, for several years at the time. SRP purchased Backwoods Home Magazine and revived it as a print publication, with the approval and encouragement of Dave and Ilene. He then hired his parents as advisors to help the next generation carry on the work they had done for 30 years.
In order to run the magazine, Sam dropped out of college at the beginning of his senior year at Oregon State University. He was pursuing a business and marketing degree and says he intends to complete his degree as he has time. Meanwhile, he has caused the magazine to flourish and put it on a sound financial footing for the future.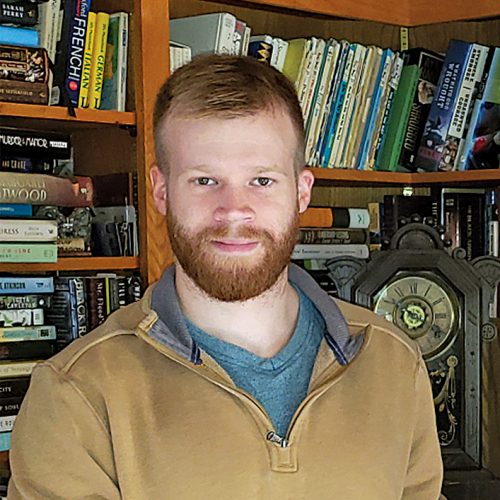 Dave Duffy
Dave Duffy is the founder and senior editor of Backwoods Home Magazine.
He built his own home in a remote area of the Siskiyou Mountains of southern Oregon while launching the magazine, and that served as BHM's first office. Since the home was 10 miles from the nearest electric utility pole, Dave installed a photovoltaic system to produce sun-generated electricity to run the computers and printers to publish the magazine.
Born in Boston, Dave spent his first 29 years there, where he worked as a journalist for several daily newspapers. He then moved to Nevada and California, working as a journalist for newspapers and later as a writer and editor for the Department of Defense.
Unhappy with working for others and living near cities, he spent several years of vacations and long weekends building his hideaway in southern Oregon. He eventually fled the rat race for the woods. In 1989, he started Backwoods Home Magazine to help others do the same.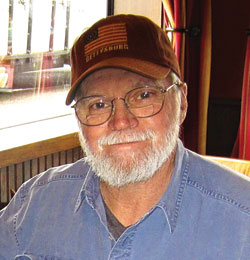 Ilene Duffy
Ilene Duffy is the Business Adviser for Backwoods Home Magazine, and she writes a cooking column, Lenie in the kitchen, in which she shares her family's favorite recipes. As one of the proofreaders for each issue, she is responsible for the remarkably low number of typographical errors that appear in BHM.
Ilene formerly worked as a bilingual kindergarten and first grade teacher for nine years in California. She gave up teaching to become BHM's Business Manager shortly after she married the magazine's publisher, Dave Duffy. Twenty years later, she still enjoys taking care of the details of the magazine business.
She enjoys quiet time in her garden which usually produces a large batch of pumpkins which comes in very handy since her family's favorite dessert is pumpkin pie! Ilene enjoys playing fetch with her big dog, Damon, going for walks in the woods, and curling up with a good book in front of the fire that husband, Dave, builds on many a winter night.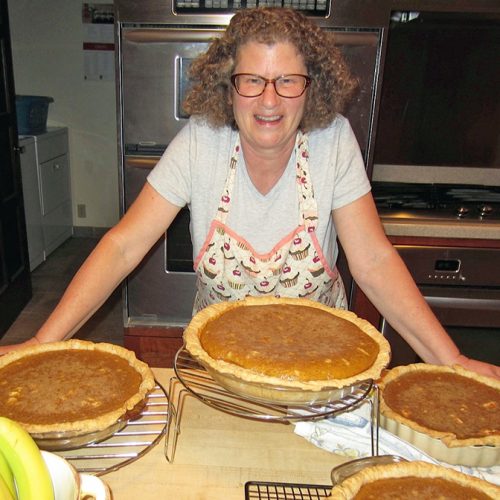 Jessie Denning
Managing Editor and Webmaster Jessie Denning began working at Backwoods Home Magazine after graduating college and loved it so much she just couldn't stop.
She was first hired by the magazine to put together the "Ask Jackie" books, then she moved on to uploading back issues of the magazine on Kindle. From there, Annie and Dave trained her how to edit and lay out articles, and the rest is history!
She loves to bake, draw, write short stories, and rummage through garage sales and thrift stores. She currently lives on 50 acres in Langlois, Oregon with her handsome forester husband, one giant Newfoundland/Pyrenees dog, two cats, and assorted chickens.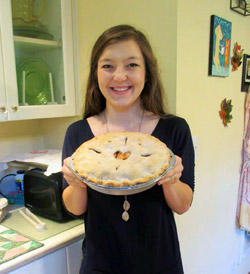 John Silveira
John Silveira is the Senior Editor of BHM and has written for it since Issue #1.
Silveira grew up on a farm in New Hampshire. He says his father, in order to teach him how to shoot with accuracy, would give him one 22-caliber bullet a day and send him out hunting small game. He became a deadly accurate shot.
He has known BHM publisher Dave Duffy ever since they met, back in the 1960's, at Suffolk University in Boston, Massachusetts.
Silveira is a mathematician by training and a historian by avocation, but his heart has always been in writing. Most of his days are spent sleeping at the office, but when he's awake, he has been able to bring the mathematician's keen eye for accuracy to his writing to create authentic and very popular historical articles for the magazine. His articles are often used in homeschooling curriculums.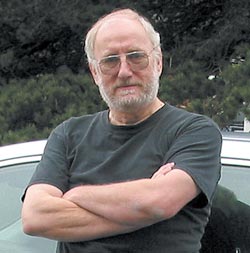 Lisa Nourse
Lisa Nourse is the Editorial Coordinator at Backwoods Home Magazine. Her duties include sending out contracts for and monitoring the status of articles, ensuring writers are paid, helping to set articles, and handling all our advertisers. She also does research and keeps the editorial department running in a smooth and efficient manner.
She was born and raised on the Oregon Coast. She and her husband have two grown boys and four adorable grandchildren. Her hobbies include gardening and sewing.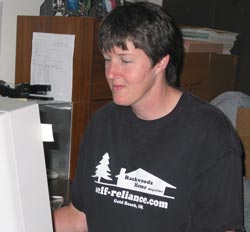 Don Childers
Don Childers has been BHM's artist since the first issue was produced in 1989, and was, in fact, the first person Dave asked to work with him. Don worked for free on the first several issues, laboring well into the night with Dave on many occasions as they sought ways to illustrate articles.
Don had previously been a very successful aerospace artist whose paintings of the latest in military planes, ships, and missiles hung on the walls of generals, admirals, and various U.S. Navy offices. Dave and Don met at Vitro Laboratories in Southern California where both were employed updating various Navy technical manuals. Both possessed Secret clearances and Vitro sometimes teamed the pair up to work on particularly sensitive projects.
Don now lives in Colorado where, in his eighties, he is only partially retired and still draws and paints illustrations and covers for the magazine. He corresponds with the magazine via internet and phone.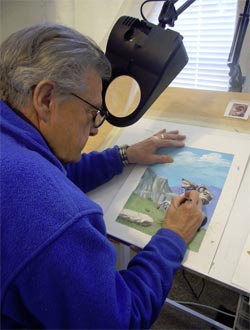 Rhoda Denning
Rhoda started working at BHM in 2003. After years of handling customer service, packing, advertisers, and ordering office supplies, she now works periodically as a proofreader for BHM.
Rhoda enjoys kayaking with her husband, hunting for agates on the beach, playing flute with her church worship team, and walking with friends.