This year is kind of a repeat of last summer's rainy weather, although not so much rain at one time. Two days ago, we put 175 square bales in the barn, working till nearly 9:30 PM. (Just in case…) Then Will cut a couple of small fields of clover/timothy that was very nice, which he intended to round bale in the three-day window of dry weather which was predicted. Well, it went fine until yesterday. He was round baling and it was supposed to begin raining around 5 PM. But it began to cloud up around 1:00 and Ashley came in saying she heard thunder. We drove over to the field where Will was working and arrived to see him down in front of the baler, pulling out hay. That meant it was plugged! And angry black clouds were rolling in. And he still had raked hay down on the field, although not much. We tried to help but were more in the way than helping. Finally, he got the plug out just about when the raindrops were starting to fall.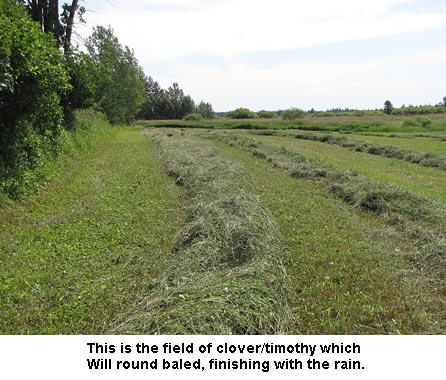 He jumped on the tractor and quickly baled part of a row to finish up the bale in the baler. By the time he was tying it and dumping it out, the rain was beginning to pour down. It only rained for about half an hour but the haying was sure finished. Later on, it cleared up and we were able to work around the homestead till nearly dark. Then more clouds, real nasty clouds, showed up. Some were revolving and the weather radio called in a tornado warning. You can bet we were all watching the sky. Luckily, nothing happened except for some rain, lightning, and thunder. Whew!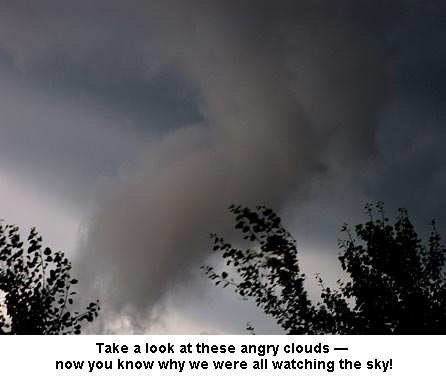 The main garden looks perfect with waist high corn. The central and north gardens have been getting too much water from above so are weedy and slow to get growing. But we're hoping things will pick up soon. After all, everything is growing! We've got some tomatoes set on the vines and have been enjoying Mammoth Melting Sugar Peas on salads and in stir fries, along with broccoli and asparagus. Yum! Our berries are fantastic this year so I'd better get out and pick some red raspberries and currants. We've finally got a strain of blackberries which not only lives here but is producing tons of berries. Yep, it took ten years of trying, but that only shows you; if you don't quit when things don't work, you'll succeed eventually!
I've been working on the fourth Jess Hazzard book, Spring of the Vultures, in the evenings. (It's my "fun" time to reward me for a hard day's work.) It's getting done. I guess I'll have to start another book to continue the saga as I thoroughly enjoy travelling the trail with Jess. Got a few ideas already. If you haven't yet read any of the series, take a read on Kindle or pick up a copy. It's a book all homesteaders will enjoy. That's a promise. — Jackie