The forty acres adjacent to ours (down what we call the Wolf Road, an old lumbering trail off our driveway) was for sale by the Potlatch Timber Company. And, as David needed a place to build his own cabin and we knew more cattle pasture would help out our homestead, we decided to buy it. Luckily, the Credit Union helped us finance it! So now we have 160 acres of wild land, which we'll share a corner of with David and the rest with wolves and other wildlife.
Our rainy weather stopped at least temporarily, so we've been making hay every day. One of the fields is the one Will had plowed up and planted in timothy and alsike clover. It did very well and we were able to get it cut and baled without any rain. Today, Will's out round baling another field which isn't as good, by far, but it is hay. (Please God, send those black clouds way south of that hay field.)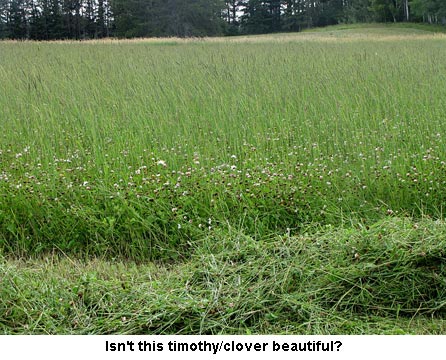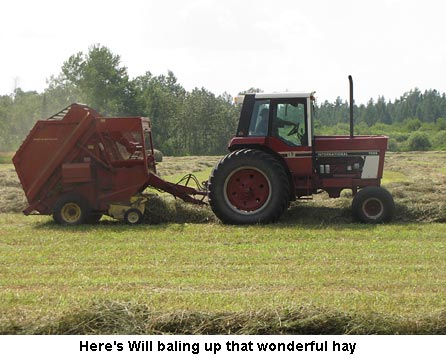 Yesterday, my oldest son Bill and his family drove up. We all went to the lake, five miles away, where there's a nice, sandy beach. It was hot and all of us went swimming and it sure felt great! We had a barbecue and then came home and went up to the berry patch so Mason and Ava could pick blueberries the size of nickels and sweet red raspberries. (Of course, we all ate them too, but, hey, grandkids NEED to pick and eat berries!)
The gardens and flower beds are doing great. We pick peas every day and harvest broccoli to go with them. We've got a couple of tomatoes which are getting orange and will be red in about two days. Can't wait! We've got to get the potatoes hilled up and run the tiller in the Hopi Pale Grey squash patch as the weeds are getting thick. Darned them, anyway! We've got peppers on the plants, some of which are getting ripe. I can't wait to make salsa. For the first time in decades, I ran out of salsa. Wow, I won't let that happen again. Our onions are terrific this year, as are the beans. I think it's all this heat.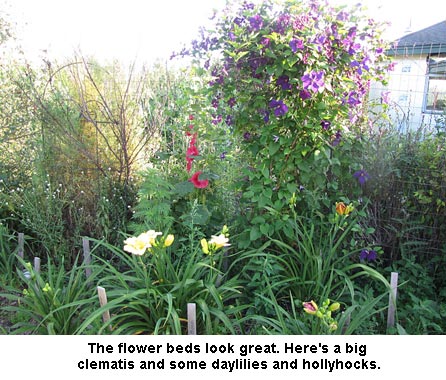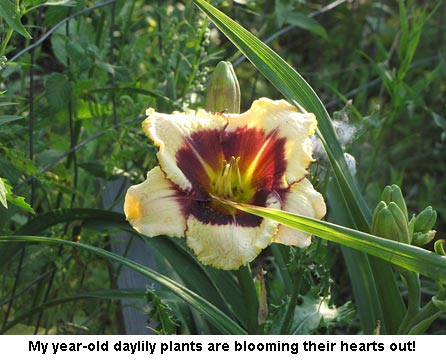 Will and I worked last night, getting the irrigation lines ready to water. We noticed the corn is saying it needs watering as the leaves are closing up during the day. Last year it was so wet we didn't have to run the irrigation pump once. But we will tomorrow. If we let them dry too much, the stressed tomatoes will develop blossom end rot. And who wants a nice tomato with a black blossom end?
We've still got three places open for our fall homestead seminar. And this may be our last one as we really need to do a little "downsizing," putting more efforts in getting things done around the homestead instead of doing self-reliance expos and us doing the seminars. — Jackie