After waiting impatiently for most of the loooonnnnng winter, today I got out the bin of tomato varieties I want to start this year. For a change, I'm using the Jiffy peat pellets in the old shoe boxes which used to house our seeds we sold on Seed Treasures. (Of course we got bigger and bigger and soon had to change our seed envelope storage to suit our room!) So I have this big pile of clear plastic boxes stacked up, needing to repurpose. Ta da! Just right to hold 48 peat pellets and they have a snap on lid so I don't have to put the containers in a plastic bag. Should do the trick nicely. AND I can stack them, if necessary, on the shelves behind our wood stove where it's nice and warm.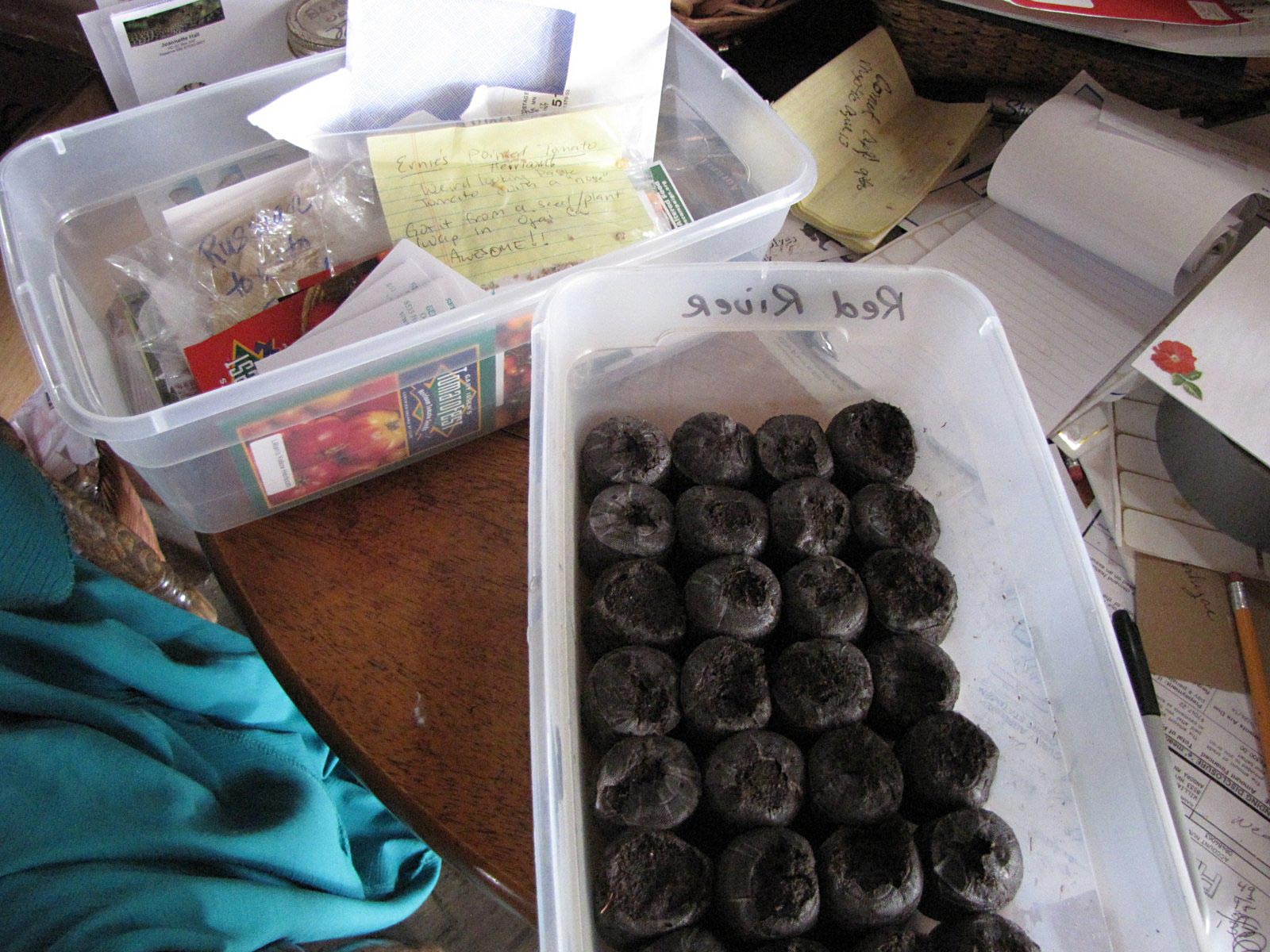 So far I've got almost 200 pellets planted. Will just groans. (If you'd like more information on raising tomatoes, check out the Eighteenth Year Anthology and my article Tomatoes! Growing, canning, and drying and the Twenty Fourth Year Anthology and my article, Tomatoes–Queen of the Garden.)
Not much got done on David's cabin over the weekend as he came down with a second bout of the coughing, runny-nose flu. He did go out and set up the floor joists where they'll be nailed down but quickly got tired after doing that when the coughing got bad. He's better today and off to work although I thought he probably should stay home and rest.
Do any of you know a source of Bliss Triumph (aka Red Bliss) potatoes? They were Grandpa's favorite. I planted some from Irish Eyes last year but this year they don't have any and mine rotted in the ground because of all the rain we had in the summer. Ronnigers used to have them but evidently went out of business; the website is there but there is no shopping cart. I just want to keep them from going extinct! It's a family heirloom and I sure hate to lose it. After all, it's said 500 varieties of vegetables go extinct every single day. That's a LOT! Which is one reason we grow only open pollinated and heirloom crops, hoping to save some of those great old varieties. — Jackie