When you live in a close rural community, not only do you have close friends, but unfortunately, you also see some of them pass on. It was such with our friend, Jerry Yourczek our neighbor, who died at 92 years of age. David began working for him, farming and haying just before my husband, Bob, died in 2005. David enjoyed many years of work with this wise old mentor and also learned much about repairing machinery and life. Jerry, a Navy veteran of both WWII and Korea, was very active all his life, and was a much appreciated and entertaining member of the community. We'll miss him greatly.
While Jerry was in a local assisted living home, the company he'd bought his tractors and other equipment from, Lulich Implement in Wisconsin, brought a flatbed trailer down, loaded Jerry's beloved Kubota tractor on it and drove to the home. There, they unloaded it and the folks got a nice photo of Jerry in a wheelchair, sitting by his tractor. Very nice! I had to laugh at a saying, printed on his obituary: "Life's journey is not to arrive at the grave in a well-preserved body, but rather to skid in sideways totally worn out, shouting "holy cow … what a ride!" That described Jerry to a T! He farmed up until this winter.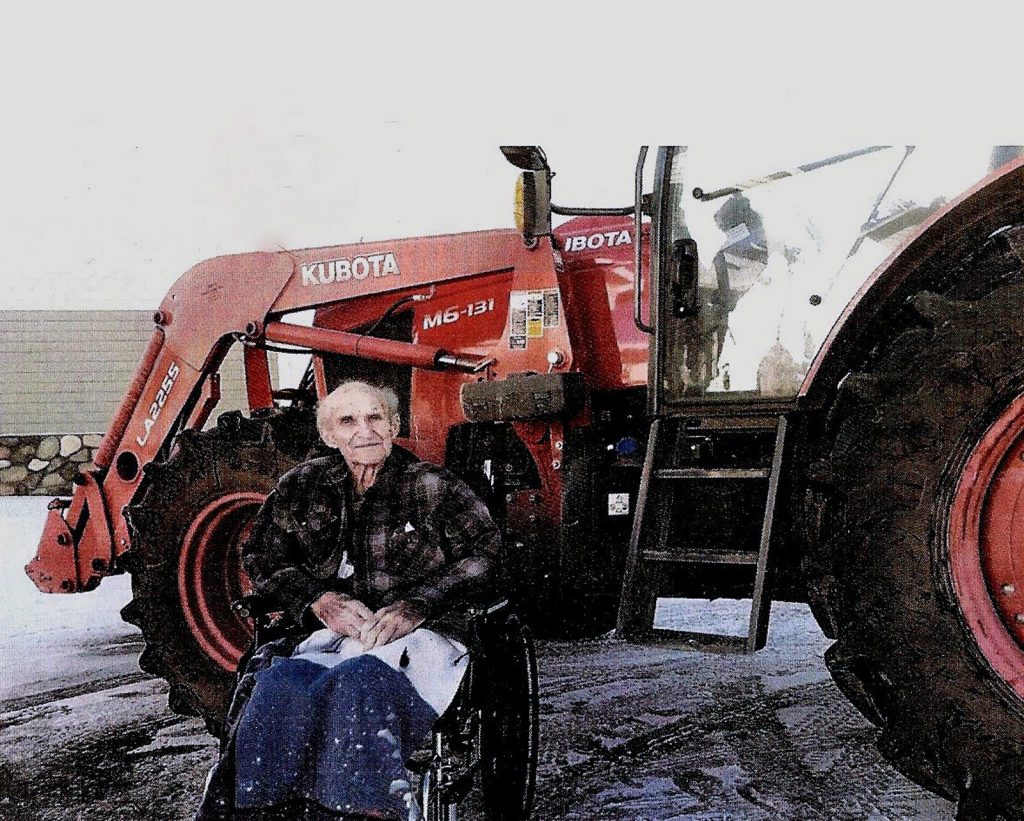 Yesterday, David and Ashley gave me a ride down to his brother, Bill's, to pick up the Ford Escape we were buying from him. Our Subarus have both given up the ghost and we needed a cheaper-on-gas vehicle than the 3/4 ton truck. I got home with no problem. Then, overnight, we had a foot of new snow and when I went to move the car, it wouldn't start! I tried everything and probably frustrated Bill by calling and asking for possible glitches I was making. (The car is smarter than I am, I'm sure!) No dice. But then Will got through plowing snow and came to the rescue. It was just a stuck starter solenoid and needed a tap. Ah! Ignition! Whew.
Tomorrow I'm getting out the planting containers and Pro-Mix soil as in a week I'll be starting the first peppers and petunias. See? Spring is coming … sooner or later.
Meanwhile, Will has started putting up the log accents in our living room, which he'd taken down a few years back so we could paint the walls. That was one of those jobs that just never seemed to get done. But now it's started and will sure look nice when it's all up and the logs have been fitted together. — Jackie