But that doesn't worry us as it's already 38° F and warming up fast. In fact by the weekend, it's supposed to be in the 50's — with rain! A whole lot of our snow has already melted and by this time next week, only big banks of the white stuff will still be with us. Hooray! We're ready for Spring.
David and Ashley are getting ready to move home after spending the winter renting David's friend's basement bedroom so they could be closer to work. They came over Saturday for a visit and to bring some of their gear home. Luckily (?) the wringer on my washing machine chose then to stick. It popped open and refused to close again. (If you'd like to see what it's like to use a wringer washer, check out my article Wash day in Issue 130 of Backwoods Home Magazine or the Twenty-second Year Anthology.) With both David and Will working on it, they soon discovered it just needed lubrication as some parts had corroded over the years. After all, that machine is at least 50 years old, and still working. You sure can't say that about modern washers!
Then on Sunday, we made two trips with our truck, David and Ashley's cars, and our Escape to their storage building in town, hauling more of their "stuff" to the big, plastic-covered plywood box David had rescued out of the dumpster at work. Included in the "stuff" were several new windows Ashley had gotten on a killer sale at Menards, as well as several new doors she'd gotten the same way. So for less than $100, they have nearly enough windows and doors for the cabin. All new, and energy efficient too.
Oh, I forgot, there was also a very large used window in like-new shape Ashley saw sitting by the road with a "free, take me" sign written on it! She quickly called David and stood guard over the window until he came with his truck. All of those windows are in the cabin, ready for when work begins again soon.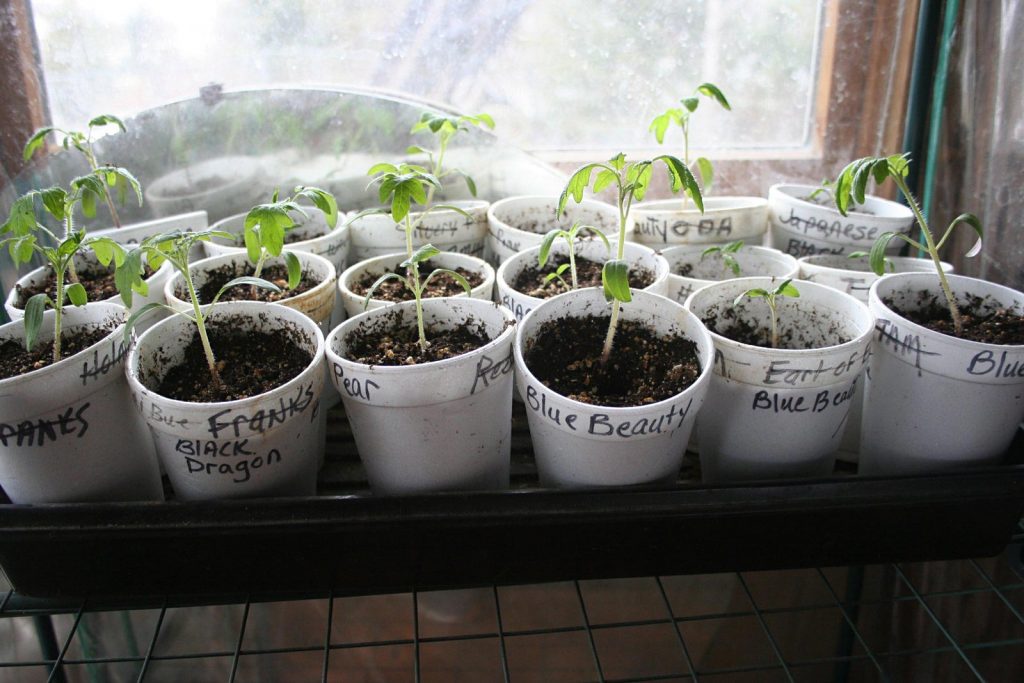 Meanwhile, I've been transplanting like mad. The tomatoes and peppers are growing like gang busters so I'm trying to get them all in Styrofoam cups in sunny windows. But I'm out of windows, so I'll have to keep the door to the enclosed porch open from now on so some flats can go out there. Right now, with the door closed, it has only gotten down to 40 degrees out there with only the sun for heat. Pretty cool! — Jackie