We still have too much snow to walk in the garden or backyard. But the driveway is bare around the buildings and we're starting to see flower beds and a bit of grass. Hooray! I saw a Red-tailed hawk on the way to mail seeds this morning and David saw a robin on the roof of our house. So we are hugely encouraged. There are even some pussy willows along the roads.
I've been busy planting more tomato seeds. I can't believe how many flats I've done already! We're enlarging our gardens and making two new ones not only to be able to save more seeds but to grow more food as I know folks will be running out as few have prepared for what is (we feel) coming. This Covid-19 is not going away soon and the economy following it will be dark. We want to be able to offer folks lots of seeds next year as everyone who can will be needing a garden.
Around here, store shelves are getting bare. Absolutely no hand sanitizer can be found. I'm making our own using two simple ingredients I'm still able to find; sunburn gel and rubbing alcohol. I mix ¾ cup of gel with ½ cup rubbing alcohol and put it in a used pump hand sanitizer bottle. From there, I squirt some into the two smaller bottles I keep in our vehicles to use after going to the post office. The gel also contains alcohol, along with aloe vera gel, which you can't get anywhere around here. And we wash our hands like mad too. Besides that I've mixed up some bleach and water and put it into an old spray bottle to do door handles, surfaces, shoe soles, and the steering wheel in the vehicles. And I pray a lot.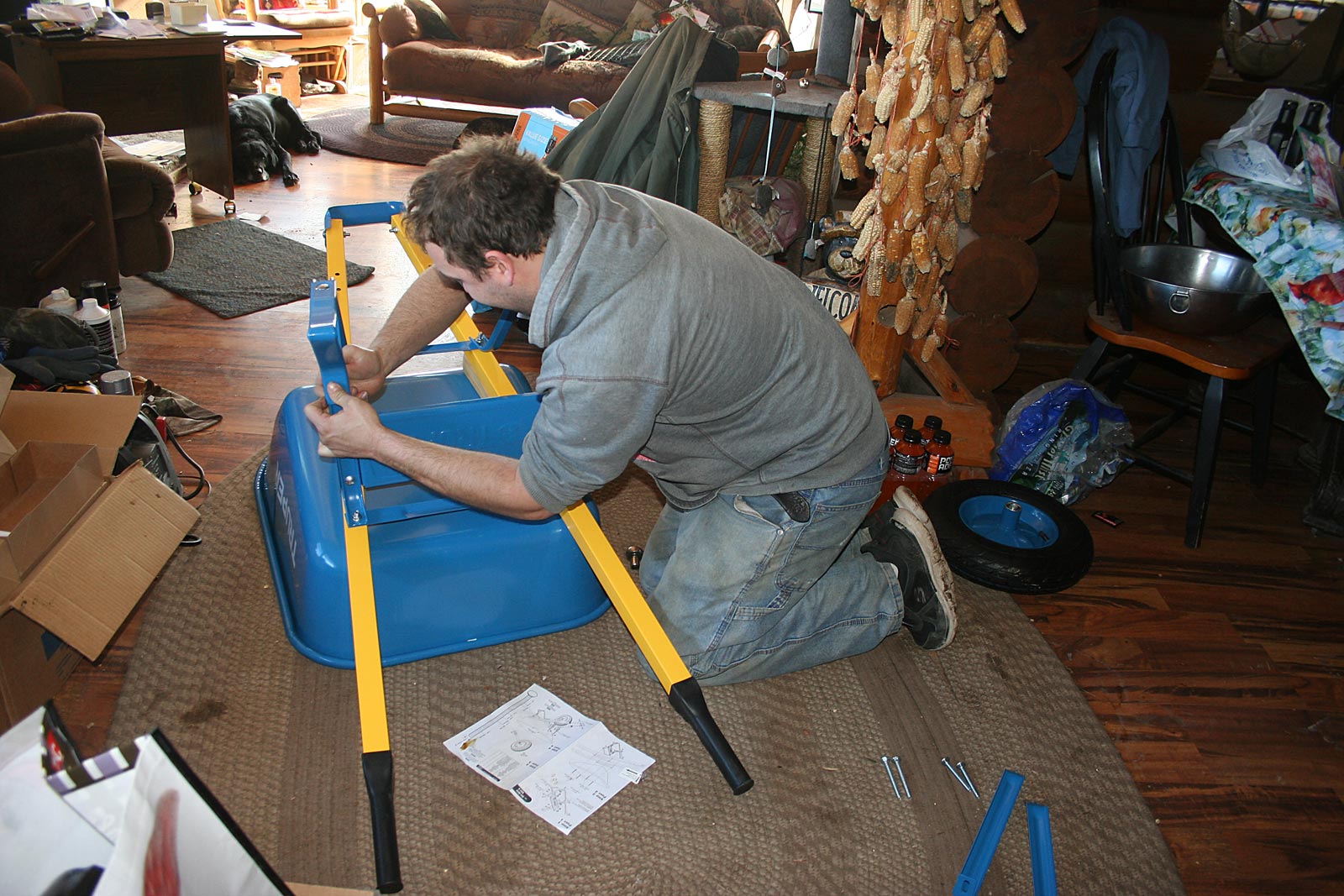 One of the things we bought before the shelter in place order was given by the state was a new wheelbarrow. Our old one was nearly 25 years old and had seen hard, frequent use between mixing cement and hauling rocks, to daily hauling in of firewood. Will had replaced one handle but the whole thing is pretty much worn out. Today — around here anyway — wheelbarrows come in pieces — a box of parts, the handles, and the tray. So a couple of days ago, David decided he'd put it together. He likes things like that; sort of like a guy puzzle. So the wheelbarrow was put together in the house, and in less than half an hour, we had a beautiful new, blue wheelbarrow, ready to work. So far, nobody can stand to mar that beautiful blue paint! The firewood is still being brought in, using the old one. Go figure! — Jackie