On Friday, I took our apprentice, Ashley, over to the Vince Shute Bear Sanctuary near Orr, Minnesota She'd never seen black bears in the wild and we got to see many of them interact over a few hours' visit. We saw big and little bears, including triplet cubs that Mom sent up a tree while she walked around, checking out feed piles in the nearby area. It's such a nice place to get to know these often-misunderstood critters that are also our neighbors.
Will's Fathers Day gift was over half an inch of rain. And no gift could be more appreciated, both by him and me too. As our various crops are just starting to come up, this rain will send them shooting upward happily. Ashley got nearly all of our extra peppers planted in the North garden by Saturday and I'd just set in a 150 foot row of extra tomatoes in the Wolf garden. So this rain will send them jumping. The potatoes are all up and will need hilling soon. And, again, with rain, they'll grow like mad now.
As it was Fathers Day Sunday, sons Bill and David and their families came for dinner. And, as granddaughter, Ava, still didn't know she had a new pony, we sure had fun taking her down to see Whinny, even if it was raining a little. I told everyone I had a pet woodchuck for them to see. (Hondo had excavated a hole by the pasture gate, trying to get a ground squirrel that was three feet deep and sure looked like a woodchuck had dug it.) I told her his name was Whinny so while I called "Whinny," Will kept her busy looking for the 'chuck's other burrow in the edge of the trees while the real Whinny came walking up from the pasture. Imagine the surprise when Ava saw the pony! And then I told her that her mom and dad had bought it just for her.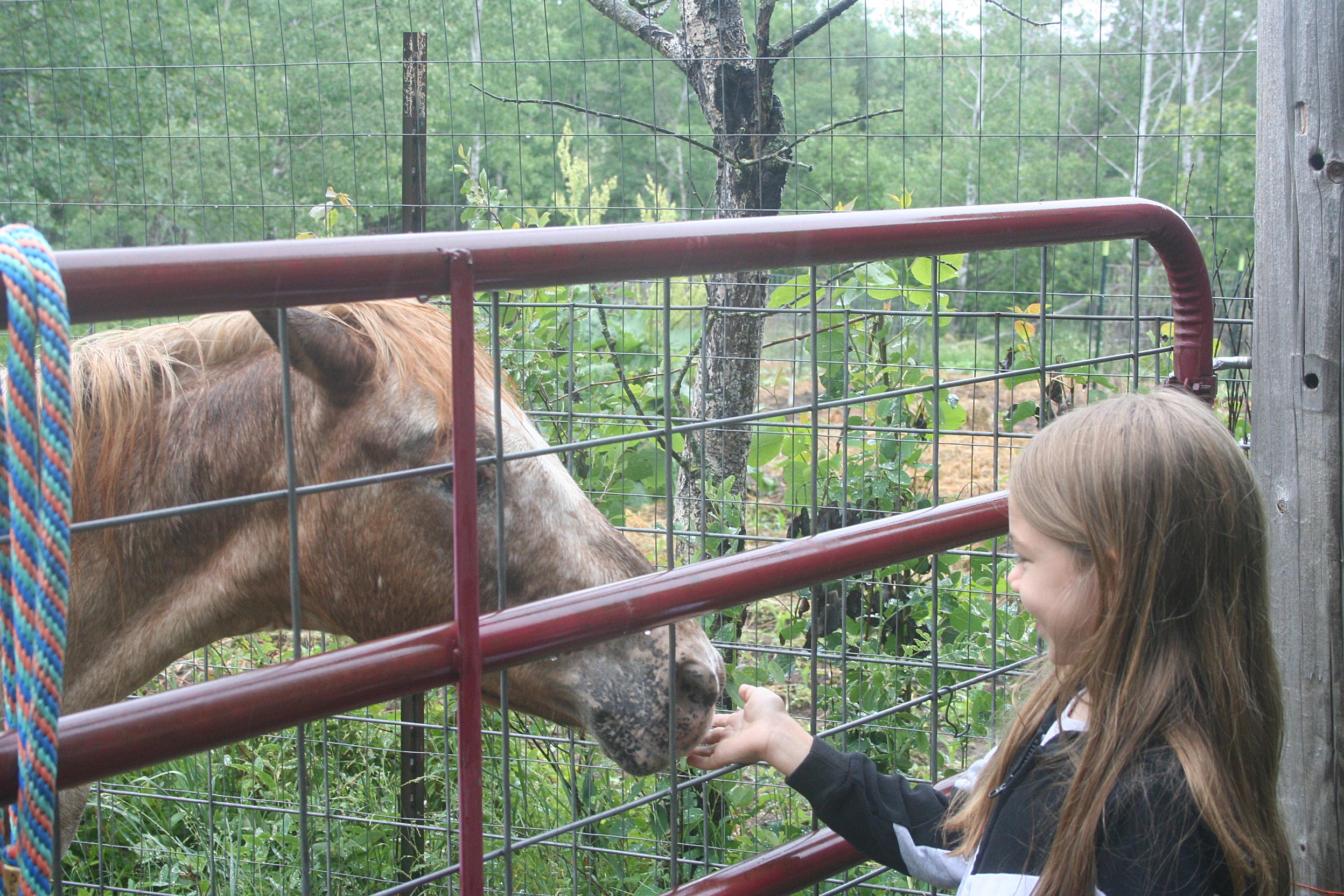 She spent a long time petting Whinny, then learned to walk her on a lead. Meanwhile, Dad was telling her the "don'ts" like don't tickle her flanks (she might think it's flies and kick), don't surprise her by walking up behind her unexpectedly, hold the lead at arm's length so she doesn't step on little girl feet and so on. Whinny did have a halter but it wasn't adjustable so I'd bought her one that was. So Ava spent a lot of time inside, learning how to put a halter on right. And, of course, she had Dad go with her several times while they were here, to practice leading her again. They're bonding. I think they'll go a long way together.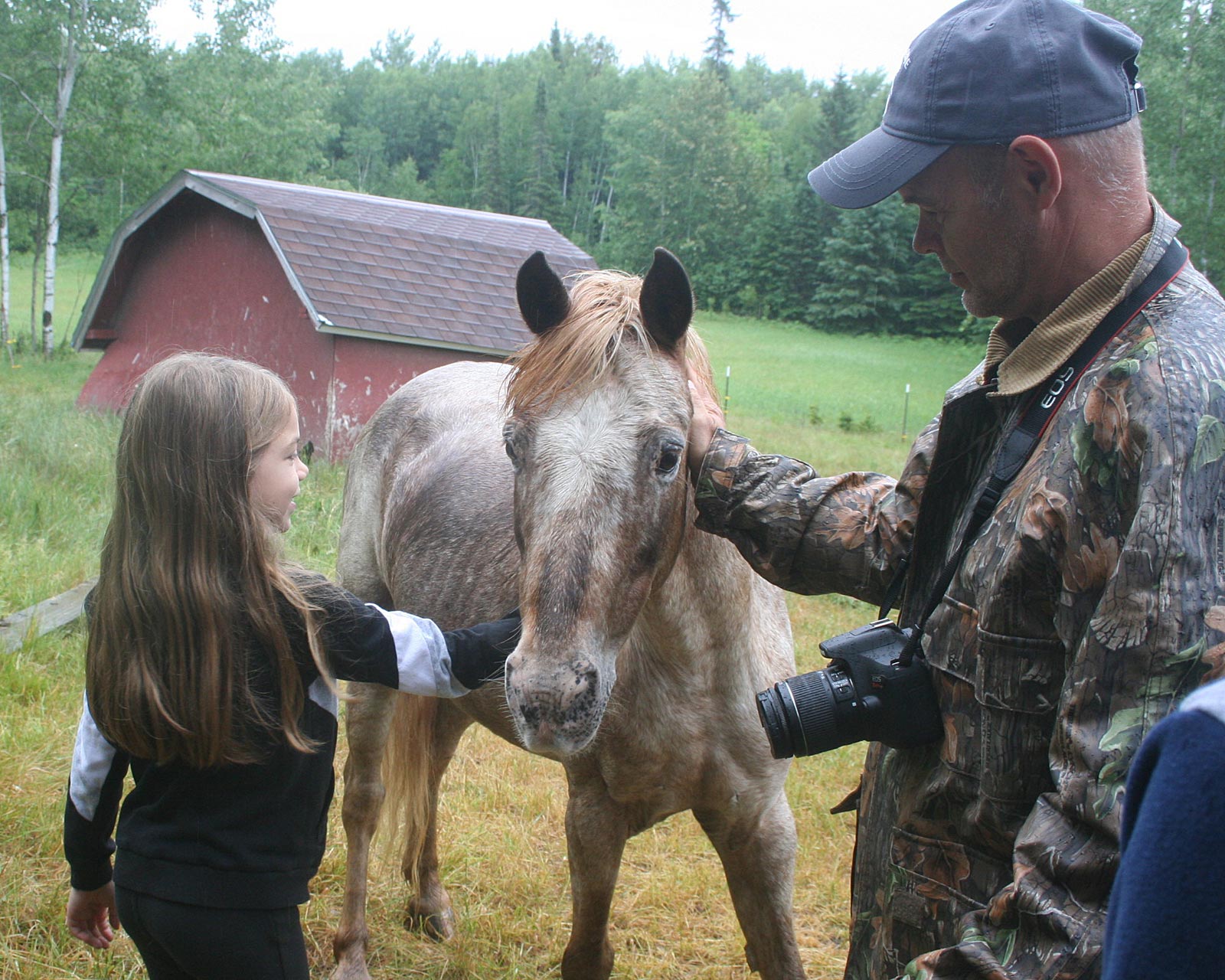 As I'd been so busy lately, I took the easy way out for dinner; I went to town and bought a couple boxes of fried chicken from the local market, along with sides to go with it. But I did bake some rolls to go with it that turned out very nice. Hey, I'm not a purist! We mostly eat what we grow but sometimes I take the easy way out and let Zups Market do the cooking. Then I can enjoy everyone even more.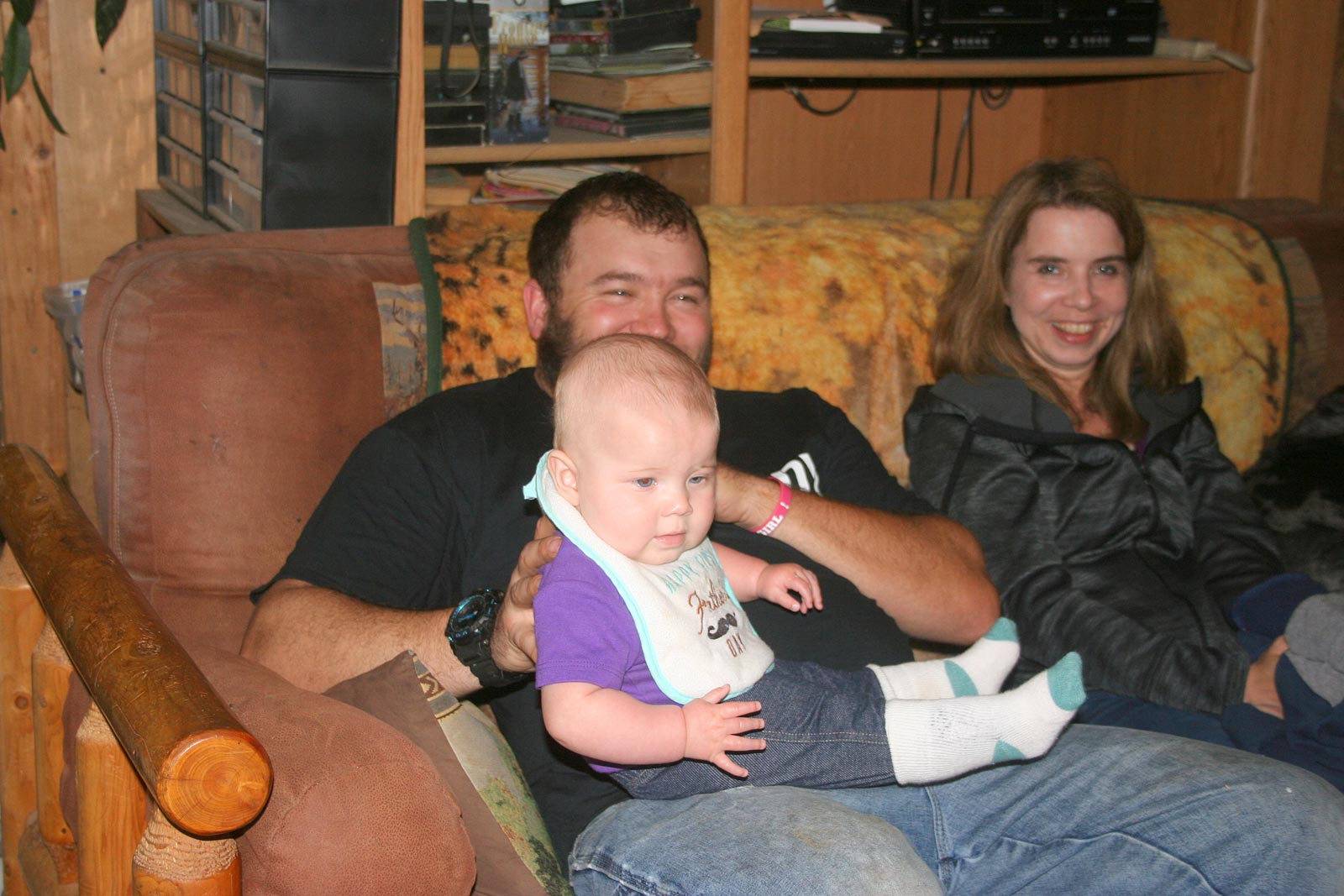 I can't get over how much granddaughter, Delilah, has grown! At six months, she's rolling over, trying to talk and will soon be crawling all over the place. She sure wants to sit up and partake in the conversation around her. How cute! — Jackie