He always said "Too soon old, too late smart!". And I've found that to be oh so true, as I travel my own path through life. Now, I figured I was fairly intelligent but boy did I ever get scammed on Friday! And I'm not easy to fall prey to scams, either. I'm telling you my sad tale so, hopefully, none of you will fall for the same type of scam I did. Due to our seed business, we have a PayPal account as we buy, online, various supplies for our business. (Prior to that, we only dealt in cash and checks, which is a great way to go, if you can.) I went to check our emails and here's a notice from (supposedly) PayPal, saying I had just bought $500 worth of Crytocoin. Of course I had not. In a near panic, I called the "If you did not make this transaction" number on the email. Here's where it got weird. I got a guy from India who screwed around and finally "found" the problem. He told me someone had accessed my IP address and would start making lots of unauthorized transactions if I didn't address it immediately. Okay … Then he tells me to go to Walgreens or Target and buy $800 worth of Google Play cards. Whoa! Red flag, here. I asked him what the heck they were for and he tells me they're so he can access a blocking code to block the hacker. Then he says PayPal had just added $900 to my debit card, $100 for my trouble to run to town (30 miles) to get the cards. I checked my text and did have a text from "PayPal," informing me of the transaction. Still leery, I drove to town, bought the cards. Then he had me read the codes off the backs, (another red flag!), but stupidly, I complied.
Then he said he'd blocked the hacker but there was another one in Canada, a porn site and that I needed to go to Target and buy $800 worth of cards so he could block that one. By then there were red flags waving everywhere and I told him I was done. He kept on and kept on and finally I hung up. He called several times and I didn't pick up. I drove directly to a branch of our bank and went in to see if "PayPal" had, indeed, added money to my account. And, of course, they had not.
When I got home, I confessed my stupidity to Will and hit the computer to report the fraud to the government. I'm sure the $800 is gone, gone but I'm looking at it as an education. Good thing, too, as today I got an email saying "Thank you for your $1,500 purchase from Amazon." I immediately checked with my bank and there was no such purchase. And, of course, there was an "If this was not made by you, call this number.". And, of course, I did not! Holy cow! I just don't want any of you to fall for this type of scam. I'm smarter than I was on Friday. I check with my bank, first and if there was an unauthorized purchase, they deal with it and I get my money back!
This afternoon, I'm starting to transplant tomatoes and peppers. Will's been working on the greenhouse and has all of the south side windows calked and permanently installed. Now he's working on the north side. We have a 25-foot length of flexible gas line, which we may have to run on top of the ground to the tank, until the ground thaws enough so Will can dig up the line he damaged with the bulldozer, pushing snow. I'll be needing to put flats of veggies out there pretty soon and they will need heat.
Last night, we had a very beautiful full moon, which rose through the trees to the east of the house. I just stood there for a long while, looking at it, then ran into the house to grab a camera. It was awesome. Then, this morning, we awoke to six inches of wet snow, still falling. It was kind of disappointing as most of our snow had gone, but we do know that it won't last more than a day or two, this time of the year. I hope all of you had a blessed Easter and are looking forward to spring. I got some cute photos from David and Bill, of the grandkids coloring Easter eggs and wish I could have been there in person.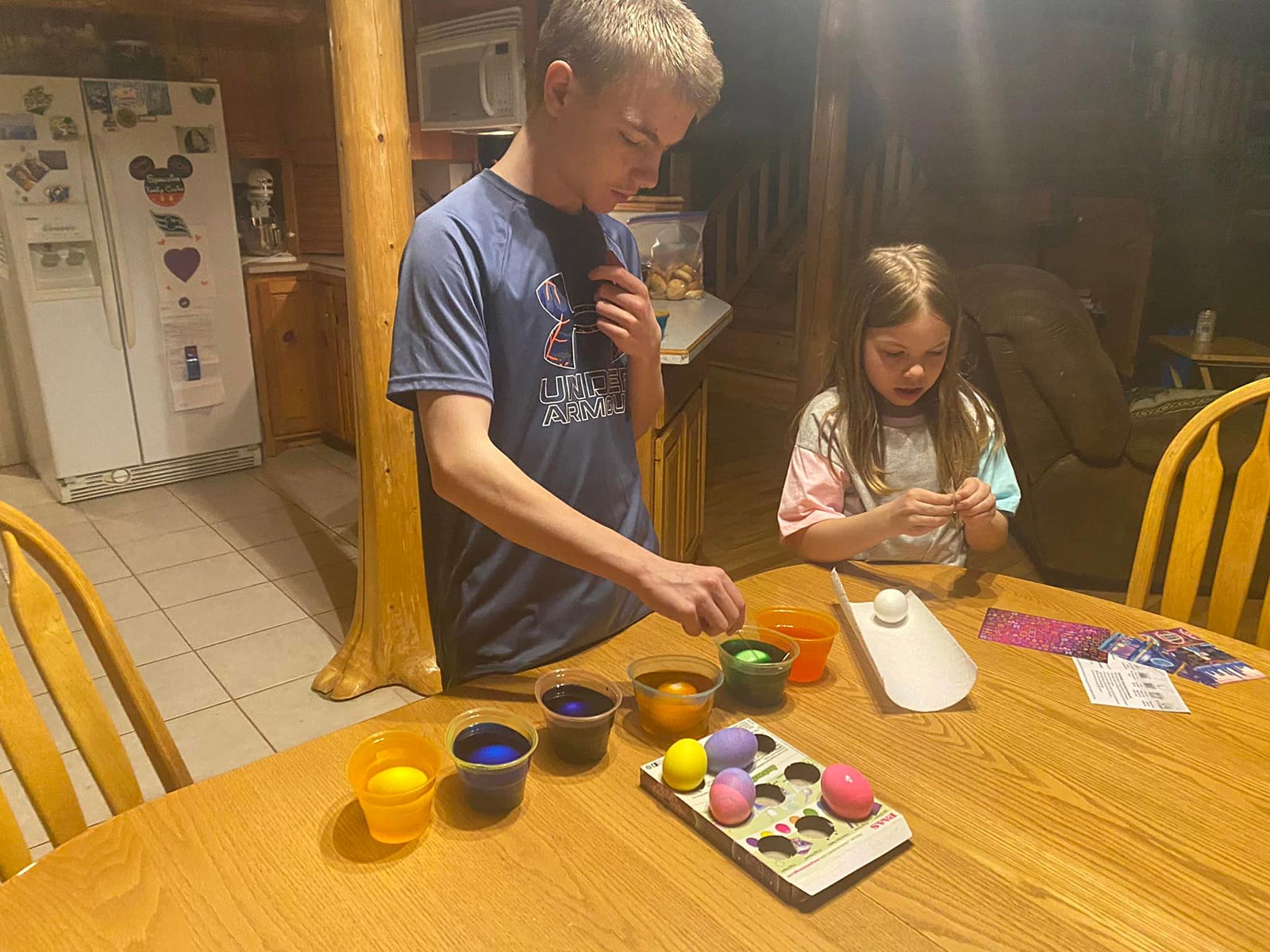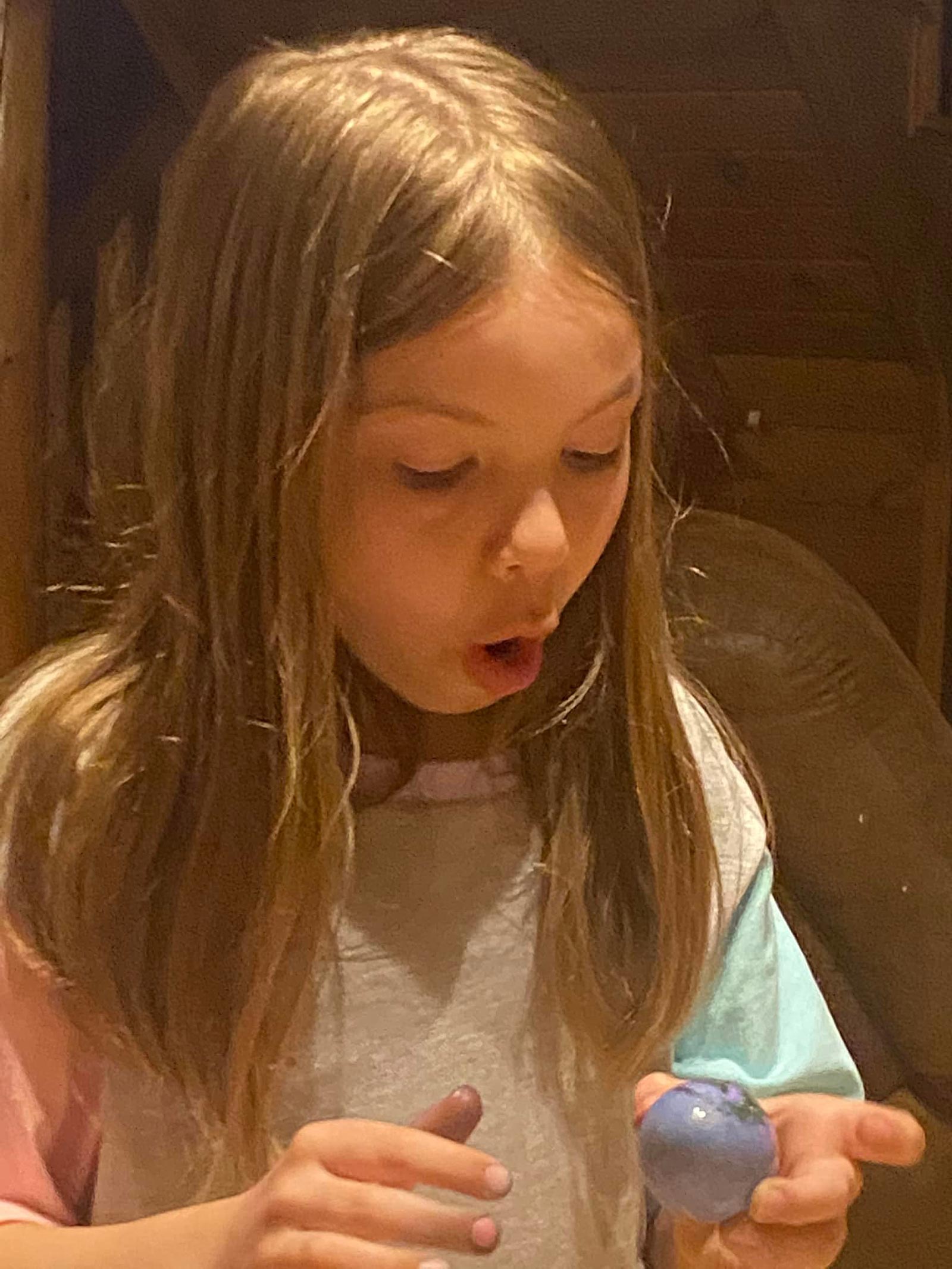 — Jackie