We've finally got nice spring weather with temperatures in the sixties and even seventies. So, guess who's working until dark every night? We're behind as spring came late for us. We even had a 32 degree F night three nights ago. Whew! We listened to the weather at six o'clock and hurried out to the Navajo Robin's Egg corn our friends had just planted that day for us, transplanting from deep six-packs Dara had started indoors. (It's a later variety and we wanted to ensure we had viable seed for this rare Native corn. My knees have been killing me with all the garden work, so my darling husband covered all 185 corn plants with Styrofoam cups. And it worked well. No damage at all. That day, we also had a big group out to visit and learn about gardening, so we were pooped that night.
On Sunday, I planted two 100-foot rows of potatoes in the Wolf Garden. One was Dakota Pearl, and the other was Grandpa's favorite, Bliss Triumph. As Bliss Triumph is now pretty rare, I saved our best potatoes from last year to cut into pieces, each having two eyes, and used those as seed. I have two saved places, on the end of each row, so I can cut up and use a few of those huge Dakota Pearls we harvested last fall. (Maybe I'll develop a race of super-potato?) We've found a great way to plant long rows of both potatoes and tomatoes. A couple years ago, Will bought an inexpensive tractor-mounted tool called a middle-buster to run an underground waterline around our gardens. Basically, it's a small plow that throws dirt on both sides of the furrow, unlike a plow that only throws dirt one way. One year, I asked him to try running a couple furrows out in the North Garden so I could plant potatoes quickly. He did, and we've been using that method ever since. You just toss a piece of potato in the furrow every foot or so, then go back with a hoe and push dirt from one side to cover the potato about 3 inches deep, plus filling in the furrow a little between the potatoes. The plant will grow up and then you can hill it easily by just going to the other side and shoving more dirt in around the lower part of the plant. Perfect and fast!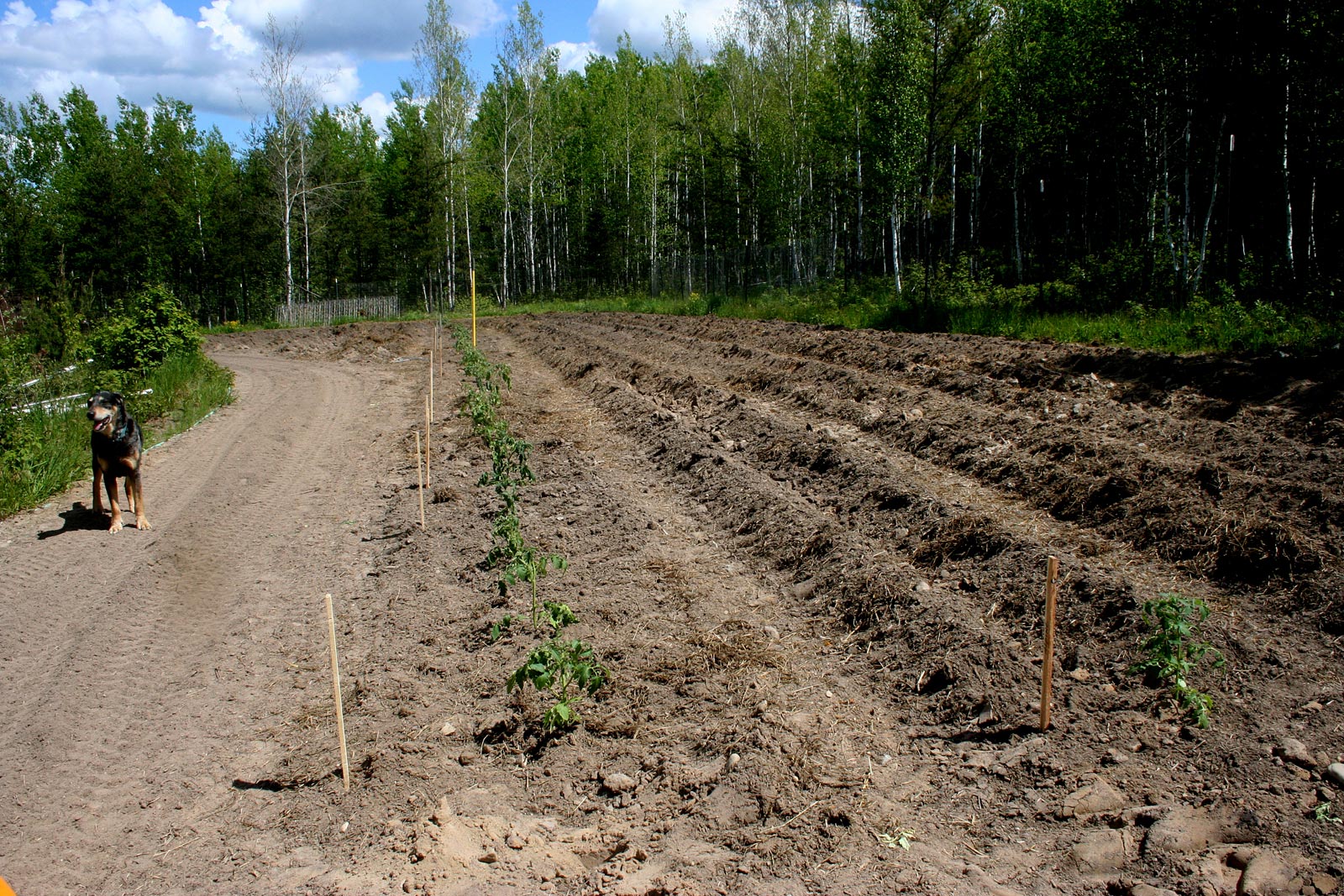 Last year, I tried that with my left-over tomato plants in the greenhouse, after we'd planted our best ones in the Sand Garden. Same deal; fast and easy. Even the ones that had grown up kind of long and leggy were easily laid on their sides, gently curving the stem up so the stem was covered, to make lots of roots, and the leafy part, standing nice and straight.
This year, I did that with our main crop tomatoes. It worked even better as our oldest son, Bill, and granddaughter, Ava, came up to get a load of cedar fence posts, our old wheel rake and the hydraulic post pounder. After all that was loaded so Bill could finish a fence for Ava's pony, Whinny, Bill helped us set out two flats of tomatoes. Boy, was that ever appreciated. And it went so fast too! How nice that was. We'll be setting out tomatoes all week now.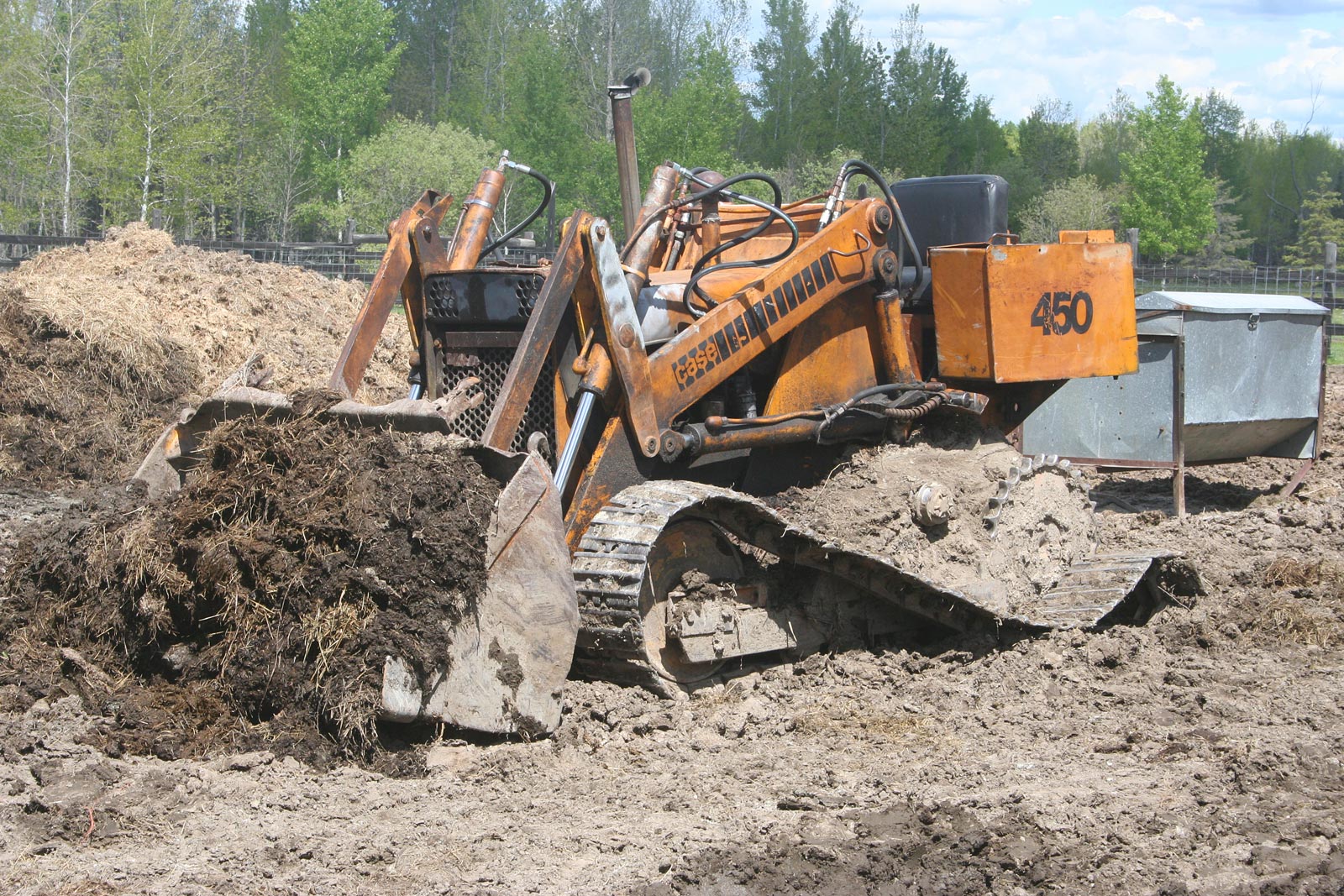 Today, our lilacs are in full bloom, announcing spring is really here. Will has been hauling manure, using the crawler/loader to load the spreader. Unfortunately, it threw a track. But he grabbed the Oliver and loaded with that. Now, he's hauling out to the Wolf Garden so it can get the second tilling before planting. Unfortunately, on the second load, the apron chain on the spreader broke! So, he's out, with a repair link, to fork out the remaining manure and fix the chain. It seems like it never rains but pours!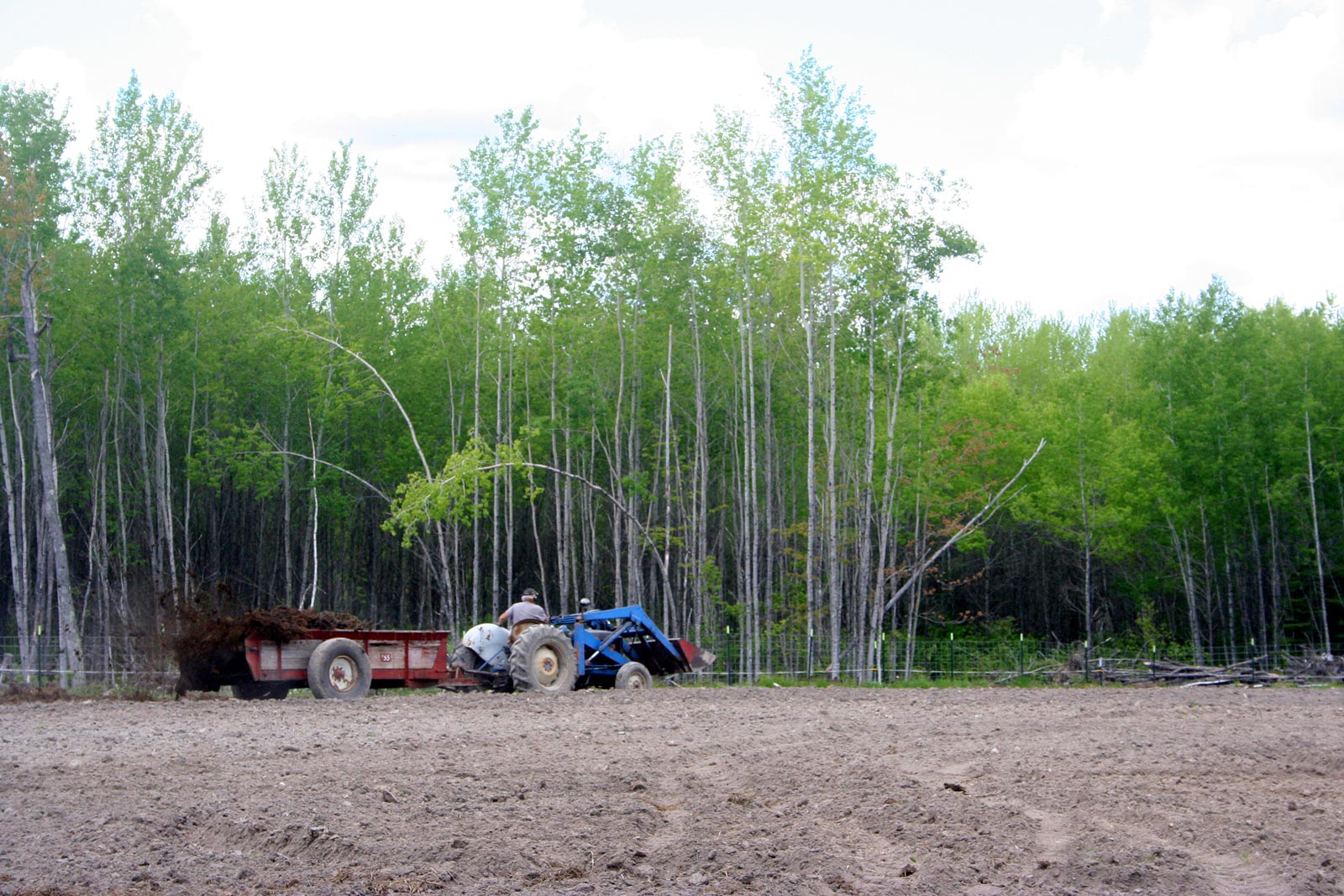 His big dozer developed a problem with the hydraulic pressure relief valve when he was shoving big rocks up over at David's new cabin. But he seems to think he's got that figured out. After taking it out and apart, he discovered some rounded, black, hard bits of something, which were holding the valve from closing and opening correctly. We hope that's all it was! — Jackie