We pause for a brief commercial announcement.
An attorney friend wrote me this morning to say, "… been following your blog, great stuff.  Forgive my crass, sniveling, pond-scum lawyer attitude BUT, you ought to be plugging Deadly Force in the blog to boost sales …"
Which does, frankly, make sense.  My new book "Deadly Force: Understanding Your Right to Self-Defense," just came out.  So far, according to Amazon, it's doing well, and listed as their best-seller in its category.

I grovel in gratitude to my beautiful and long-suffering editor, Corrina Peterson, who managed to get it out in time for Christmas.
It's actually my third book this year, all from the same publisher (FW Media, the Gun Digest folks).  The earlier two are "Gun Safety in the Home" and "Gun Digest Book of SIG-Sauer," second edition.
One more class to finish this week and another mid-month, and the old guy here is gonna kick back for Christmas.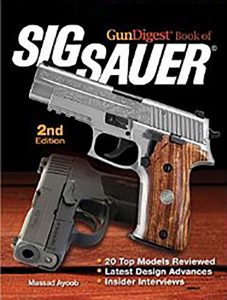 And if anyone says, "OMG, you self-promoting SOB," well, I guess I can honestly reply, "I did it on the advice of a lawyer."