We've all heard that amusingly hypocritical line, "Lay in a big supply before the hoarders get it all!"  Indeed, we shooters all lived through that in 2008 and for a good time after.  People who feared the Obama administration would make good on the new President's previously declared wishes to ban assault rifles bought up every AR15 and AK47 clone in sight, and ammo was so scarce people were waiting in line to buy the six measly boxes that WalMart allowed per customer.  Some of those folks in line were gun dealers, who took the six boxes back to their own shops to sell for inflated prices.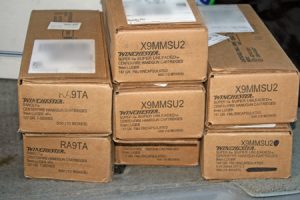 Whether you call yourself a survivalist, a prepper, or simply self-reliant, it makes sense to "buy it cheap and stack it deep" when it's something you need, like food or medicine.  At least in terms of ammo, it's too late to "buy it cheap," but since I need a continuing supply of ammunition for training and match shooting, I'm stacking it deep right now myself.  The rumor mill whispers of coming shortages, due partly to the strongly-grounded perception that the Obama administration's anti-gun leanings will come out of the closet once he's re-elected. There are also certain other market factors.  Foreign countries fearful of the second term President pulling US troops out of their countries are rumored to be ordering small arms ammo in large quantities from US manufacturers, who have a finite production capacity.
Much has been made of Homeland Security's recent contract with ATK for 450 million rounds of Federal HST 180 grain hollow point ammo, caliber .40 Smith & Wesson.  I don't see that as a harbinger of martial law and civil war as some do. Being in law enforcement myself, I've seen the severe shortages that have plagued even police agencies in the last several years.  The contract is for up to all those millions of cartridges, and may mean nothing more malignant than that a huge government agency wants a contractual guarantee that they'll be able to get enough to train and qualify their people, even if their actual deliveries never come close to the top level to which that contract holds the manufacturer.
If you're a reloader, stock up on components, particularly primers.  Keep both components and loaded ammo in a cool, dry place.  If nothing else, if inflation runs rampant and turns hundred dollar bills into toilet paper, ammo is always worthwhile for barter…
What's you folks' take on the situation?