I've always found that a shooting match is win-win. If you win, you get positive reinforcement and of course, warm fuzzies. If you lose, you get a learning experience. For me, the latest IDPA National Championship was…instructive.
The scores are out, and many fine people were in the winner's circle. I had told my buddy Jon Strayer that I thought the most exciting race of the match was going to be in Stock Service Revolver division, where long-time champ Curt Nichols of Oklahoma stood to be closely challenged by Craig Buckland of Massachusetts and Cliff Walsh of Florida. I expected a photo-finish reminiscent of the race between Ernest Langdon with an S&W .45, David Olhasso with an XD .45, and Dave Sevigny with a Glock .45 in the Custom Defense Pistol division a few years ago. Cliff couldn't make it to the match, but Curt and Craig dueled shot for shot over seventeen demanding courses of fire, with Craig upsetting the national champ and taking the title by four seconds over all those stages, shooting a Smith & Wesson .357 Combat Magnum.  In the Enhanced Service Revolver division, of course, the legendary Jerry Miculek and his trademark S&W Model 625 .45 revolver added another link to his unbroken chain of national champion titles.
Enhanced Service Pistol was captured by Taran Butler (dunno what he was shooting), and Stock Service Pistol for the umpteenth time was captured by Sevigny with his Glock 34 9mm.  As I had predicted a few entries ago in this blog, my Team EOTAC teammate Bob Vogel won the Custom Defense Pistol division with a Glock 21 SF .45. A full time patrolman in Ohio, Bob also took the high lawman award, once again disproving the canard that cops can't shoot.  Julie Goloski-Golub was the Woman Champion, shooting a Smith & Wesson.
I'm proud to have all of these fine people as champions in a sport I enjoy, and I can attest that they're all good folks. I know all but one personally, and while I've never had a chance to talk with Taran Butler, the interviews I've heard him give show him to be a no-BS guy who's happy to share the secrets of his success with new shooters.
Me? I'd predicted earlier that I'd shoot like a sloth on Thorazine; it turned out to be more like a sloth on Nembutal. I was satisfied with my accuracy, apparently in the top 20 in that respect out of almost 400 shooters, and second most accurate on the demanding Standards stage with three points down from perfect out of 42 shots fired.  I just did it too slo-o-owly. Lesson learned: gotta honk up the pace.
I couldn't help but notice that the one guy who shot the Standards with fewer points down than I did was also the single most accurate shooter of the overall tournament, an Enhanced Service Pistol Master named … Juan Valdez.
If that isn't a sign an old shooter who's slowing down should heed, I dunno what is.
To me, the lesson was starkly clear: Next match, bring coffee to the firing line…
Firing a Model 19 S&W with .38 Special ammo, Craig Buckland shoots his way to the 2010 National Championship of IDPA Stock Service Revolver shooting.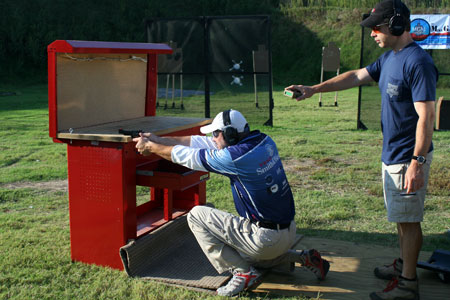 A slow, but reasonably accurate, old guy with gray whiskers shoots a Wilson 1911 .45 auto while wearing a heavy-ass backpack and straddling a bike…something which, for him, will probably not occur in nature.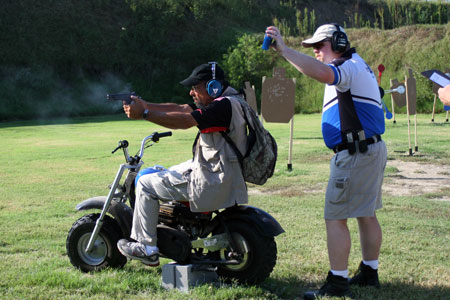 One lesson learned at the match: next time, bring coffee to the firing line. Wilson Combat CQB Elite .45 with new Wilson "Battle Sights" is shown with some Yuppie java from shooter-friendly Starbucks.