The SHOT Show goes far beyond just guns.  One of the hottest accessories today is the sound suppressor – silencer – which is riding a huge wave of popularity that has yet to crest.  My old friend Jeff Chudwin is a retired police chief, several-time national patrol rifle champion, head of the Illinois Tactical Officers Association, and one of the great street survival gurus of all time. He has flatly stated that he thinks every police patrol rifle should be equipped with a silencer.  Not just for tactical reasons, but also because of the risk of hearing loss in training with very loud guns. He cites the case of an officer he knows who lost 50% of his hearing when a brother officer fired a 5.56mm M4 rifle near him in the course of an on-duty shooting where naturally, no one was wearing ear protection.  Today's silencers are better than ever, and we have gun-makers such as SIG and Ruger making their own.
For some time now, the SHOT Show schedule has included not just show and tell/show and sell, but training. Some of it has to do with marketing and management for firearms dealers and shooting range owners, but some of it also has to do with survival.  Some highly-credentialed people are teaching initial police response to mass murder incidents, and offering tactics for unarmed civilians caught up in such atrocities.
Today some of us from Massad Ayoob Group took a well-attended class on firearms dealers' role in suicide prevention. The National Shooting Sports Foundation has joined with the American Foundation for Suicide Prevention to help gun dealers recognize customers with suicidal ideation in hopes of denying those people the means to carry out impulsive self-destruction.   Though some have the impression that this is a new concept, it actually follows in the footsteps of the New Hampshire Firearms Safety Coalition under Elaine Frank, and the Gun Shop Project spearheaded by gun shop owner Ralph Demicco, an active member of NHFSC.  This program puts suicide prevention posters and literature into the shops themselves, and offers training for gun shop staff on how to pick up subtle indications of suicidal ideation.  There have already been "saves" with it, and many other states have developed programs modeled on New Hampshire's. It is good to see a national organization picking up that ball and running with it, given that some two-thirds of the "deaths by gun violence" that prohibitionists cite as a reason for you and I not to own firearms are in fact suicides.
Christine Moutier, MD, Chief Medical Officer of AFSP yields the microphone to Bill Bussard of NSSF at SHOT Show suicide prevention lecture.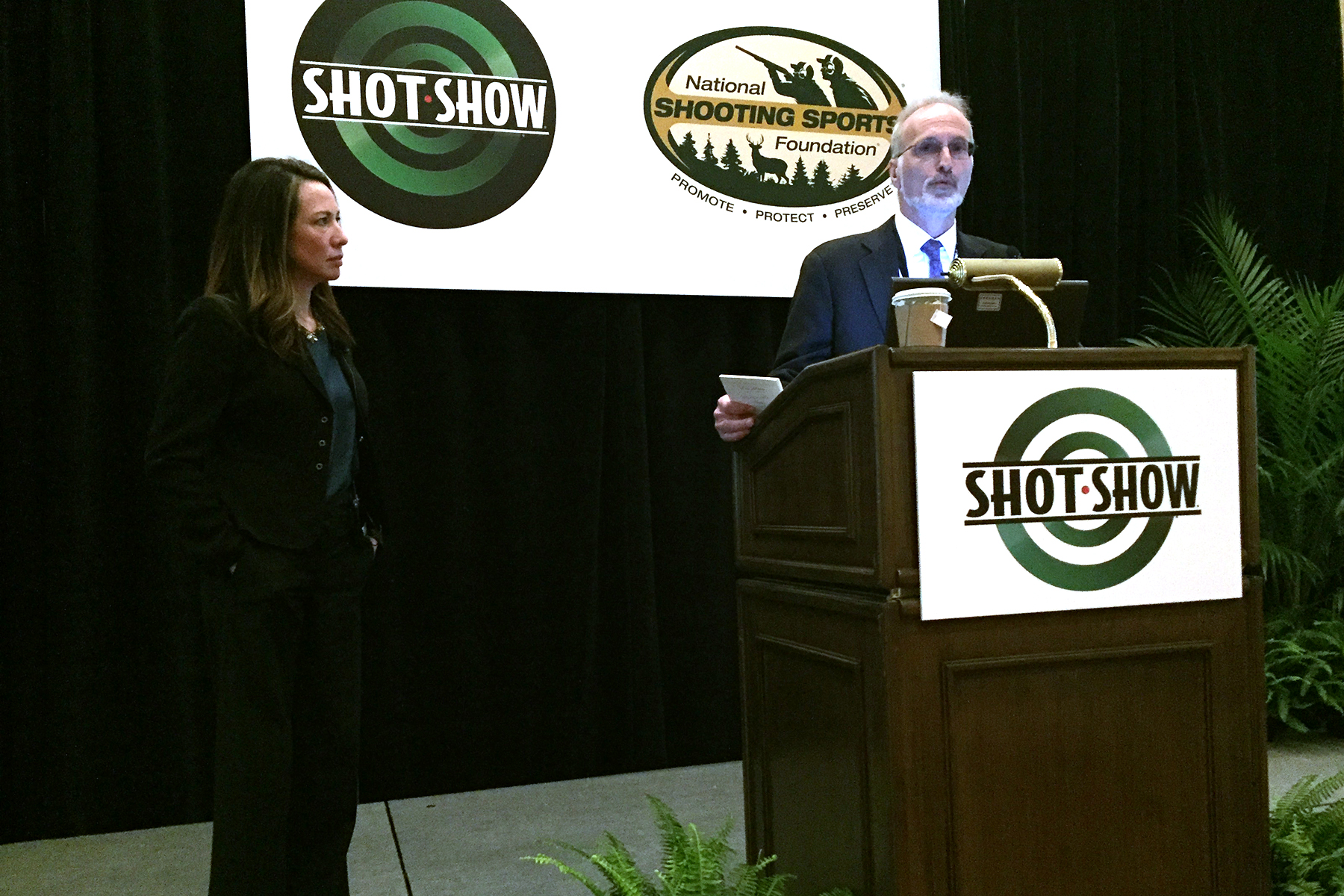 Latest variant of Ruger Mark IV .22 pistol, the 22/45 lightweight, mounts Ruger's own suppressor.  Handy thing to have around farm or ranch. Yes, suppressor requires BATFE licensing.