So, here we are in the dead of summer. It's a safe bet that "Backwoods Home" kinda folks are outdoor kinda folks, and whether it's work or play, are gonna be out in the sun a lot. It pays to be attentive to the dangers of that.
Just finished shooting the East Coast US Championships of the International Defensive Pistol Association in Prospect Hill, NC, still ongoing through the weekend. Temperatures were estimated at mid-90s to 100 degrees ambient, with a "real-feel" heat factor estimated at 107 to 110 degrees. We were on the outdoor ranges with virtually no shade from 8AM to 5PM, relieved only by a refreshing ten-minute thunderstorm in the afternoon. The skies finally opened with a major squall just after we finished shooting.
The Caswell Ranch range and shooting club, our hosts, did a splendid job and so did all their great staff. They were out there in the heat longer than any of us shooters were.
I had never done a twenty-stage match in one day before, and we were kinda draggin' from the heat and the high humidity by the time the last shot was fired, but we made it through OK. That was largely because we followed the advice earned hard over the years by centuries of American farmers, and by wise shooters. You can find an excellent compendium of that advice here, at Gun Rights Radio Forums, which has a LOT of good advice on tap for shooter folk. http://gunrightsradio.com/forums2/index.php/topic,4394.0.html
Pay particular attention to the advice from Miggy, Miguel Gonzales, who runs matches in Miami through the year including the depths of summer, and Larry Piekarski, who reminds us that humid heat can be dangerous to shooters even in the temperate heartland of Indiana. In the past, I've seen a shooter ambulanced off the range with heatstroke, a life-threatening condition.
Stay hydrated! Dehydration brings on fatigue, fatigue leads to carelessness, and careless people with loaded guns are ticking time bombs. We got through thanks to lots of water; Gatorade to replace lost electrolytes; the occasional banana; that miracle of modern life, the Cool-danna; and common sense.
Modern, high-tech warm weather clothing is good stuff. I had the good fortune to be sponsored by EOTAC (www.eotac.com), and was wearing their lightweight BDU pants and their newest high activity polo, with a smooth silky feel that dries out from sweat VERY quickly. Hugely improved comfort factor. It kept me way cooler than jeans and a tee shirt. One reason I often wear their clothing when I DON'T "compete in the heat."
My adult supervisor, the Evil Princess, forgot her sun block and left looking like the main course at a lobster restaurant. While crimson is not her best color, she left on her own feet, up and running, and that's what due care when outdoors in dangerous heat is all about.,
The shooter will spot Mas' left hand closing the cylinder of the S&W Model 15 .38 with his left hand, and bringing his right hand back into firing grasp as the Safariland Comp III speedloader falls away. The hot and sweaty shooter, however, will notice that Mas is wearing a Cool-danna and looks pretty comfortable in EOTAC vest, pants, and moisture-wicking shirt, while the Safety Officer's t-shirt is plastered to his body with sweat.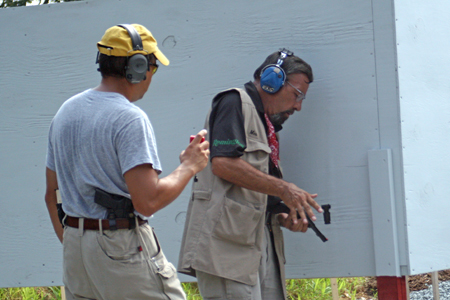 When the safety officers (and the shooters) are wearing towels around their necks, you KNOW it's a hot and humid day!