I've been reminded that I left a loose thread hanging last month, when I wrote about the Rangemaster Tactical  Conference hosted by Tom Givens and his extraordinary team in Little Rock. I had mentioned the Polite Society Match, a defense-oriented pistol shooting competition that is a staple of this excellent 20-year training event, and never followed up with the finale.
I wrote at the time, "… the quality of shooting here is so high that just after the first day, several perfect scores on the fixed-time speed shooting event have been recorded.  Good news (for me, anyway), I'm one of them.  Bad news: the competing field includes world-class champion shooters like Gabe White and Ernest Langdon.  In the shootoff for the title, my chances are about like a snowball in hell…but at least I'll go down shooting."
Which turned out to be rather prophetic…
So, let's pick up where I left off. I had shot the match on the first day of the three-day event, Friday. All competitors were scheduled to be complete by the morning of the last day, Sunday, and then arrayed for a person-against-person shootoff.
The main match on Friday was the first time in the several years I've been going when it was "fixed time," that is, we had so many seconds to get our shots off at each stage, and then the hit values were added up.  In the past, each shooter was separately run on each stage with an electronic timer, and time factored into hit value for final score. I don't recall there ever having been a perfect tie.
This time, with many heavy hitters in the mix (read: world champion and grandmaster class) more than three dozen of us tied for first place with perfect scores.
The initial 40-shot qual with turning targets.  From left: Ernest Langdon with Beretta Px4, Spencer Keepers with Beretta 92, and some old fart with Gen5 Glock 19, all 9mm.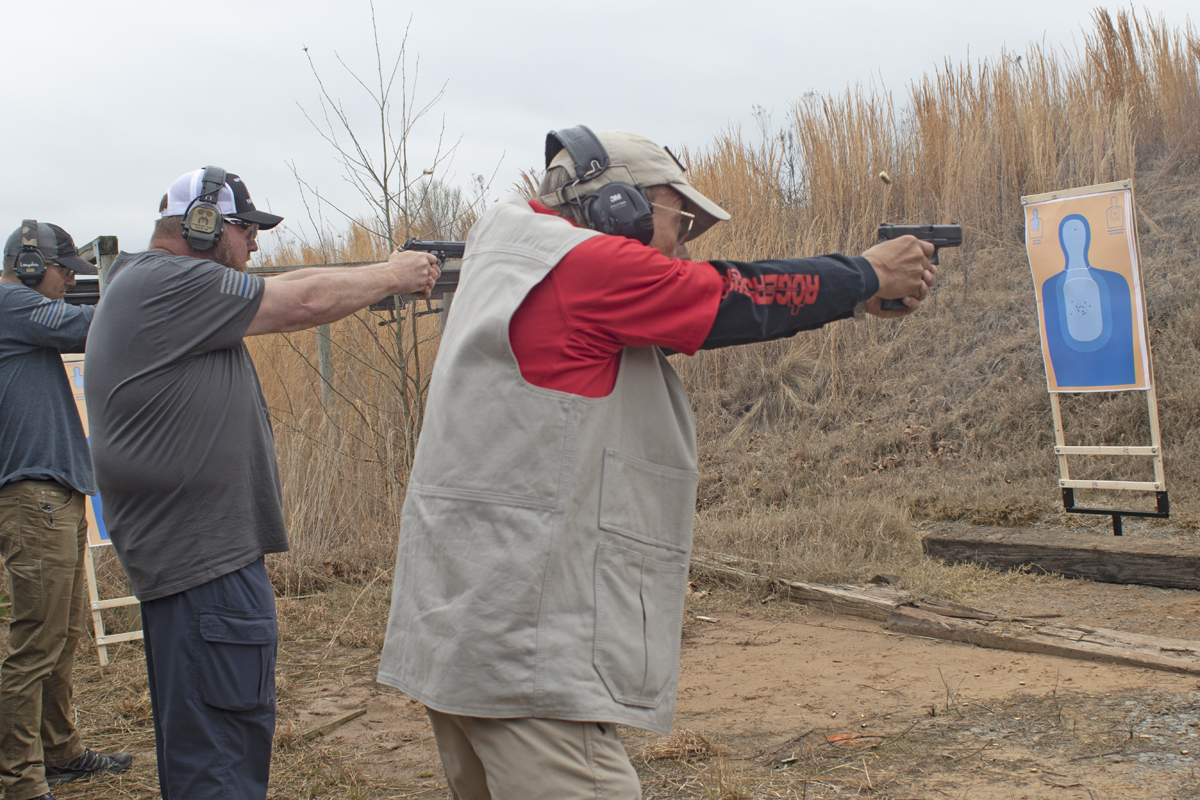 I managed to clean the first phase, 200 out of 200. So did 3 dozen other guys. The two head shots were mandatory.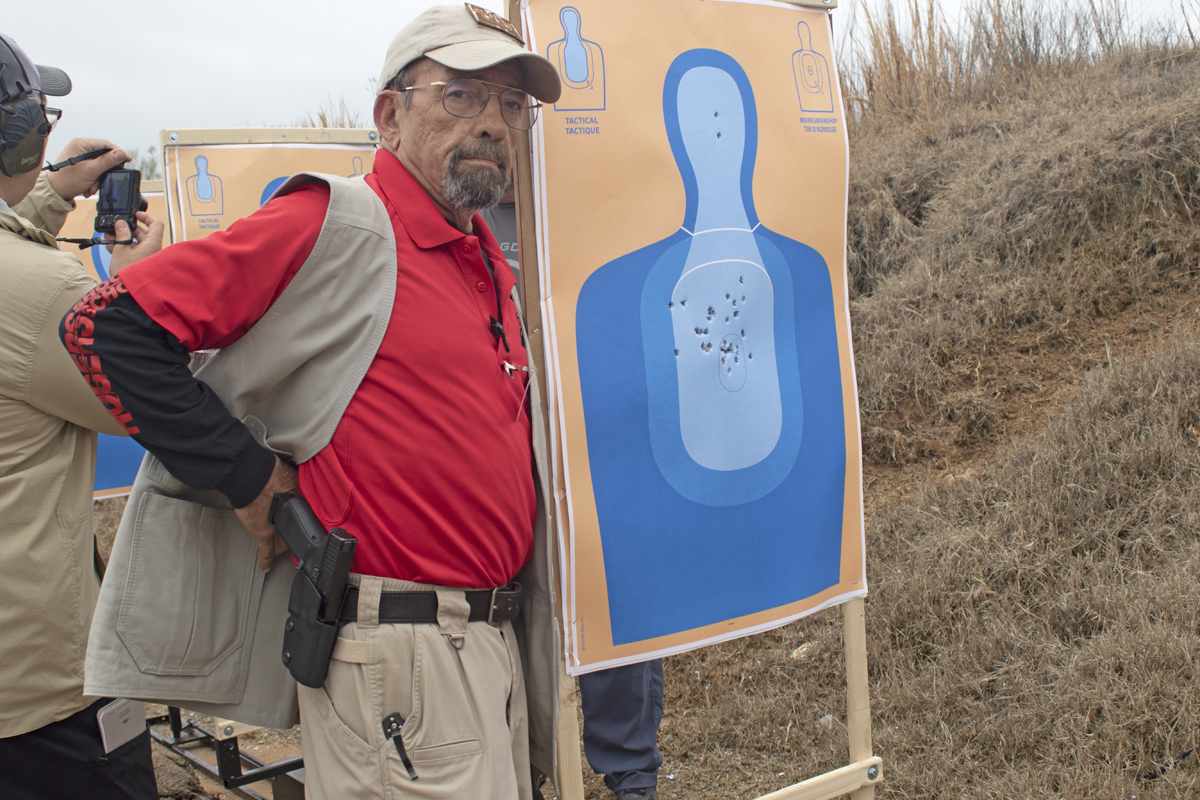 This required a "pre-shootoff shootoff" to determine the top sixteen who would vie man-against-man in the final elimination.  Tom decided on the "Five-Yard Roundup" designed by one of the rising stars in defensive firearms training and writing today, Justin Dyal.  He writes for SWAT magazine, and his explanation of his drill can be found here.   It went pretty quick, captured by the Evil Princess on her iPhone.
or watch video here.
I managed to ace it with 100 out of 100 points, and learned later I was the only one who did.
Or watch video here.
I was happy enough with it to ask to keep the target for a souvenir.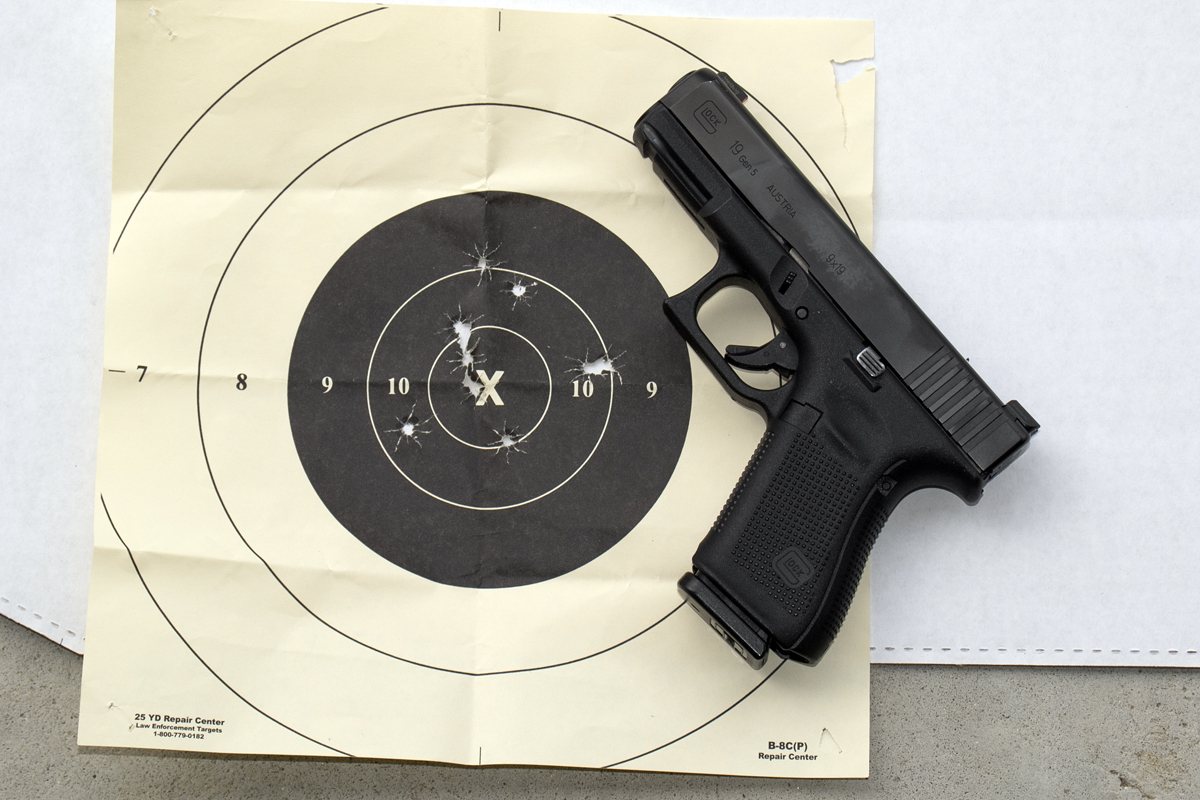 First place in the "pre-shootoff shootoff" only meant I was one of sixteen. That was done on Sunday morning; Sunday afternoon was the finale.  I managed to win my first couple of bouts, but then I went up against Spencer Keepers. When he and I have shot against each other in the past, he generally won, and that turned out to be the way to bet. Each of the two contestants at a time had to knock down John Hearne targets, three-dimensional human manikins that only fall if you hit a concealed heart-size plate in the chest or brain-stem-size plate inside the head. I knew I was in trouble when I heard Spencer's first shot go off when my sights were just coming up on target. Once those "guys" were down, whoever shot down the steel stop plate fastest won the bout. Spencer Keepers flat smoked me.
The final came down to Spencer versus Gabe White, the extraordinary master of speed with accuracy whom I mentioned in the March entry here.  In a best-three-out-of-five that went down to the wire, Gabe won the match.

Or watch video here.
I told host Tom Givens later that the three days of training gave me my educational requirement, the match(es) gave me my daily adrenaline requirement, and the final shootoff between Gabe and Spencer gave me my daily drama requirement.
I also (re)learned a couple of lessons. One is, Go for Conscious Competence, thinking about what you're doing, instead of the auto pilot state of Unconscious Competence. For three days, in everything from the long range shooting on small steel targets in the excellent program taught by Marty Hayes and his team from Firearms Academy of Seattle, UNTIL my final fateful meeting with Spencer Keepers on the firing line, I had been consciously aiming and pressing and never missed a single shot.  But when Spencer got a hit sooner than I did, I reflexively sped up on auto pilot, and paid the price.  The other lesson: "If you can't beat 'em, join 'em." I've already sat in on two of Spencer Keepers' classes, and hope to take more.  I had the pleasure of having Gabe White in one of my classes several years ago, and will be taking one of his this summer.
For more information on the Tactical Conferences, go to rangemaster.com. You won't find a better "bang for the buck" in the training world for law-abiding armed citizens. First quarter 2019, in New Orleans: hope to see you there.