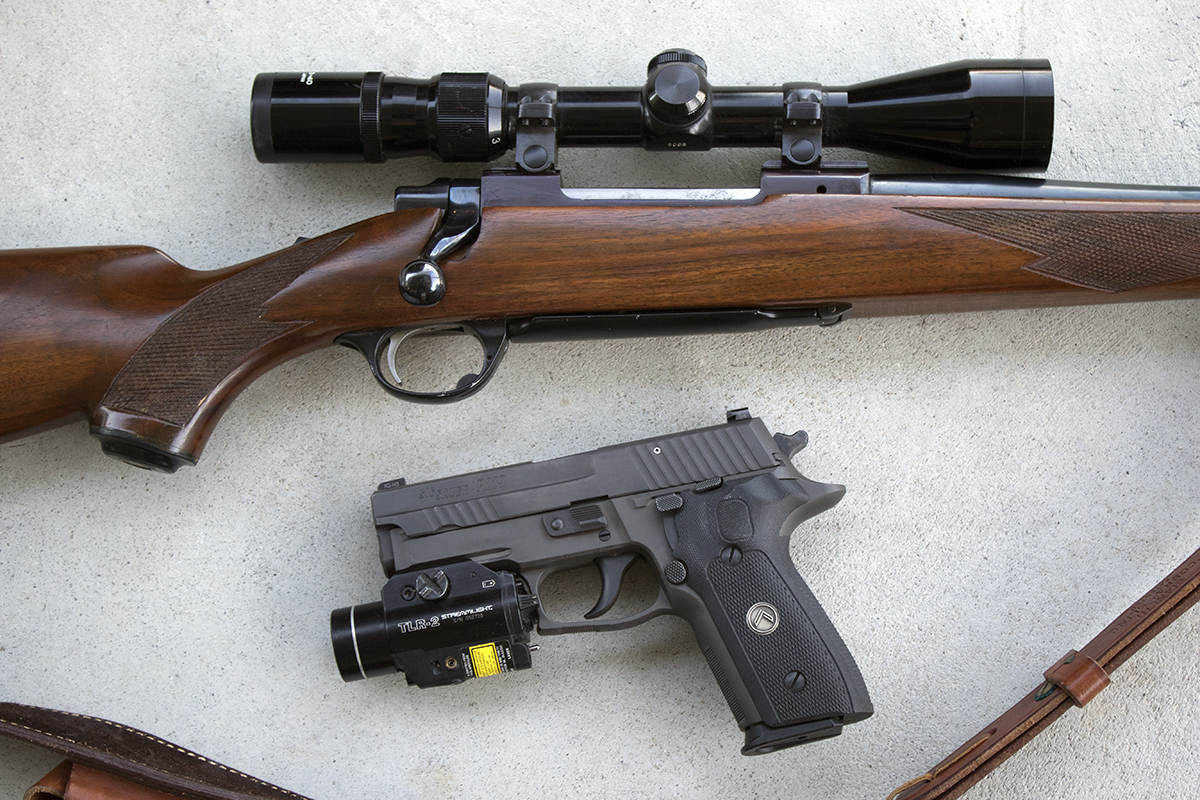 Above, we see an excellent hunting rifle and an excellent pistol, usefully accessorized. What does a classic Ruger Model 77 .30/06 with 3-9X Williams Twilight telescopic sight have in common with the SIG Legion P229 9mm and a TLR-2 light/laser attachment?
Each, obviously, can improve the shooter's accuracy, particularly in poor light. But each has attributes which can be life-saving in responsible hands, and life-threatening in irresponsible hands.
Many of us have run across the Slob Hunter who uses the scope on his loaded rifle, instead of binoculars, to scan for game, thus recklessly crossing every human being who comes into his line of sight. None of us want bozos like that walking around with guns.  We have to realize that a WML (Weapon-Mounted Light) puts us in exactly the same irresponsible position when we use the light on a loaded firearm for searching.  That's why the hunter needs binoculars, and the home defender needs a separate flashlight for searching.
At the same time, we will never know how many lives have been saved when at oh-dark-thirty coming out of the woods on the last day of hunting season, a hunter thought he saw a deer but stayed his trigger finger when the magnified image in his riflescope showed him it was a human instead. Similarly, we'll never know how many lives have been saved when at the last desperate second, the WML showed a cop in the dark alley or the householder in the darkened home that the thing in the beam was not a deadly threat which needed shooting, after all.
One of the myths it falls upon all responsibly armed citizens to "bust" is the old "I'll kill any stranger I find in my house!"  Yes, your home is your castle, but that doesn't mean you're allowed to have an execution chamber.
There are countless scenarios in which that state of mind can lead to tragic mistaken identity shootings. We're coming up on the two-year anniversary of a heart-breaking case in which a woman who lived alone with her husband awoke in the night to the sound of her front door opening.  She reached over and confirmed that her husband, the only other current resident of the home, was asleep beside her.  She grabbed her gun and stepped into the hall, only to see the shadowy figure of a person approaching her.  She fired…
…and killed her own adult daughter, who was coming unannounced to "surprise" mom and step-dad by arriving early for the holidays, having let herself in with her own key.
And here's another such that occurred in 2016.
These things can happen more easily than most people seem to realize. The ability to positively identify a threat is absolutely critical, and it's why a flashlight should accompany every home defense firearm.  Even if that firearm has its own weapon-mounted light, we're pointing a loaded gun at everything we look at, so there should be a separate flashlight for search and PID (Positive Identification) purposes. An excellent discussion of this issue can be found here.
Pistol-forum.com is one of the very best, most informative sites on the gun-related internet, and there are many wise voices of experience in this particular thread.
Author STRONGLY recommends that WML (like this SureFire X200 on Glock 19 9mm) be supplemented with conventional flashlight for searching, such as this L1 digital LumaMax, also by SureFire.