Today I canned up more apples from the bags that my sister, Deb, brought us from Michigan when she was up for a visit.  Then I got started on doing up the very last of our tomatoes from the garden.  We'd carefully picked them green, very green, and hauled them in to the new greenhouse in boxes, baskets and buckets.
I've been canning them up since late September, when we picked them, using them in spaghetti sauce, tomato sauce for pizza, chili, salsas, etc.  But these last ones, I just canned up as plain old tomatoes because sometimes we just like to have a jar of tomatoes with dinner or I need them for a recipe.
David is still deer hunting; he hasn't seen a live deer when he's been hunting, since opening morning.  He has a few days and a long weekend coming up, so I'm trying to finish up my canning, IN CASE he gets lucky and brings home a deer.  Canning up a whole deer is quite a job and you need plenty of space, time and room to work.  So I'm making myself a little window for the "possibility".
It's funny because I see deer every day here on our place, including bucks and he's driving all the way to Bill's place to hunt with the "big guys".  With the gas money, we could have bought a side of prime Angus beef!!!!  Oh well, it's male bonding and fun besides.  And maybe, just maybe, he will see a deer.  Shooting it isn't so much the problem; David usually hits what he aim at.  He's been shooting since he was five.
So here I am canning away and all of a sudden it's chore time and getting dark already.  I grab my jacket and head for the goat barn/chicken coop.  I threw grain to the poultry and goats, then took a can in to the donkeys.  They don't need any and don't get much; just a treat so I get to handle them some twice a day as part of their taming process.
I was coming out of the donkey pen when I saw a pure white chubby face pop through the door by my foot.  Then a foot of white with a black tipped tail followed.  WEASEL!!!  I grabbed a hammer and threw it at it.  Missed.  Then a 2″x6″.  Big miss.  It ignored me and ran up the wall like a squirrel, popped into the chicken coop.
Now long ago I had a weasel squeeze through a knothole in my chicken coop and slaughter 33 fancy chickens and pheasants, along with 12 pairs of pedigreed rabbits.  So I'm a LITTLE prejudiced against weasels, who sometimes kill, then go amock, slaughtering everything in reach when they could in no way eat it.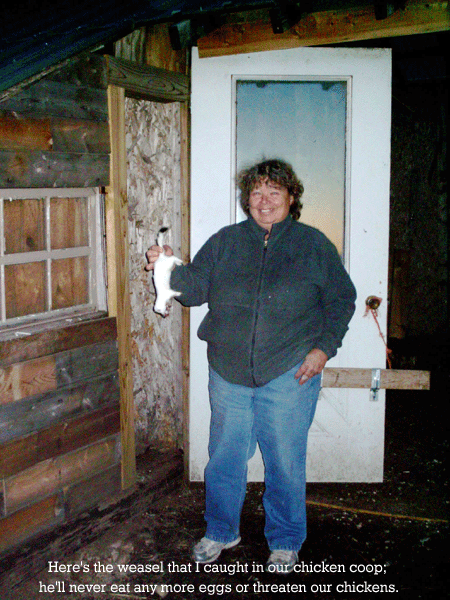 I ran (and I do mean RAN) to the house for the .22.  At first I couldn't remember where it was, then I did.  Was it loaded?  David had it out target shooting last….  I quickly pulled the clip.  Yep.  Bullets.  When I walked quickly out the door, I could hear chickens squawking and thought the worst.  I took the safety off at the chicken coop door and looked around, hurridly figuring where I could safely shoot; donkeys? goats?……
And there he was, on the floor in the far corner.  He'd taken an egg out of the nest box and was rolling it around, trying to break it.  I didn't even know weasels ATE eggs!  He won't be eating any more.  Whew!
My hens sure looked around when they went to roost half an hour later.  They did not like having that weasel in their coop.  They knew it was dangerous.  A tiny animal, for sure, weighing maybe 6 ounces, but I have had first hand experience on just how dangerous they are to small animals and poultry.  Just another day in the northern backwoods.