Our cold weather continues, but our garden grows on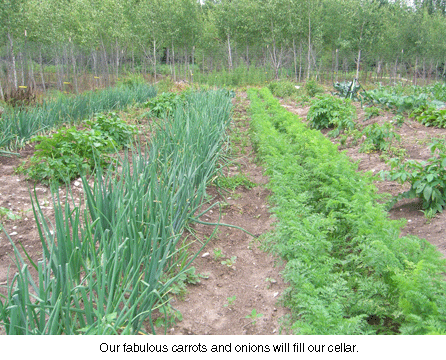 We have now had the coldest summer for our area on record! No wonder our hot crops pooped out! Thank God for Wallo' Waters that we used on our tomatoes and peppers. They are doing extremely well, with our first ripe tomatoes only a day or two away. The cold weather lovers, like carrots, onions, cabbages, and others are doing fantastic, though. Even the potatoes that we planted the first week of July are growing like weeds. We are finished hilling them up and some are starting to bloom. (By tossing dirt up on the bottoms of the growing plants a couple of times, you get more potatoes than if you left the plants "natural.") When the plants are blooming, it means little new potatoes are formed on the lower parts of the plants. Hooray! Now if we'll just get a few more weeks of non-frosty weather for them to grow larger…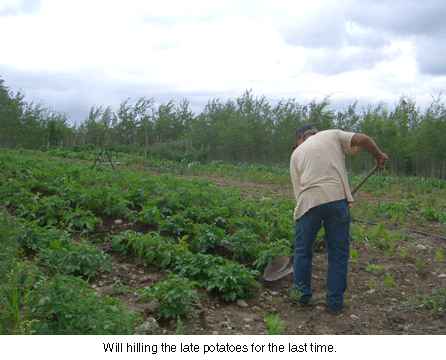 Readers Questions:
Storing lard
Can you can lard? If not how do you store it long term? We are getting some pigs butchered this winter and I want the lard from the processing.
Erin Crouch
Coats, Kansas
While you don't actually "can" lard, here's how I store it — and it stores a long time in a dark, cool place:
First render your lard in a large roasting pan; I use the oven, as there's less chance of scorching. Then skim off the top lard while hot and liquid, pouring it through several thicknesses of cheesecloth that lines a heavy colander over a clean pan. Then, from the clean pan, the hot melted lard is poured into hot canning jars, and a hot, previously boiled lid is placed on the clean jar rim and ring screwed down firmly tight. The jars seal on cooling. — Jackie
Growing potatoes in tires
I planted my potato eyes in tractor tires as recommended beginning with compost. Have added the last tire about 2 weeks ago. My potatoes are going crazy with growth. However, there are NO blooms on the leaves. Everyone elses potatoes planted in the ground have blooms on them. Should I worry about this or as the article said to wait until all of the foliage dries up? Please let me know if I may just have beautiful green foliage or potatoes.
Steve Brooks
Tok, Alaska
When this happens, I always suspect that the compost was very high in nitrogen…usually from lots of manure. It often produces rampant plants (usually tomatoes and potatoes) and few fruits. Have patience, though. Your blossoms may just be a little late from having had the plant hilled and hilled, so to speak. Our own potatoes are JUST starting to boom. But we've had a summer that was a record breaker for cool temperatures. — Jackie
Worms in root vegetables
All root veggies I grow, (rutabaga, radish, turnip, etc) always have worms in them. I don't have that problem with any veggies that grow above the ground like tomatoes, beans, squash, and pumpkins, etc. What can I do to get rid of these worms? They make the produce really nasty looking and no good to eat.
Nancy Hanson
Washburn, Wisconsin
These are root maggots and you're right; they are nasty buggers. These are the larvae of a small fly that is attracted to your newly planted rows of root crop's moisture, where the eggs are laid. To prevent this, you can either cover your rows with floating row cover or use beneficial nematodes, watered in on your root crop rows. Many companies sell these relatively inexpensive, natural remedies, such as Gardens Alive! and Planet Natural. The beneficial nematodes usually multiply in your soil so that it remains root maggot free for years.
Using wood ashes in your garden is also often a help in reducing the root maggot infestation, as is immediately tilling in any spent root crop debris after harvest so the flies can not over-winter in your garden. — Jackie
Over-ripe cucumbers
I started gardening this year in a small area that I could manage this summer, but I have a problem. My cucumbers have all turned orange in color and appear to be very blotted but still growing. Everything else is doing great and we have already enjoyed many different peppers, zucchini, acorn squash, and okra. But what do you do with orange cucumbers?
Todd Hauck
Charles Town, West Virginia
It sounds like you missed picking your cukes and they are over-ripe. Sometimes this happens, seemingly, overnight! Or when the vines are stressed the cukes can be small but still become over-ripe and often kind of C shaped, too. Pitch any that are orange or yellow because that signals the vines to stop blooming and setting new cucumbers. Then watch the vines EVERY day. Be sure to water the vines well if it is dry; cucumbers are real water hogs. — Jackie
Feeding potato plants to chickens
We have recently moved to our homestead, started a garden and acquired chickens. My question is: after we harvest our potatoes (which are doing really well!), can we safely feed the potato plants (stems and leaves) to the chickens? I have found conflicting information on this topic, I hope you can help. If it is not safe to feed the potato plants to the chickens, what do you do with them? Can you safely put the plants in the compost bin? Are there any other vegetable plants that might be a problem to feed to the chickens?
Brenda Palmer
Marblemount, Washington
There is a neat website on this subject, PoultryHelp.com. It's best not to feed tomato or potato plants as they do contain toxins that may harm chickens or animals (although the deer sure ate ours!) We simply till our spent potato plants into the garden soil; the same with tomato plants UNLESS they show signs of disease, such as spotted, yellow leaves. In this case, we burn our dry plants in an isolated spot away from our garden to avoid spreading disease into our soil and future plants. — Jackie
Pressure canning
My question: is there any reason why you couldn't use the pressure canner to do tomatoes, pickled beets, or any of the fruits or veg's. that would normally be done in the water bath? I LOVE the pressure canner since I learned how to do it! It's really so much easier than water bath to me. A friend of mine always did her produce in the pressure canner, but couldn't remember how many minutes for pints or quarts.
Tammy Amland
Howard Lake, Minnesota
You can do tomatoes in a pressure canner, but pickles and fruits can't because the temperature is too high and they would become real mushy. ALL vegetables must be canned in a pressure canner. ALWAYS. I see no benefit to doing tomatoes in a pressure canner as you must constantly monitor the pressure canner while it is processing, while you can do something else once your boiling water bath canner is boiling and you've begun counting your processing time. But if you wish to use it, you certainly can. For tomatoes, you would process pints and quarts at 10 pounds pressure (unless you live at an altitude above 1,000 feet and must adjust your pressure to suit your altitude; consult your canning book for directions if necessary) for 10 minutes (packed in boiling water) or 25 minutes packed in their own juice. — Jackie
Adding fresh chilies to cheese
Living in the chili capital of the U.S.. (as in Pueblo chilies), I use a lot of 'em. After roasting, I can them, and freeze them, and dehydrate them. I'd like to add them to my fresh cheese but I can't figure out how to make chili flakes or otherwise get the chili into small enough pieces. Any ideas?
Carol Elkins
Pueblo, Colorado
Sure. I grew a lot of different chilies in New Mexico and I also roasted, canned, and dehydrated them. To make chile flakes, take a handful at a time of dehydrated chilies and toss them in the blender (after removing the stem and some seeds, if you wish) Give it a few whizzes and you have flakes. Want smaller pieces? Give it a few more! Then mix with your fresh cheeses for a delightful spicy flavor. Enjoy! — Jackie