The new horse pasture turned out great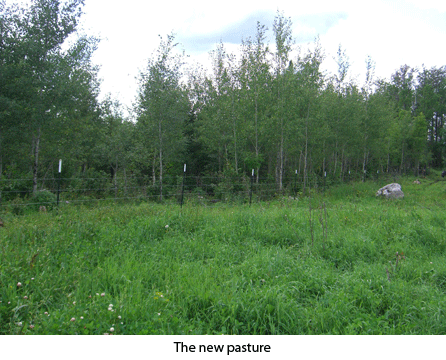 I just thought I'd show you how wonderful our new horse pasture turned out. You'll remember how a year ago that 10 acres was just a bunch of straggly poplar trees. Will cleared it with the bulldozer, and I'll admit it DID look ugly for quite awhile as we burned some of the slash piles and leveled the rest. I dragged it with the tractor and four wheeler, then finally seeded it into clover, trefoil, orchard grass, reed canary grass, and brome. We quickly fenced the horses into a smaller pasture, feeding them hay to supplement the grass that might not satisfy them.
You can't grow new seeding pasture with livestock grazing the ground; it never gets a good start. But let me tell you how great it looks now! It's so high that our donkeys don't even have to bend down to graze. Today, while the horses were full and lazy, I turned them out onto it. What a pretty sight.
Our Friesian filly, now two years old and 16.2 hands high, watched in amazement as the first geldings walked through the gate into the new pasture. ("Are they supposed to be out there?" you could just watch her think.) But Ladyhawk quickly followed them and rolled in the luxuriant growth. Now we just have the other pasture to make beautiful, as well! Oh well, maybe next year?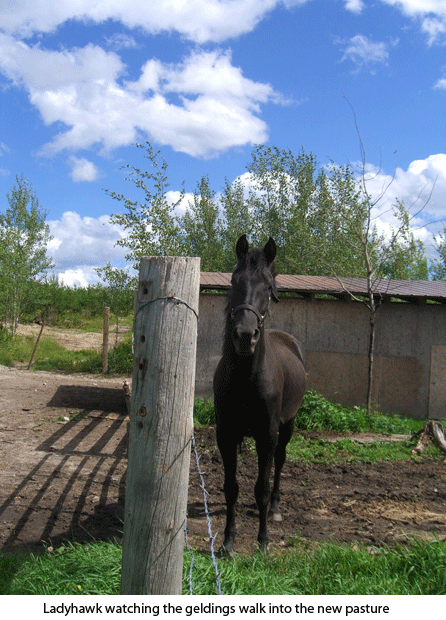 Readers' Questions:
Jars bubbling after coming out of the canner
I just pressure canned some stewed chicken for the first time and the jars were bubbling for about three hours after I took them out to cool. The jars are all sealed but will they be safe to eat or do I need to discard them?
Angela Crochet
Orangeburg, South Carolina
No sweat, Angela! This is perfectly normal. Do not discard this food; it's good to eat and probably super tasty. It does amaze me how long these jars can boil after you take them out of the canner! — Jackie
Dangers of PBAs in plastic
I have been reading on the affects of PBAs in plastic. I hate the idea of not trusting the plastic that touches our food on a daily basis. So I found this great idea of a hoop house made with PVC and tried to do a little research on PBAs in PVC, but couldn't find any. Could you please tell me if PVC is ok to use as a hoop house and not expose my family to the PBAs found in plastic? The PVC is actually not in contact with the food technically, but is there harm when condensation builds up and it drips down on the plants?
Pamela Lawstuen
Alma, Wisconsin
Not being a scientist, I'm not 100% sure. Personally, I wouldn't worry about harm from condensation from a plastic hoop house dripping on plants. I'm sure that a glass and steel greenhouse would be 100% safe, but then again, it would be expensive unless you built it from recycled double pane windows and dampness-resistant wood, such as cedar. I feel that there are many more chemicals in our daily life that need to be eliminated; the herbicides, insecticides, chemical sprays, and additives in most store-bought food, for one and even in the materials homes are built of and furnished with. We are trying to whack them out of our lives, one by one.
I buy little store-bought food, built a log home, stained with natural oil finish, use no chemicals on our garden, lawn, or home, put no carpet (often laden with chemicals) in the house and so on. I read labels and cringe when I can't even pronounce some food "ingredients." So what might leach out from PVC in a home greenhouse seems, somehow, insignificant. In fact, we are planning on putting up a hoop house next year so we can help our our heat loving crops in our cool climate. — Jackie
Canning tamales
Have you ever canned Tamales? I can remember my mom doing it but she's gone now and I'm without a resource.
Amanda Modin
Bend, Oregon
Yes, I have canned tamales. When I lived in New Mexico, friends would get together and spend a whole day making tamales for everyone. We used traditional dried corn husks too, which makes them taste even better! To can mine, I steamed them just enough that the dough didn't fall apart on handling, then packed them hot into hot wide mouth jars, leaving 1 1/2 inches of headspace. Over that I ladled my favorite enchilada sauce, leaving 1″ of headspace. Quarts were processed for 90 minutes and pints for 75 minutes at 10 pounds pressure (be sure to consider altitude adjustments in pressure if necessary). Gee, NOW I'm hungry for some good old home canned tamales! — Jackie
Processing plum jelly
How many times may jams or jellies be reprocessed? I made plum butter a few weeks back and it didn't set. So I reprocessed it. The first time I made it without pectin. When I reprocessed it I used liquid pectin and it didn't set. The third time I reprocessed it with powdered pectin and it still hasn't set. Will it be okay to reprocess it again and if so, how would I do it?
Annette Coppetti
Oakdale, California
Like in poker, you need to know when to throw in your cards and go home. I'm not sure what happened, but just use the plum "stuff" as a killer plum sauce and call it good. I use plum sauce over roast chicken, turkey and pork as a glaze. It's really good and you won't feel like you failed at all.
Generally, you cook down butters with no pectin; just using sugar to sweeten it and lots of stirring to keep it from scorching, just like you would apple butter. It does take a LONG time to get thick. But when it is thick enough on the stove, it does not need to thicken in the jars. When you ladle it into the jars, it is at your chosen "perfect" thickness. I'm sure you'll get it next time. — Jackie
Gardening over a septic tank
Can you garden over a septic tank? Is there anything specific your should not plant there, like root crops?
William Broome
Homer, Georgia
It's best not to garden over a septic tank. Not for the reason you might think; because your vegetables might suck up some unsavory bacteria. It's because you shouldn't compact the soil over your septic tank or leach lines. Compacting the soil can cause poor drainage and even freezing during the winter. What you can do is to plant some flowers over it. Choose shallow rooted flowers that are either reseeding annuals or perennials, so you don't have to disturb the soil every year, and thus compact it. Do NOT plant trees, shrubs, etc. over or around the tank or lines, as the roots make a bee line right for the holes in the lines. This soon plugs the lines and reduces the drainage you want.
I planted wildflowers over ours while the soil was disturbed from installation. They are still going, as they all are either perennials or reseeding varieties. — Jackie
Tomato sauce separating
I've been making homemade tomato sauce for spaghetti with tomatoes from my garden for several years now. I generally use romas and simmer the sauce for a few hours to thicken. I have had good luck with flavor and canning the sauce, but I have never figured out how to get the sauce to NOT separate. the minute the sauce hits the pasta, the meat of the tomatoes stays on top and the water liquid goes to the bottom. any ideas on how to prevent this. I've heard that while cooking a natural pectin in the tomato breaks down and allows separation. would a pinch of pectin added work?
Dion Fotinakes
Orangeville, Illinois
Try cooking your tomato sauce down more. I put mine in a large roasting pan, in the oven, on it's lowest setting, over night. I get up a time or two and give it a good stir during the reducing time. Of course you could also do it during the day when you are available to stir. I make mine quite thick; not as thick as a paste, but quite thick and mine never separates. And I add nothing but spices, onion and garlic powder and a little brown sugar to cut the tartness.
Some thinner sauce that I've used on pizzas did the separation thing when I spread it on the crust. I had to blot the watery sauce with a paper towel! Then I made my sauce thicker and no more runny business. — Jackie
Carrot juice
I would like to can carrot juice. Does canning the juice change the taste? What are the directions to follow for canning it? I assume it must be done in a pressure caner.
Nancy Hanson
Washburn, Wisconsin
I'm sorry, Nancy, but I can't find a single safe recipe for canning carrot juice. Some folks have tried to can it as they would carrots, but the end product is not appetizing at all. On this one, I'm stumped! — Jackie
Raspberry sauce
I just picked a bunch of raspberries. We made one batch of jam and tried to make one batch of sauce. We didn't have a recipe for the sauce and it turned into jam. Do you have an easy recipe for raspberry sauce that can be canned in a water bath? Also, I tried to dry some in a dehydrator, do I dry them until they are hard and crispy or still soft? I haven't done anything with raspberries before so I am really experimenting.
Becky McKim
Ankeny, Iowa
There are several ways to make raspberry sauce. The easiest is to boil together 8 cups water and 4 cups sugar. Boil 5 minutes, then add raspberries. Just return to boil and ladle into hot, sterilized jars, leaving 1/4 inch of headspace. Process in a boiling water bath for 20 minutes (taking normal altitude adjustments into consideration).
Another way is to use the recipe for raspberry jam and simply halve the amount of powdered pectin required. This makes a thicker, sweeter version. It IS fun to experiment!
You want to dehydrate your raspberries hard; if they are softer, they will likely mold before you use them. Enjoy your bounty! — Jackie