Thank all of you for your prayers and good wishes for Mom and us too. She is doing a little better, but I had to place her in a nursing home Friday. She just got so weak that I couldn't handle getting her up, dressing, toileting, etc. She is also very fuzzy mentally, and I was getting high blood pressure and chest pains from the worry and stress of being up nights. It was a very, very hard decision for me. I'm hoping that she will get a little better and be able to come home from time to time to enjoy her flowers and the homestead.
Will has been working on our haying equipment. He finished repairing the wheel rake we got with our old New Holland baler and now has the hay wagon back in the shop, cutting the 2x6s (that we saved from that old mobile home), painting them with oil preservative and getting ready to screw them down to the frame. It's looking very nice!
Meanwhile, I'm transplanting baby plants in the greenhouse. Since we will plant them out in the garden in late April in Wall o' Water plant protectors, I start my pepper and tomato seeds earlier than I would if I were setting them out after our last spring frost date…June 16th! This year our plants look great. And so far, I've spent two days potting peppers, tomatoes, and petunias into 20 oz. styrofoam cups, with holes poked in the bottom. This lets us only transplant once, planting in the garden directly out of the cups. I reuse the cups and the plants seem to love them. Gee! I'm running out of "sunny windows."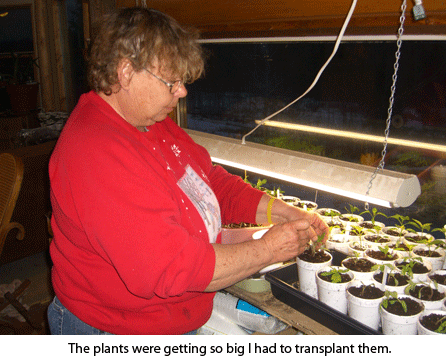 But boy do those plants look fantastic. And today it was 52 degrees. Our snow is going fast; I wish the MUD was too. I'm getting anxious to at least walk in the garden. And also to see how the orchard trees are doing. Maybe tomorrow after I run in to see Mom.
Readers' Questions:
Tiny eggs
We have 14 hens of all different breeds. We are getting about a dozen eggs a day right now. The hens will be a year in May. We have 6 hens that I believe are Hamburg Chickens. My question is, we are getting two very tiny eggs from this breed. They are not laying daily, but when they do there is no yolk in these eggs and they are very very tiny, Will these eggs get bigger? So far its been a month and the eggs are NOT getting bigger.
Stephanie
Kinsey, Montana
These no yolk eggs are most often found in pullets who are just beginning to lay. But they can occur in any hen, regardless of age or breed. They are simply a "warp" in the hen's reproductive process and are nothing to be concerned about. — Jackie
Preserving meat with salt
I would like to know about preserving meat by salting it. Is it safe with any kind of meat? Is there a special kind of salt that you use? How is the meat generally prepared afterwards? How long does it generally take to dry the meat…and how long will it generally last once it is dried?
Joy Goepfert
Alba, Missouri
Although people long ago did preserve meat and fish by salting it down, I don't recommend it today. First of all, the food, even when soaked to de-salt it before eating, remains very salty. This is just not good for us. Then, there is no way of knowing if the meat is sufficiently salted so that it (or parts of it) doesn't spoil. My own grandmother salted down Montana whitefish when a flood left them high and dry in their pasture. She worked hard for 24 hours, cleaning and salting down all those fish. And every one spoiled on her! Better to can that meat, rather than salt it. — Jackie