Will took Old Yeller apart and we found new parts!
Yesterday we went down to the Duluth area to visit Greg Larson. He has quite a few vintage bulldozer parts, especially parts for a 1010 John Deere, like ours. After a nice visit, in which we learned a lot, we paid up and loaded a complete used final drive into our van and headed home.
Previously, Will and David had taken the old final apart, finding torn up bearings, races, and a yucky mixture of gear grease, water, and rust. Not good! Luckily, the clutch discs had been fairly recently replaced and the old clutch pack and break bands look good.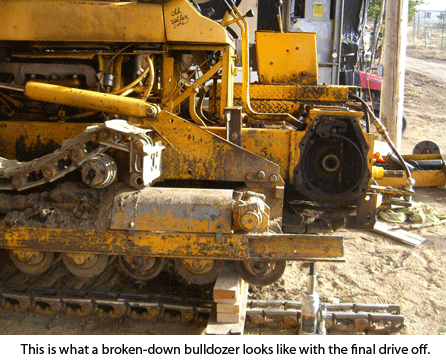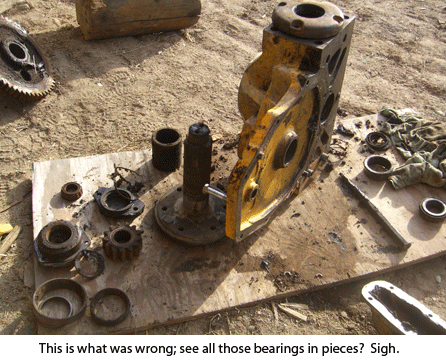 Already, Will is cleaning up parts and getting ready to put Old Yeller back together again so we can get back to our new pond, clearing fence lines, and other good old spring homestead work. I can't wait.
We've had some great unseasonable spring weather, up in the 60s, so we are itching to get at gardening and other growing projects. The rhubarb is starting to nose out of the ground, and my first squills are blooming! Isn't spring great?
Readers' Questions:
Greenhouse tomatoes
Loved the picture of your ripening tomato in the greenhouse — had me drooling. So, when did you start these two tomatoes and what type, ie. bush, are they? Next year I too want to have tomatoes ripening in March and I suspect a lot of your readers feel the same way.
Good luck with your garden this year.
Sue Detloff
Longbranch, Washington
These tomatoes were started last spring! They are an indeterminate type called Polefast. We chose indeterminates because they will keep growing and producing, where determinate or bush tomatoes only grow so big, then make a crop and quit. This fall, I also will be starting a few new plants to see how the production compares to the older plants. We've noticed that production increases with longer daylight hours, so next winter we'll be putting lights over the tomatoes and peppers. — Jackie
Canning cottage cheese and yogurt
I'm fairly new to Backwoods Home, and I've searched for answers to this question and haven't found them (yet!)
So I apologize in advance if you've already answered this somewhere.
I'm wondering if it's possible to can homemade cottage cheese & yogurt…
Mary Beth Maidment
Denver, Colorado

No. These fresh, cultured products don't react well to the heat of processing, making food with an unattractive appearance. These are best to make and eat fresh. — Jackie
Keeping small dogs out of the garden
How best can I use chicken wire to keep two very determined dachshund puppies from digging tunnels thru my little urban vegetable garden? Or what would you recommend for fencing?
Julia Morgan
Pasadena, California
I think I'd get some three or four foot high 2″x4″ welded wire yard fence and fasten it to steel fence posts that you can drive into the ground about every 6′ or 8′. Dig a little trench along the bottom, about a foot deep, and bury the bottom of the fence so your little buddies can't easily dig under. Hopefully, they'll decide something else is more fun. I've had great luck with our big dogs by cutting heavy 16′ welded livestock panels in half, then sticking the pointy wire down into the ground to anchor the fence. But your little guys would walk right through the five-inch squares! I don't think chicken wire would keep them out because it isn't very heavy. — Jackie