It's amazing what a little manure will do!
A year ago, my friend, Jeri, gave me two rhubarb roots. They started nicely, but did not get very large during the summer. I hauled a trailer load of rotted manure down to the garden and put a foot of it over and around each plant after they had frozen and gone dormant for winter. This spring, they bolted out of the ground and shot upward. As you can see, the leaves are gigantic and the stalks are huge. Two stalks, cut up, fill a quart jar! Wow. I'm so happy with those plants. Now we have five rhubarb plants and have tons for rhubarb pies, cakes, canned sauce, and rhubarb conserve. I just love this quick-to-get-productive plant.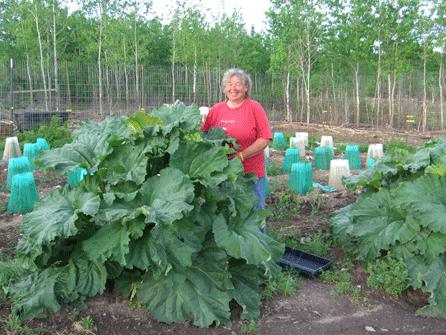 Readers' Questions:
Mold in root cellar
We have a 40 foot container we insulated with R 40 and buried and so far it stays cool in the summer and does not freeze in the winter. The other day I went in to put some stuff away and found some fuzzy mold growing on several canning jars. The jars are still sealed tight.There are no leaks in the container; it appears to be dry. My husband thinks it because I did not rinse the jars after they cooled and it's stuff left on the outside of the jar. He is also the one who wants to clean the mold off and use the food, not me. I have canned for years and have never had this happen. So what's your best guess? Some of the same batch of jars that are in boxes not out on a shelf are fine.
Sandy Robinson
Pioche, Nevada

I'd tend to agree with your husband; the mold probably formed where something boiled out of jars and went unnoticed before storage. If the jars are sealed and the food looks and smells okay, I would wash the mold off and use the food. — Jackie
Trouble growing a garden
I live on a lot in a subdivision in North Alabama, so I have tried to expand my garden space by making raised beds. I am having all kinds of failures. I put spinach, onions and carrots in one and they just don't seem to be producing any fruit. I finally pulled the spinach up; they went to seed before they got large enough to eat. The onion's stalks seem to be growing but the bulb is not much bigger than when I planted it. I thinned a carrot the other day and it appeared to be no carrot formed at the root. I also put pole lima beans in two beds and they are turning yellow and some rust. The plants seem to be healthy other than that, however they have not grown much lately. We have a little garden spot and have a few summer squash starting to come. I was so excited thinking I may have squash by the end of the week, but they have started molding and rottening on the ends. I probably have thrown a dozen away. I also had to throw a zucchini away. It was just rottening, no mold.
Another subject is my cast iron skillet. It has started peeling black stuff off it when I cook, any suggestions in how to solve this problem?
Cindy Adams
Florence, Alabama
Spinach is a cold-lover and it probably got too warm for it to thrive. It also doesn't like to be crowded, so always be sure to thin your spinach as it grows. I'd have patience with your carrots and onions; they'll probably come along with thinning and watering.
The usual reason for summer squash for getting black ends is lack of water, causing blossom end rot. Again, water faithfully and pick any affected fruit and throw them away. You'll probably have luck a little later on in the season. Don't give up!
If your cast iron pans are flaking, your pans probably need a good cleaning and re-seasoning. I take mine outside when I have a fire going in our fire pit and "roast" them on both sides until all the "gunk" has been burned off. Then wash them well, scouring off any soot and debris. Rinse and dry. Then put some grease or oil in the pan and rub it around. Put that in your very slow oven for several hours. I do mine in my wood burning kitchen range's oven with the door open. Take the pan out and rub it well with an old cotton cloth. The first time you use it again, use it to fry something easy — hamburgers, pork chops, etc. Use plenty of oil to ensure the food doesn't stick. You should then be good to go. — Jackie
Dehydrating onions
Can you dehydrate Vidalia onions? And can they be used in canning relish etc.? Thank you so much. My pantry is expanding because of what I have learned from your articles.
Robin Putman
Coolville, Ohio
Yes, you can use Vidalia onions in pickles, relish, and for dehydrating. I do this with other sweet onions, as they don't keep very long in storage. I'm tickled that your pantry is getting fat! Isn't it a great feeling to look at all those jars? — Jackie
Hens eating eggs
What's making my hens eat their eggs?
Joe Owens
Section, Alabama

Hens eat their eggs after the chicks hatch for protective action against possible predators. Unfortunately, some hens are premature here and develop a taste for eggs. To prevent this, you can sometimes use ceramic nest eggs, build a roll out egg nest where the eggs roll out to the rear after being laid, or gather the eggs several times a day. Be sure the egg shells are hard by providing adequate oyster shell for calcium. Sometimes when the shells are thin, the eggs break quite easily, making egg-eating easier for the hens. — Jackie
Wall o' waters
I am using Wall-o-Waters for the first time this year and they are great! Here in Washington state, we had a frost just a few weeks ago. Squash plants and eggplant made it through no problem. Thanks for recommending them. My question is this – have you had any problem with them getting slimy and smelly? Would it be ok to put a couple of drops of bleach in each cell to kill the slime?
Carol White
Stanwood, Washington
No, I haven't. They sometimes get algae in them, but I've never noticed a smell from them. I can't see why a couple of drops of bleach in each cell would hurt anything and it may cure the problem. — Jackie
Wild berries
The birds were good to me and provided me with wild raspberry plants. They are really doing great. But, I wonder what is the difference between wild black raspberries and blackberries.
Bea
St. Paris, Ohio

Black raspberries have round, domed caps and the caps slip off the bush, leaving the core. Blackberries come off the bush with the core inside. To look at the bushes, black raspberries are usually arched and tall when young, where blackberries are often either upright or prostrate, depending on the variety. Be sure to thank your birds! — Jackie