Wow! I was amazed when my Marine Corps veteran got down on his knees and asked me to marry him! We've had a very neat partnership for the last two years that is unique, to say the least. All so often, we are thinking the same thing, want to try the same thing, or decide on the same thing without the other knowing about it. Then we have a laugh and go about accomplishing it, from our orchard to the peppers we want to grow, to our future life together. Needless to say, I'm very happy and am now sporting an engagement ring that's garden-tough but etched beautifully with the words "Always and Forever," along with a small diamond inside a heart. Very touching!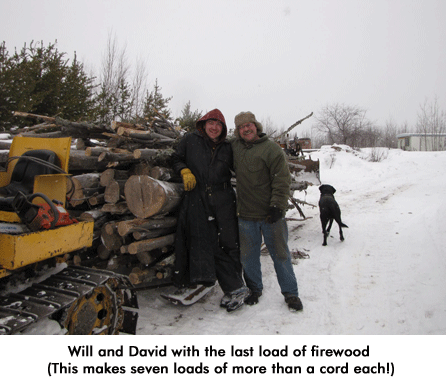 Meanwhile, back on Earth, Will and David went out again this weekend and got another huge load of that great black ash firewood. While they were gone, I canned up 16 half-pints of baked beans. I was getting low and thought I'd better get more canned up for summer meals. I'll be doing another batch tomorrow.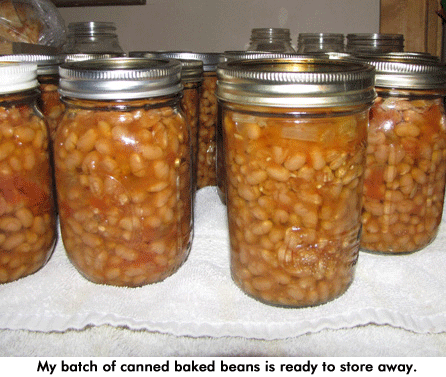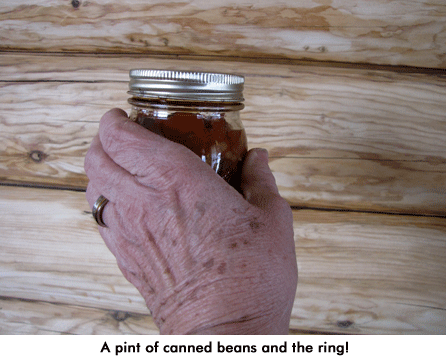 (No, we haven't set a date yet.)
Readers' Questions:
Making pectin
I just read your article about making pectin from apples. My question is, Can you make pectin from dried apples? And can you can the pectin? How would you store pectin to use later?
Celia Combest
Troy, Michigan
Pectin is best made from fresh, solid, tart apples that are a little on the green side. Tart crabapples make the best pectin. To make it, slice whole, unpeeled apples into fairly small pieces. Then add water and lemon juice and boil. (You'll want about 6 pounds of apples to 1/2-gallon of water and 4 Tbsp. lemon juice.) Boil until reduced by half, then strain the juice through a jelly bag. Return to heat and simmer for 20 minutes longer. Pour into hot, sterilized canning jars, leaving 1/4 inch of headspace. Process as for apple juice in a water bath canner.
The amount you'll use in a recipe depends on the pectin content of the fruit. For apple jelly, you won't even need any; for strawberry, you'll need more, as strawberries are low in pectin. Generally, about 2/3 cup of homemade pectin will set 4 cups of fruit or juice, but you'll have to experiment and check the set as the mixture boils by taking out a teaspoonful and cooling it. You may need to add more pectin if it doesn't seem to be setting to your liking. — Jackie
Inexpensive greenhouse
What would be an inexpensive greenhouse that we could put on a 2 city lot property? I would love to have fresh veggies all year round. I live in Montana and the weather can get pretty cold in the winter so it would need to be something that could keep the produce from freezing.
Heather Sand
Fairfield, Montana
You might consider adding a greenhouse onto your home, preferably on the south side. What's worked out well for us is to use recycled double pane sliding glass doors from patio doors. For nice looks, make sure they don't leak moisture; they should be clear throughout. Dirt comes off; you can not easily get the moisture and dirt from between the panes of glass. By building the framework of your greenhouse addition out of pressure treated or cedar wood and the roof of double insulated poly (made for greenhouses; rigid, not just plastic sheeting), you can heat mostly with heat from your home, with a little extra help in coldest weather from another heat source. A small propane heater works well in greenhouses.
Our greenhouse attached to our home, long ago at our Minnesota farm, had two feet of rock in a dugout area, as well as a 500-gallon black poly septic tank full of water as heat sinks. I heated the 16×40-foot greenhouse with a fuel-barrel wood stove.
The one we have now is an addition on the south side of our house, with no additional heating required as it's only about 12 feet from our living room wood stove and right next to our kitchen range.
There are all kinds of options available to you and I'm sure with thought and planning, you can come up with one that will work well for you. — Jackie
Yearly canning list
I am getting geared up for canning this summer. I canned a lot of different things last summer and have really enjoyed eating them this year. I feel like I'm forgetting to can something. For instance, I had to purchase mixed veggies last week so I added that to the list for this summer. Would you post a list of all the things you can each year?
Jennifer B.
Bay Minette, Alabama
Whew! I'm sure I'll forget something, but here goes:
Asparagus, green and wax beans, sweet corn, corn and carrots (mixed), corn and peas (mixed), mixed vegetables with corn, peas, carrots, potatoes, rutabagas and onions, tomatoes, stewed tomatoes, two or more different salsas, corn and pepper salsa, tomato sauce, pizza sauce, spaghetti sauces (with meat, without meat, with olives, with mushrooms, etc.), chili (with and without beans), tomatoes with corn and rice, mushrooms, chicken, chicken broth, turkey, turkey broth, baked beans, pintos, split pea soup, bean soup, chicken with noodle soup, meatballs in mushroom sauce, meatballs in spaghetti sauce, ground meat, ground meat patties, sausage, sausage patties, stewing beef, stewing venison, venison chunks, venison roast, beef roast, beef broth, roast pork loin, celery, peas, potatoes, carrots (chunk and sliced), cabbage, blueberries, apples, applesauce, peaches (when I can find cheap ones in bulk to can!), cauliflower, rutabagas.
Pickles include: mustard bean, dill, sweet dill, bread and butter, dill relish, watermelon rind sweet pickle, pickled hot peppers, pickled hot vegetables, and end of garden mixed pickles.
Jams and jellies include: Chokecherry, red and black raspberry, blueberry, blackberry, wild plum, apple, and hot pepper jelly.
I can some things every year; others I can when I have it or when I'm getting down on. I can pretty much year-around and don't kill myself with canning marathons. I just keep plugging away, batch at a time, as I have an available food. As I've told you, I'm sure I've forgotten lots, but this is a list for you. — Jackie
Planting fruit trees and berries
I have bought a house to retire to in Lavergne, Tennessee in about 2 years. What I would like to do is plant now a couple of fruit trees and some fruit plants (berries?) to help them take root in the next 2 years. Do you have any suggestions/recommendations as to what trees and berries to plant?! Thank You for ANY help you can provide. I am a 63 year old Los Angeles city boy!
Bob Dohrman
North Hollywood, California

Congratulations, Bob! My first question is do you have someone to take care of your trees while you're still living in California? That's the hardest part of long-distance planting. I thoroughly understand the desire and need to get things going as soon as possible. If you do have a friend, relative, or neighbor who will help you out by weeding and watering your trees and berries, great. If not, I'd say wait until you are there to tend them. They just don't do well, simply planted, watered, and left on their own.
As you are in a warm zone, the sky's the limit for choices, as I see it. (We live in cold Zone 3, so we don't have huge options. You'll be in Zone 6-7, so you can plant oh-so-many things! You can grow pie and sweet cherries, apples (pick ones suited to your warmer climate), plums, pears, and peaches. Blackberries, blueberries, raspberries, and black raspberries also will do well for you there.
If you aren't able to enlist a helper to tend your plantings, you might consider preparing your spots very well by tilling the soil, killing down weeds and grass with black plastic (left in place for a lengthy time), adding compost to the spots, etc. Those two years will fly by and you'll be ready, immediately, to get those fruits and berries going. And because you'll be there to tend them, they'll take off like bullets. — Jackie
Water glass eggs
What do you know about and what are your thoughts on "Water Glass eggs" as a way of preserving fresh eggs? What about safety?
Sandra Passman
Vidalia, Louisiana
Water glassing does preserve fresh eggs from fall to spring. However, after using it once, I quickly decided not to do it again. Diving my bare arm into a crock full of slimy yuck and fishing around for eggs is not at the top of my list! My chickens now lay all winter, where in the past, I went egg-less from about December to early March. I changed this by installing one CFL in the coop which runs when our generator is on. It could also be hooked to a deep cycle battery and run off of that, if necessary. Having a warmer coop helps a lot. Now we have many birds in a 6×8-foot coop with daytime outdoor access. Our new coop will be larger but it will also be insulated. I also give my hens one small flake of leafy trefoil or alfalfa hay every day to scratch through. It's amazing how much they eat! In addition, I am growing extra squash and I feed them at least one squash with seeds or "squash guts" every few days. Our 24 hens give us 7-12 eggs a day (no commercial egg mash) all winter. I find this much better than using waterglass to hold eggs in my basement. Fresh eggs will remain good for many weeks, simply stored in a cool place. I have kept eggs from December until nearly April, just keeping them in cartons, in our 40 degree pantry, and they remain good. — Jackie