Ladybugs are saving our peppers
Earlier this summer, we discovered we had a major problem with aphids on the undersides of the pepper leaves in the hoop house. To spray or not to spray? We debated this, but decided to wait and see if natural predators would come help us out. If we sprayed, we'd not only kill the bad guys, but the good guys, too. Even pyrethrins kill everything. So we crossed our fingers and waited. Then I noticed the first ladybug larvae on the pepper leaves. But there sure didn't seem to be many of them. And there were thousands of aphids.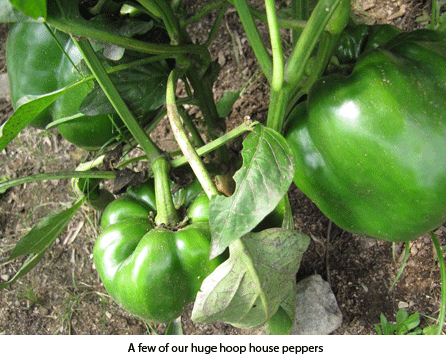 But slowly, there were more ladybug larvae and fewer aphids. Now there are quite a few good guys and hardly any aphids. Yeah, It worked! The peppers continue to look better and better. Next week, I'm canning red, ripe sweet peppers and this week I'm dehydrating tons of green sweet peppers. I've already loaded my pantry shelves with all sorts of pickled hot peppers. How nice!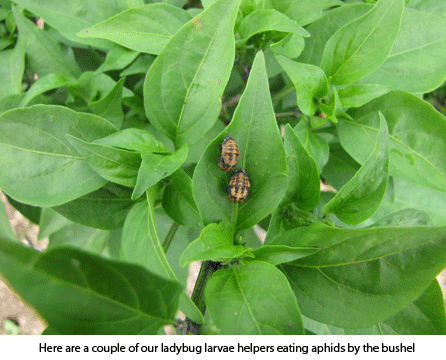 Yesterday, we hayed again, putting up about 75 square bales, stuffing the storage barn plumb full. (All totalled, there are more than 700 bales in there now!) And we also got 14 big round bales of hay from the same field yesterday. Now part of our animal storage pantry is bulging and we are so thankful. Hopefully, we can plow one of those hay fields and plant it next summer with oats and a new seeding of clover, trefoil, and orchard grass. Then, God willing, we will have many bushels of our own oats to increase our self-sufficiency in the livestock department.
 Two days ago, we finished fencing the big woods on our side of the creek, beyond the horse pasture, and we turned our horses out into about 10 acres of 4-foot tall grass. You bet they liked that! I mowed their pasture, trimming down weeds and "poop grass" (grass fertilized by horse piles…which they won't eat), so that pasture should grow up nice and tender with good-tasting grass, as well. Our horses are all set until snow flies.
 The steers are also in good shape, as they are on knee-deep clover/orchard grass pasture, surrounded by woods for shade. We like our animals happy! — Jackie