We were a "little" upset to hear that Obama declared Peacetime Martial Law…but life on the homestead goes on
There's some things you just can't do much about so you keep on doing whatever you can to make your family's life better and prepare for what may come in the future. Just like the day of 9/11. I was canning tomato sauce at the time and was horrified as I listened to the radio. But I kept on canning tomato sauce.
Today, I'm canning more meat (wow there is a lot of meat in a 1/4 of a beef and a whole hog!), as well as hot pickled cauliflower and carrots, in between batches of meat. I'm NOT a "prepper." We simply try to live as self-reliant a life as we can. It used to be that "stocking" up was a good thing and what every farm and homestead family did to prevent hard times. Now it's called "hoarding" and we who stock up are nut cases and weirdos. I don't think so! And with the current vibes around the country, I'm sure glad we do think ahead.
Will's still working on the barn and when his back gets too bad, he switch-hits to clearing on the 40. That, by the way, is going very well. Or it was until Old Yeller threw a track yesterday. But the sun was out and the weather was warm, so I got some tools (a pry bar, come-along, and the grease gun for the track tensioner) and Will set about putting it back on — all 250 pounds worth.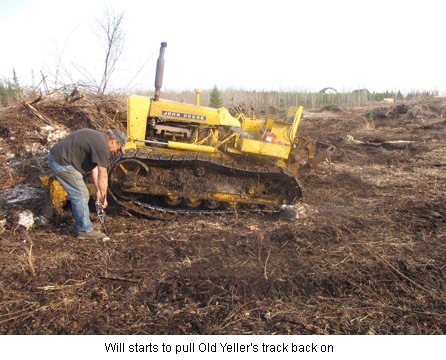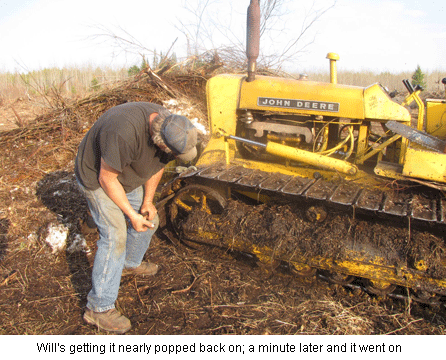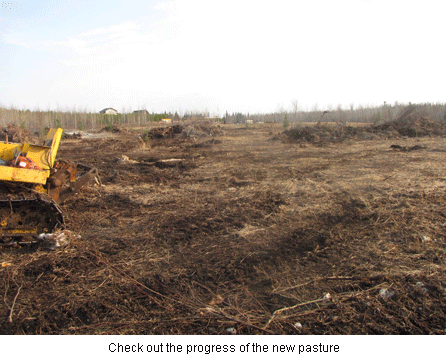 It went okay, and soon the dozer was again shoving piles of brush together, making larger areas of nice, clear ground. Soon that will be disced and planted into orchard grass, clover, and bird's foot trefoil with oats as a nurse crop. It's looking very nice already. — Jackie