Today Will is going to finish framing the roof of the new barn
It's been a long haul, but right now, Will's down at the new barn, nailing on the last of the purlins that the sheet metal roof will be screwed to. There sure were a lot of boards in that roof! It's getting exciting because it really looks like a barn now and the end is in sight.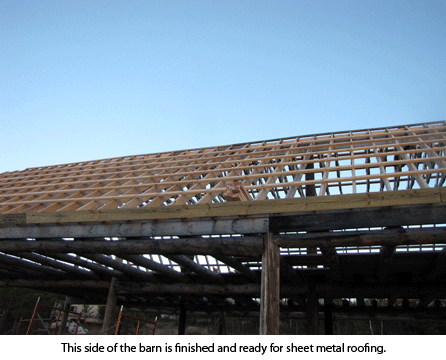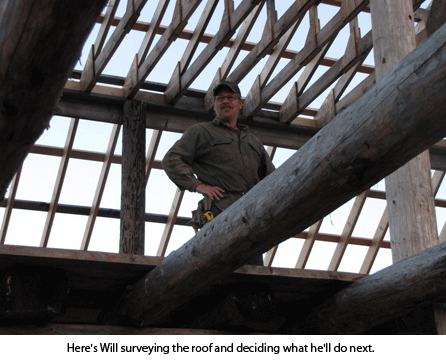 Meanwhile, I've been canning tomato products, with three bushels still to go! Yesterday I made some killer barbecue sauce, chipotle barbecue, with liquid smoke, brown sugar, onion powder, garlic, and chipotle powder. It's thick and really yummy. We had it on cube steak last night (couldn't wait!) and I could have eaten myself sick.
I'm finishing up another article for the magazine and when that gets done, I'll be pureeing up some more tomatoes for a different barbecue sauce. I think I'll do honey mesquite this time. Or maybe sweet and smoky. Or maybe … It's so great to stockpile all this good food in our pantry!
Tomorrow, we're driving to a pumpkin farm and buying a truckload of pumpkins. No, I don't need them to can. We are going to be feeding them to our pigs and cattle. A truckload is $40 and as I have grown and hauled pumpkins in the past, a truckload is about a ton. Now with the cost of feed today being around $400 a ton around here, $40 a ton for pumpkins seems pretty reasonable, don't you think? Livestock relish pumpkins and they're good for the critters too. They eat everything but the stem! Besides, it'll be fun loading all those pumpkins! (We are easily amused.)