We're still getting ready for winter around here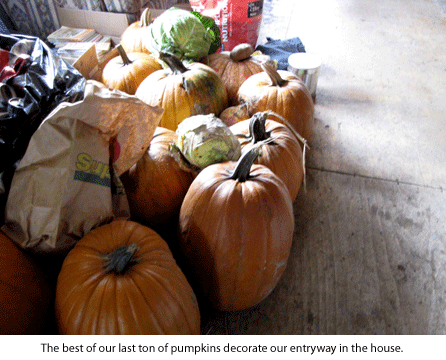 When we unloaded our second ton of pumpkins, I saved a dozen of the very nicest, from which I'll can up and dehydrate for the pantry. I'll also toast some of the seeds for snacks. I've finally finished tomatoes (whew!) and am working on the cabbage right now. After several batches of Amish coleslaw, I'm getting ready to make sauerkraut. Of course, I've also canned up a bunch of cabbage as well. No matter what some canning books (not mine!) say, canned cabbage is great. Not "strong" tasting at all if you discard the water in which it was canned before you eat it.
As we've already had back-to-back snowfalls of 4 inches each, we're madly picking up the yard, putting away machinery for winter, and storing all of our gasoline-driven smaller equipment. Today, Will pulled our lawnmowers and tiller up into the yard and ran them out of gas. He's putting in a bit of Sea Foam motor treatment and storing them out of the weather so they'll be ready to go, come spring. If you leave the gas in, it is usually nasty by spring and causes all sorts of starting/running issues due to goop in the carb.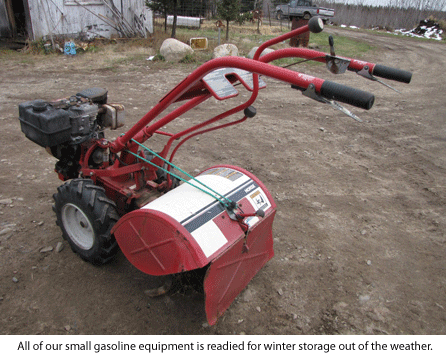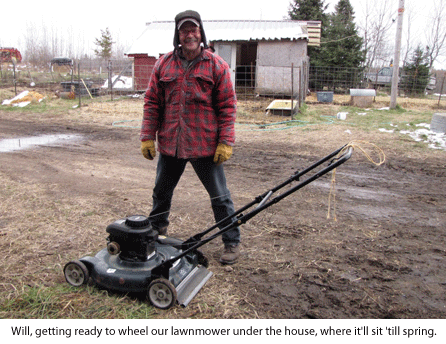 Meanwhile, I'm cleaning off the unheated back porch and David and I will stack dry firewood there to use in "emergencies" like when we're sick and don't feel like going outside or when we're away all day and don't want to haul wood in the dark. Our porch holds about 4 cords of wood and it's a good feeling to have it stuffed full! We don't want to have a blizzard hit and have to haul in wood. Our beaver friends call for a cold, above normal snowfall for winter so we're trying to get ready. They haven't been wrong yet.
I hope and pray that all of my BHM family on the East coast were ready for Sandy and have survived with minimal damage and stress.
Oh! By the way, our wedding cow, Lace, is PREGNANT!!! Tony, our inseminator, called last night with the good news. We are SO glad! We were afraid we'd have to ship her to the sales barn. Now we'll have a calf, come spring, "God willing and the crick don't rise!"