We don't really have ripe tomatoes yet; just thought I'd get your attention!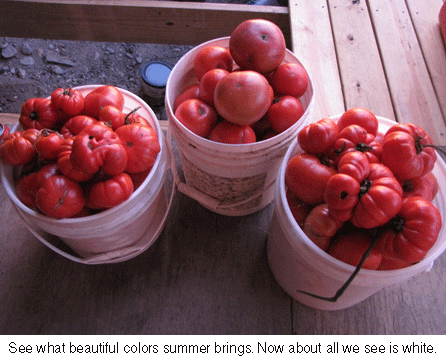 My camera is back in Oregon, at the magazine, getting outfitted so I can shoot the videos Dave wants me to shoot. So I'm out of photos, temporarily. I looked through my old ones and was so shocked to see bright red tomatoes. It sure cheers me up when I look outside into a Christmas card-like scene — all clinging white. It's sometimes nice to know that it will go away and spring will come again and with it will come bright colors, ripe vegetables, and the smell of damp earth.
I've been grinding the fat from the pig we had butchered and rendering it, one turkey roasting pan at a time, in the oven. Yesterday I got four quarts and a half pint. I'll be grinding/rendering again tomorrow again. I should have at least three batches. And the lard is beautiful, snowy white, all sealed and ready to go in the pantry. Just think of all those pie crusts and fried potatoes. No, I don't overdo eating lard; we have just pretty much quit using margarine and cooking oil/shortening and are opting for good old natural fat. Now the experts are even telling us it's good for us. My, how the worm turns!