Sorry to have missed blogging but this homestead got real busy!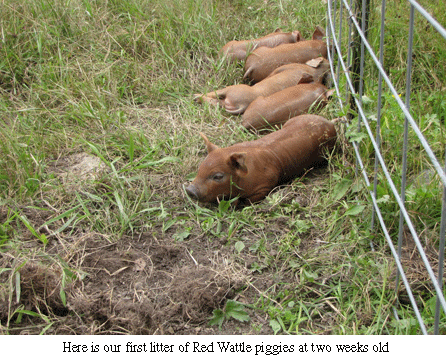 Wow, what a week. First off, our homesteading apprentice, Christian, up and left. You can take the boy out of the city but not the city out of the boy. Homesteading just wasn't his thing. Then our second gilt unexpectedly began to farrow (we thought she had three weeks to go!) and we spent a hectic evening getting her separated and into a clean house with her babies. She ended up with nine live piggies and is doing a good job being a mom.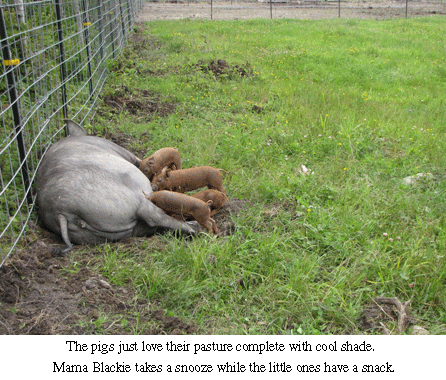 Will has been madly making hay. And breaking down! Our round baler suddenly blew a hydraulic hose and I made three trips to town (30 miles away!) for hoses — it seemed New Holland made a hybrid fitting — part pipe thread and part compression, which nobody had ever seen, let alone had. Finally last night he gave up and cut the fitting off and replaced it with a non-hybrid compression fitting and was back in business for a couple hours, until the chain on the bars that make the bales went POW! That was about 8:30 p.m. End of baling for the day. Today he and Eric are repairing it and hopefully will get it fixed.
Meanwhile, and I went blueberry picking with my friend Dare near her homestead. It was a beautiful dry swamp and we had wonderful picking of huge blueberries. I'm canning them up even as we speak. Ours were pretty dismal. Few berries and hard picking on our ridge as it got hot and dry while they were forming. I've also been making chokecherry jam. Love my Mehu-Liisa steam juicer! Takes the work out of making juice for jelly.
Our seminar is coming up in a week and half. We did have another couple that had to cancel due to work problems so if you'd like to come at such short notice, just send me an email.
We had a very light frost last night and I was a basket case, checking at 5:30 a.m. with a flashlight. We really need another 3 weeks or more of non-freezing weather as spring was a month late this year. Luckily our prayers were answered and we only got a little frost burn on our squash and cuke leaves! Whew! Everything looks so good we would hate to have it ruined. — Jackie