We worked and waited all year and now it's here — harvest
Since early spring and even before, we worked toward this season, planting tiny seeds, nurturing them, transplanting, tilling, weeding, watering, and worrying about our crops. We ducked a frost a couple weeks ago and then it turned hot. Finally it all paid off as our garden is starting to express its gratitude. Harvest! We worried that we might not get any sweet corn but suddenly it's ripening and we're eating the food of the gods. Summer squash, cucumbers, green beans, carrots, onions, broccoli, cabbage, and sweet corn are all stunning us with their production. And finally the peppers and tomatoes are making a decent show.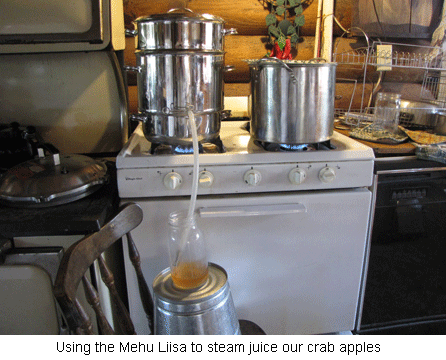 As am I. Finally I'm canning up a storm. Yesterday I canned dill pickles, sweet corn, Hansen's bush cherry jelly, and the leftover meat from our seminar out of the freezer. And the day before it was apple juice from our first crabapple tree, chokecherry jelly, and green beans. The pantry is filling up nicely with tons more out there calling to me.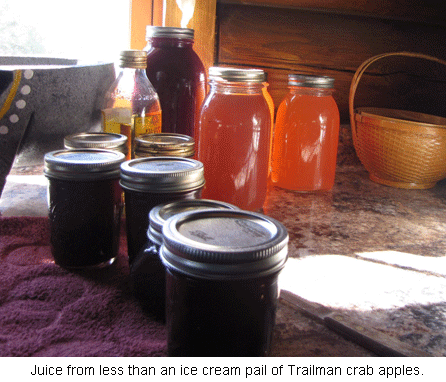 Will picked a basket of hazelnuts from a grove along our field, finally beating the squirrels. Boy are they ever quick to harvest them the very moment they are ripe!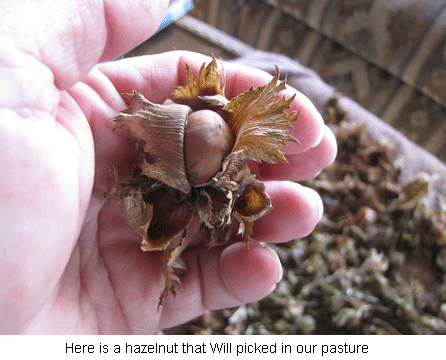 Will's cutting our last field of hay since we have a sunny few days headed our way. He wants to get done haying so he can work on the barn and other projects. Yesterday on a damp, after-rain day, he hauled home many round bales from our friend's fields so they are rowed up down by the barn. This is our horse and cow pantry.
Those of you who stayed in the Vermilion Motel in Cook during our seminar will be shocked to hear that yesterday morning it burned to the ground! We are so sad for the family who owned and ran it. Luckily, no one was hurt in the fire but the building is a total loss. How quickly our lives can change. — Jackie