We're digging potatoes today, with a new family member
It's unseasonably warm today, sunny and 75 degrees. A perfect day to get those potatoes out of the ground and down in the basement. But first we had to haul out all of the last year's potatoes. Yep, we still had 'em down there! Many were still hard but sprouting badly. And a lot of the sprouts had baby potatoes growing on them. (Hey, by spring, we would have a good crop!) Well, not really, but they were cute.
Our Dakota Pearl potatoes were wonderful! We've found that they are pretty scab resistant and as solid through and through as a rock. Many weighed a pound or more! And I've got three more rows to dig. Wow! Three hills make a 5-gallon bucket full to the tippy top. They work much better for us than do russets, which scab badly and are plagued with hollow heart. I know they are an old standard for many people, but for us, they sure could be improved upon.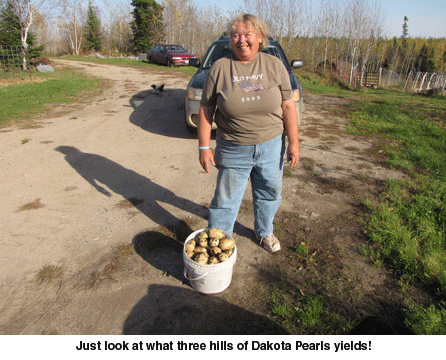 Helping us is our new family member. Naw, I didn't have a baby. But friends gave us a gorgeous pup. He is half Lab and half Australian Cattle Dog, seven weeks old, and as cute as a button. Will thought maybe Spencer would like to "train" him, as he knows the ropes. And Spencer is SO good with babies! He licks him all over and even lets him eat out of his bowl with no ugly faces or growling. Hondo is new today to us, but is already learning to potty outside and has a "cave" under a stool in the laundry room. We will crate train him so he will learn to stay out of mischief during the night. This is a good way to help potty train pups as well as give them their own space. Spencer loved his "house" and was shocked when we took it out to the storage barn when he was older and didn't need it. He thought he still did! (Now he sleeps on a twin mattress tucked halfway under our bed.)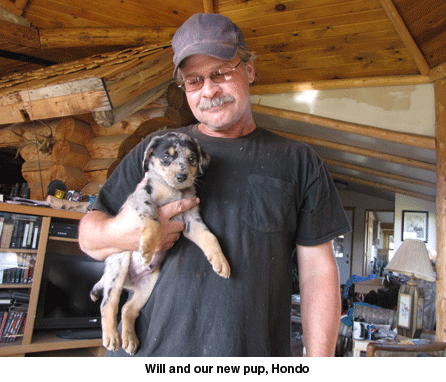 Mittens is still a bit put out that a stranger is among us but I'm confident that pretty soon she'll love him too. — Jackie