We're working like mad to get ahead of oncoming cold weather
We have a few warm days but the long-term forecast is for increasing cold and snow. So we've been working like beavers, canning, cutting and splitting the last big batch of firewood, hauling manure, and pulling the last things from the garden.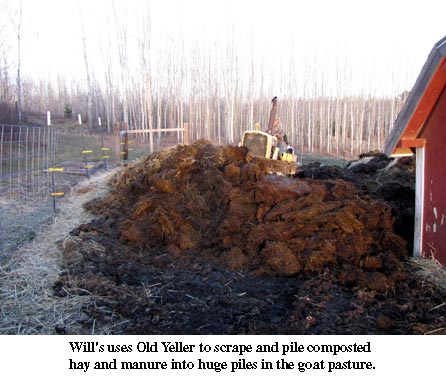 Will has finished the retaining wall under our enclosed porch, beside the walk-out-to-be of our basement. The stonework on the barn is done. And now he's got Old Yeller, our faithful bulldozer out in the goat pasture, shoving three-year-old leftover hay and manure into huge piles. Then he carries the best of the composted material out onto our garden by the tractor bucket full. Wow, will we ever have GARDEN next year! And a whole lot of leftover rocks will be buried. (He didn't spread much on the area where our root crops will be planted as they don't like excessive manure.) Squash, sweet corn, and tomatoes flourish in well-rotted compost.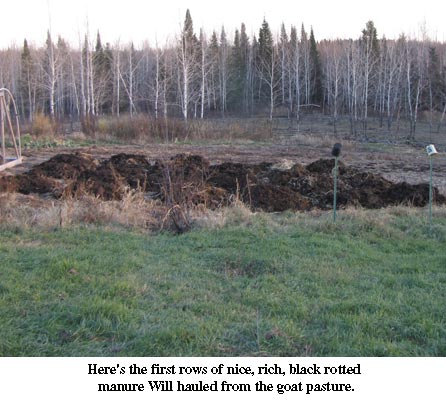 We moved the goats up to the old goat barn for winter. Next winter, they'll be in the new barn for winter and the goat cottage and pasture for summer. How spoiled will they be? Hopefully, next summer we'll dismantle the old goat barn as it's sure not a thing of beauty. And when our new cordwood chicken coop gets built we'll be tickled pink.
I pulled the last of our carrots, which I've been canning every other day for better than a week. I planted both Nantes and Tendersweet and both grew nice big, sweet carrots. They are so crisp that when I scrape them in the kitchen sink, some actually POP open in my hands. That's a funny feeling, for sure. I can the big, fat carrots in quarts, in chunks, for stews and to use with roasted meat. The more slender carrots go into pints to use as a side dish. I've already pulled and canned a lot of carrots to use in canned mixed vegetables like sweet corn, potatoes, rutabagas, and onions, etc. We had an excellent crop this year of darned near everything.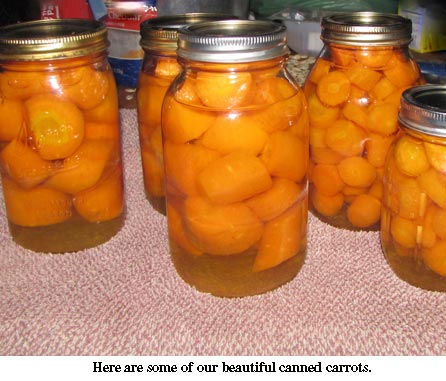 I also have been seeding our big, fat cukes and drying the seeds. The cucumbers (Homemade Pickles, our favorite for pickles) still taste sweet and I pop a few pieces into my mouth as I scoop out the seeds with a tablespoon.
Gotta run. There's SO much we want to get done before serious snow falls! — Jackie