We just installed our next batch of kitchen cabinets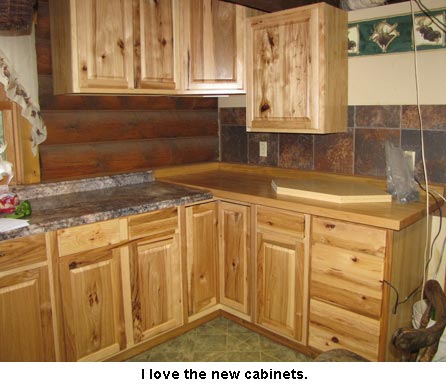 After many months of cabinets being on the back burner, we saved up and bought three more kitchen cabinets. (They're cheaper because they're not as deep as the base cabinets, so that helped.) This weekend, Will and I put them up. They proved a bit difficult as they didn't want to fit square in the corner or go up tight to the log wall. And the corner cabinet was HEAVY. But with some props made out of 2x4s and a few one-inch wood blocks, Will finally got them to hang well. We've got one more to the right of the right hand upper cabinet, one 18-inch cabinet in the corner by the sink, and two narrow ones above the propane stove. Then, other than the island, the cabinet work will be done! Wow. I think they're turning out beautiful and will sure de-clutter my kitchen a whole lot.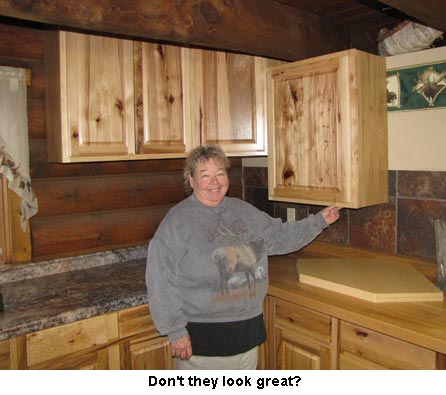 I have to laugh at Mittens. She goes with us everywhere. She even goes with Will out to the woods to cut firewood. But she was pretty miffed when Will went into the bathroom to shave and shower. AND shut the bathroom door! She sat right by the door all the while until he came back out. Then she wanted to go to bed and announced it by saying "NOW!" I swear it's true.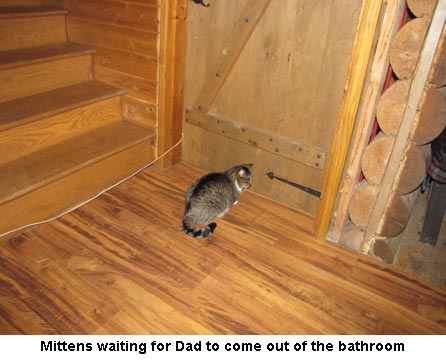 I'm packing for my trip to Aberdeen, South Dakota, as I have to leave home at 5:00 Wednesday (that's a.m.!) to catch a flight to Minneapolis where I have a 5-hour layover. Now why couldn't I have that 5 hours at home? (I'm doing several workshops at the Northern Plains Sustainable Agriculture Conference on canning and growing fruit in cold zones.) If any of you can come, I'd love to visit with you there! — Jackie