Today it's 65 degrees and sunny without much wind so it sure feels great. Will's working on the barn, getting ready to put up our home-cut siding. Yesterday he worked on the sawmill all day, cutting ONE log. But that log was a huge spruce log that had to be cut down with a chainsaw to even fit on the sawmill! He's putting first a layer of our free plywood up over the 2×6 studs, then adding furring strips on which to nail the vertical board and batten siding. The plywood is to prevent any slight drafts from getting through the barn. Inside, we're going to add some insulation board that a friend found for us. It was a wonderful "deal." We'll be off to pick that up soon — a whole trailer load! Thank you, Mike!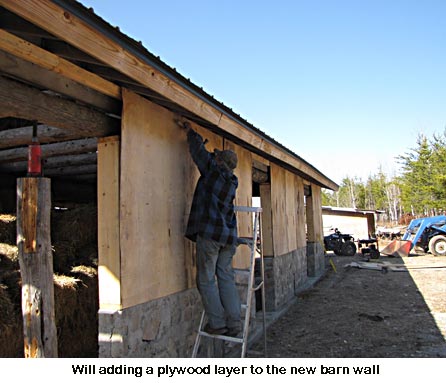 I canned up bean soup last night after putting away 17 pints of baked beans first. Wow, that sure looks great in the pantry!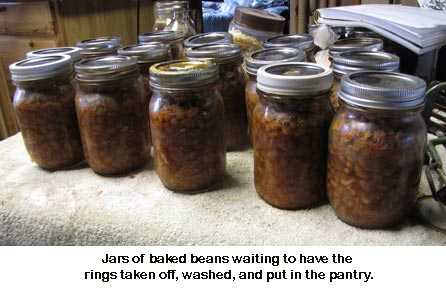 This morning we went to our friends' house to disbud our new Nubian/Boer buckling.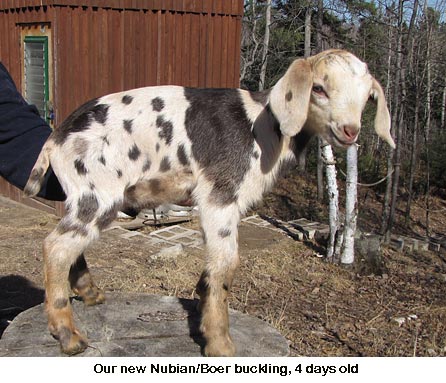 He is simply stunning and so gorgeously marked; like a pinto-appaloosa horse. His mother and father were out of a buck and doe we used to have so we know his potential as a producer of great milkers on down the line. Of course, it doesn't hurt that he's beautifully marked too! (No, he doesn't have a roached back. Dara is just holding him still on the stump!) — Jackie