Wednesday, our half Jersey heifer, Surprise, had her baby — a pretty heifer we are calling Fern because she's just the color of dead fern leaves. And we know because that night both she and her mom got out and Surprise hid her baby and we couldn't find her for two days! We searched and searched but no calf. But we knew that cows did that and weren't TOO worried. Then out she came, fine as a fiddle and twice as bouncy. Now they're both back with the other cows and all is well.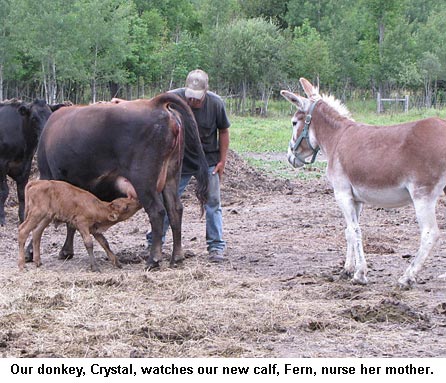 I've just had another bad bout with diverticulitis, but thank God I haven't had to go to the doctor and I'm much better today. Nasty stuff and I really do watch what I eat; no popcorn, nuts, seeds, etc.
I'm just glad to be getting over it. There's so much to do this time of the year. Our first tomatoes, Moravsky Div, a Russian tomato beat the pack in ripening and there are lots and lots of others coming along real fast. The sweet corn is starting to ripen. We've eaten our first potatoes. (Boy, do we love the Dakota Pearls!) and the peppers … All I can say is WOW!
Our garden squash is scary it's so huge. We especially are waiting for our Apache Giant, a rare variety we are trialing. It has yellow blotched leaves that are gorgeous. (No, it is not diseased!)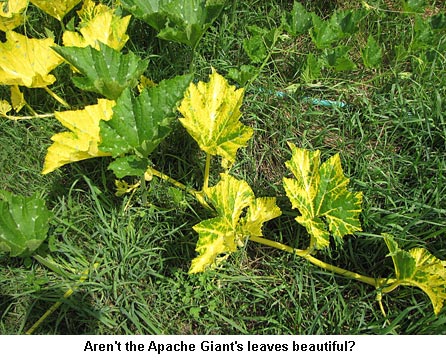 The peas are all dried down and I'll be pulling them tomorrow to save seed. We really enjoyed them while they lasted.
Our weather's cooled down and we sure are glad. Will and I don't do 90 degree temperatures; it just flattens us. He's about done doing hay and is hauling big round bales home on our bus frame-turned-hay-transport. It's going well and we are real happy to have so much hay this year.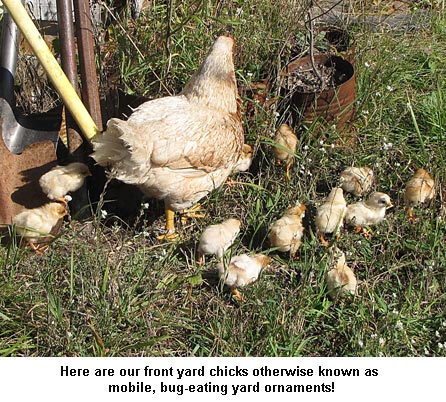 How's everyone's garden doing? I'm hoping yours is as wonderful as ours! — Jackie