The weather radio is forecasting temps in the twenties tonight and a good possibility of snow flurries. So I've moved all our squash that was out on the front porch inside. Boy, do we ever have squash! This year one of our favorites is Gila Cliff Dweller. It's a C. mixta from the ancient Southwestern tribes and is very productive. It makes two different shaped and colored squash. One is roundish and quite large with smooth skin and pretty green stripes and blotches. The other is a very large neck/bottle shaped fruit. Our heaviest weighs 35 pounds! That's a LOT of squash! We're still letting it cure and will cut one open to eat it in a couple weeks and let you know how it tastes.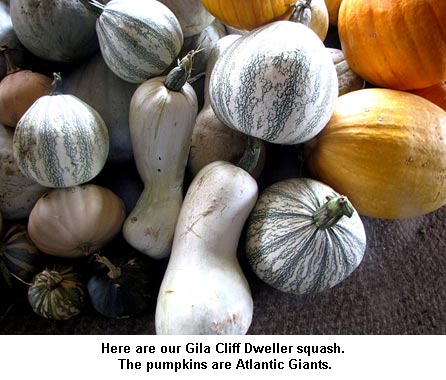 We had a sad event last night. Our big Bourbon Red turkey tom, Red, free ranged because he was beaten up by the other toms in the run. But he was so heavy he couldn't fly up to roost so he roosted under the spruce trees in the yard. This morning, we were shocked to see turkey feathers down by the goat pasture. I followed them and unfortunately, I recognized them: Red's feathers. We figure that either a wolf or coyote got him as a fox could never have handled an active 40-pound bird. I tried to follow the feather trail but it petered out in the cow pasture, then was gone. We'll miss Red as he was pretty much a pet. But when you homestead, there are good things and bad, just like life. And you learn to roll with the punches.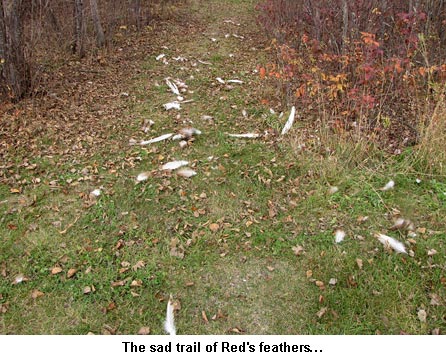 Will's busy digging a four-foot-deep trench in our driveway so he can bury foam board insulation over our water line. As it passes along and across the driveway, frost goes down deep and has often frozen our water line. Although Will did install a heat cable inside the water line, we want to worry less and have water all winter in the future. The insulation will surely help that!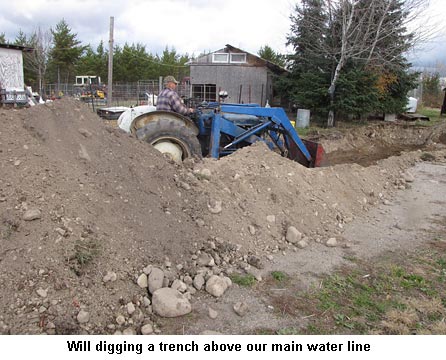 He started out with our little backhoe, then is using the bulldozer to dig up the dirt and the Ford 660 to move it out of the trench. Take a good look at the dirt; it's the same dirt we started out with in the garden so don't think "well, if we had good soil like Will and Jackie we could grow a good garden too:" Ours started out all rocks, gravel, and sand! With lots of rotted manure and other organic material, it's much improved over its humble beginnings. — Jackie